Salzburg, Lungau-St. Michael, HOF-SBG
SalzburgLungau-St. Michael
Cabin Description
---
Üdülöház maximum 16 személynek
1 egyágyas szoba, 4 kétágyas szoba
1 háromágyas szoba, 1 négyágyas szoba
5 fürdöszoba/zuhanyzó, 3 WC részben a szobákban
3 konyha
Lakófelület: 260m²
Tengerszint feletti magasság:1.080m
Személygépkocsival megközelithetö
Háziállatot szivesen látnak

Ski Area
Location
Az üdülöház St.Michael helység határában, Lungau-ban , Salzburg tartomány napsütésben gazdag déli részén fekszik.
Distances
A helység St.Michael üzletekkel, pékséggel, uszodával, teniszpályával 800 méterre van. A Lungau-ban 5 siterület kinálkozik összesen 220 km lesiklópályával és 50 silifttel. Fantasztikus hegyoldalak friss, mély hóval és tökéletesen preparált lesiklópályákkal nyújtanak élményt kezdöknek, haladóknak és profiknak. Katschberg 2km, Speiereck 2,5km. A sibuszmegálló 100 méterre. A sibusz dijmentes!
Equippment
A ház jól felszerelt,kényelmesen berendezett, kellemes atmoszférájával elég teret nyújt egy nagyobb csoportnak a magánszféra elvesztése nélkül. Földszint: A jól felszerelt konyhában villanytüzhely, sütö,fatüzelésü tüzhely, hütöszekrény, mosógatógép, kávéfözö és étkezöasztal. Kényelmes, fenyöfából készült parasztszoba nagy asztallal, müholdas TV-vel, heverövel , cserépkályha és kijárat a teraszra. Egy kétágyas szoba terasszal, egy egyágyas szoba terasszal, fürdöszoba fürdökáddal,WC. Félemelet: egy háromágyas szoba egy duplaággyal, zuhanyzó és feljárat a padlásszobába ahol egy további ágy van. Elsö emelet: egy duplaágyas szoba erkéllyel, egy kétágyas szoba erkéllyel, zuhanyzó,WC. Egy további parasztszoba ülögarniturával, heverö, erkély, konyhasarok villanytüzhellyel, hütöszekrény, müholdas TV és feljárat egy duplaágyas szobába, zuhanyzó, WC. Egy duplaágyas szoba kis konyhával és feljárat a tetötérre két különálló ággyal, zuhanyzó és WC. Központifütés fával. A ház elött napozóterasz, kert, ülöhelyek.
Additional charges on-site:
Áram 0,40€/kwh, idegenforgalmi adó jelenleg 1,50€/személy/éjszaka, végtakarítás 160eur, Háziállatot 35eur, ágynemü 7€/garnitura, törölközö 3€/garnitura bérelhetö. Kaució: 400eur.
Ha csak maximum 10 személyre bérelik a házat akkor csak a ház egy része áll rendelkezésre.
---
Offers
Last Minute (3)
Sommer 2022 (1)
Schnäppchen (20)
Herbstgenuss 2022 (11)
Ski-Openings 2022 (5)
Winter 2022/23 (9)
Frühling 2023 (11)
Sommer 2023 (9)
Herbstgenuss 2023 (11)
All offers (57)
---
Location/Info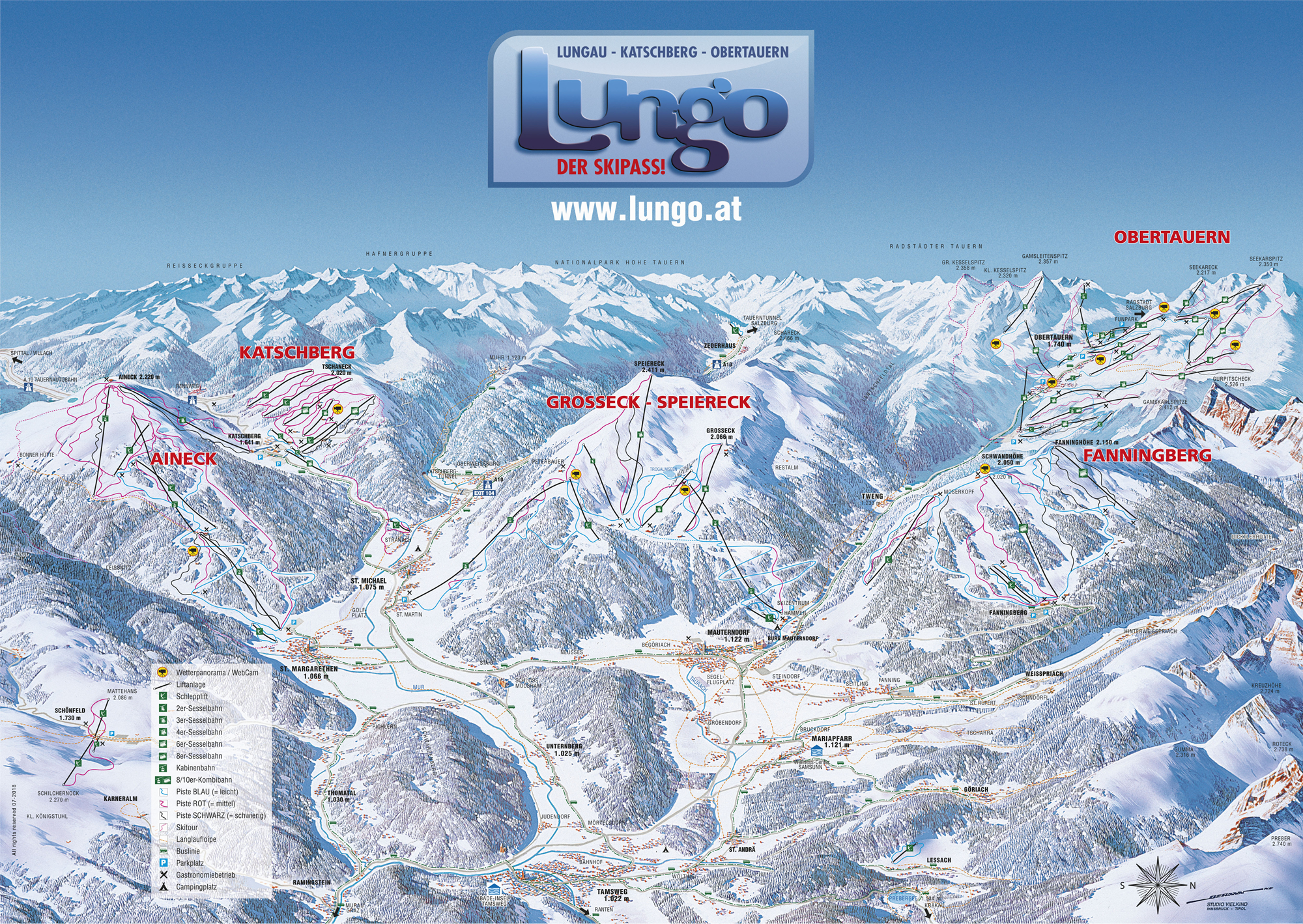 Winter Infos
Skiing in St. Michael is a real experience. The 4 skiing regions Aineck, Katschberg, Fanningberg and Grosseck-Speiereck offer more than 220km slopes and 50 ski lifts!
Wonderful deep snow hillsides and best prepared slopes at all levels of difficulty offer fun for novices in skiing as well as for advanced skiers. The 6-seater "Samson-chairlift" on the mountain Fanningberg which is the longest chairlift in the world, the cable car for 8 persons with a 4km long slope to the valley at the skiing region Grosseck-Speiereck and a fun park for snowboarders on the Aineck mountain are the main attractions of this top skiing region.
Summer Infos
The Salzburg Lungau is located between the Radstaedter Tauern and the Carinthian Nockberge. It is the sunniest region in Austria and has been given special protection with the award UNESCO Biosphere Park Salzburg Lungau. There are countless opportunities to move freely and individually in the intact nature, with hiking and cycling being among the absolute favorites in the Lungau alpine summer. Nestled in a wonderfully beautiful mountain landscape with numerous mountain lakes, bubbling mountain streams, meadows and forests, Salzburgs Lungau offers relaxation and adventure in every form for children and adults.
Whether alone or with a guide, the hiking routes in Salzburgs Lungau range from gentle trails in the valley, to leisurely hut and mountain lake tours, to extensive expeditions.
The Salzburg Lungau is perfect for bike tours. This is not only ensured by the combination of the wide, open valley floor with its many enchanting side valleys. There is a carefully signposted network for e-bike excursions and family tours. 17 mountain bike routes and the Lungau EXTREM tour as an absolute highlight await sporty cyclists. In addition to hiking and cycling, there are a variety of other outdoor activities such as golf, horse riding or even flying in Salzburgs Lungau. There are no limits to the activities.

Rating
Location / Surroundings
Hiking-/Skiing Area
Restore Factor
Location
Other / Satisfaction
Care
Price
Facilities
Comfort
Facilities
Cleanliness
---
Dear friends of Hüttenpartner – tell us your opinion!
Of course we hope that you had wonderful, relaxing cabin holidays, but maybe you have further suggestions for us. Tell future guests about your experiences! Read what our customers wrote:
Christoph 50-55 Jahre, verreist im Juni 2022
Hier haben wir mit 8 Erwachsenen mit Hund einen unser schönsten Urlaube verbracht. Das Haus ist sauber und einfach eingerichtet. Wir haben sehr nette Vermieter kennengelernt die uns mit Rat und Tat bei Fragen unterstützt haben. Im Ort ist das Schwimmbad mit Minigolfanlage sehr zu empfehle. Dienstagabend ist im Schwimmbad Bingoabend der uns viel Freude bereitet hat. Alles in Allem - Ferienhaus top- Vermieter top - St. Michael top!!! Wir kommen gerne wieder!
---
Thorsten 35-40 Jahre, verreist im Juli 2018
Ein sehr großes Ferienhaus in guter Lage! Viele verschiedene Zimmer - nicht mehr taufrisch aber sehr nett und praktisch! 5 Bäder, 3 Küchen und 5 Toiletten reichen auch für große Gruppen aus! Sehr freundliche Vermieter um Eck! Verbesserungsvorschläge wären: 1 oder 2 Wäscheständer, eine großzügige Sitzgelegneheit im Freien und dann doch (Jahr 2018!!!) Wlan im Haus:-) Wären hier gerne bereit gewesen mehr Geld auszugeben - das Preis-Leistungs-Verhältnis für das Haus ist aber absolut in Ordnung!
---
Karin 50-55 Jahre, verreist im Juli 2016
Sehr gut geeignet für eine größere Gruppe, viele Schlafräume in unterschiedlichen Größen. Sehr liebevoll eingerichtet, mehr Geschirr wäre günstig, da bei komplett Auslastung alles knapp wird. Die Vermieterin ist sehr freundlich und hilfsbereit.
---
Irmtraud Girzick 65-70 Jahre, verreist im Oktober 2014
Waren heuer das 6. Mal bei Frau Brandstätter auf Wanderurlaub. Fühlen uns in ihrem Gästehaus sehr wohl, gute und nette Betreuung.
---
Georg 60-65 Jahre, verreist im August 2014
Georg Kribitzneck und Hundefreunde
Waren im August 2014 bei Frau Brandstätter In Lungau-ST.Michael
Die Hütte ist Urig und sauber.Sehr viel Platz für viele Leute, auch gut eingerichtet
Frau Brandstätter ist sehr net,gerne kommen wir mal wieder
---