Steiermark, Aich, ICH-STM
SteiermarkAich
Location
A hütte napos oldalban fekszik, tökéletes kilátással az Enns völgyére, egyedülálló és nyugodt környezetben.
Distances
Aich helység 4km, Top síterep Schladming-Dachstein beszállni Hausnál 5kmre, családias síterep Galsterbergalm 7 km-re, szánkópálya 12kmre, fürdözésre alkalmas tó Aichban 5km, szabadstrand 10 km-re, tenisz 5km-re, golfpálya 9km-re, schladmingi uszoda 15km-re. Túraútvonalak a háztól! Rafting 15 km-re. Mászó-élménypark vezetökkel 10 km-re. Csatlakozni a "Alpentour Steiermark" kerékpárútvonalhoz.
Equippment
Pincében: wellnesz részleg szaunával, Infrakabin, zuhanyzó és WC. Sícipöszárító. Földszinten: kényelmes szoba ülösarokkal, kábel TV, cserépkályha, konyha kerámia tüzhellyel, hütöszekrény, mélyhütö, kávéfözö, vízforraló, mosogatógép, pirítós, mikro, kijárat a részben fedett 40m2-es napozóteraszra (székek és grill)! Innen élvezhetik a csodálatos kilátást Stoderzinken keresztül a Dachsteinon át a Tauern régióra! Tároló. Zuhanyzó, WC. 1 kétágyas szoba kábel TV-vel. Emeleten: 2 kétágyas szoba kábel TV, 1 négyágyas szoba 2 dupla ággyal. 1 zuhanyzó, 1 WC. Központifütés fával.
Additional charges on-site subject to minor changes:
Àram € 0,60/kWh, idegenforgalmi adó jelenleg € 250/fő/éj, maradék hulladék € 8,-/szemetes zsákot, ágynemühuzat bérelhetö € 4,-/szett, törölközö € 4,-/szett.

WINTERSAISON Schladming Dachstein 2023/24
ski lift open all day from
beginning of december 2023 - April 7th 2024

Facebook Huettendorf Schladming
---
Offers
Winter 2022/23 (1)
Travelperiod

Duration

Persons

Price

25. März 2023 - 1. Apr. 2023

7 Nights
10 Persons

€ 1.250,-

€ 1.450,-
Schnäppchen (8)
Frühling 2023 (4)
Kurz mal weg (13)
Sommer 2023 (1)
Herbstgenuss 2023 (10)
Winter 2023/24 (13)
Ski-Openings 2023 (6)
Weihnachten/Silvester 2023/24 (1)
Frühling 2024 (12)
Sommer 2024 (10)
Herbstgenuss 2024 (10)
All offers (81)
---
Location/Info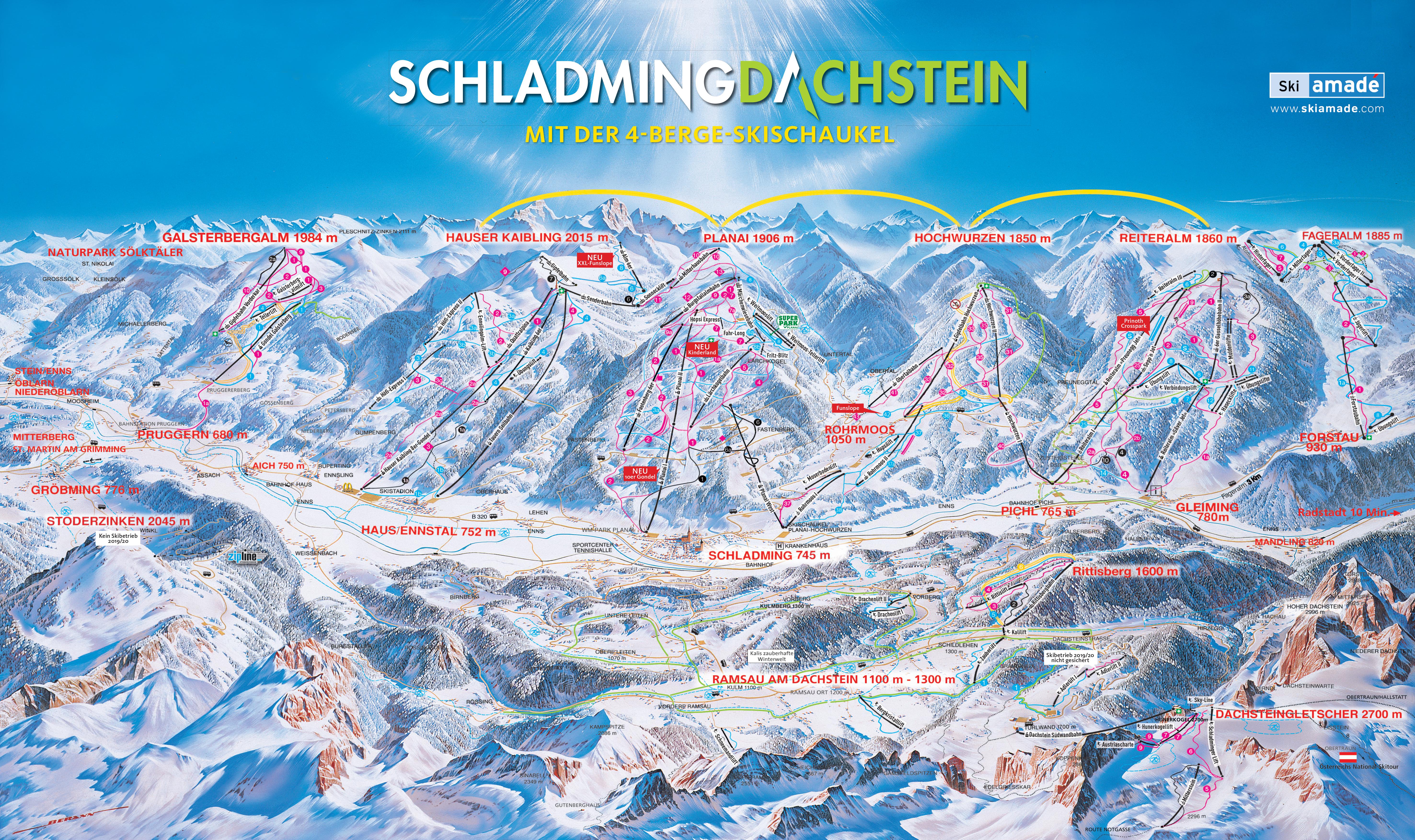 Winter Infos
The Schladming 4 mountains linked ski area connects the 4 highest Styrian mountains for skiing - Hauser Kaibling, Planai, Hochwurzen and Reiteralm. 123km slopes and 44 modern cable cars and ski lifts - non-stop! This is very unique, not just at ski amadé, but also in whole Austria.
The Dachstein-glacier and the smaller mountains, like the "Schneebärenland", as well as the family-skiing regions Stoderzinken and Galsterberg are part of the great offer of ski amadé, which is one of the most diversified winter sport areas in Europe. 760km slopes, 356 best prepared slopes and 270 comfortable ski lifts are provided - you need just one ski ticket!
Summer Infos
Regardless of whether you are looking for adventure or tranquility, the Schladming-Dachstein region is there for everyone. With around 1,000 kilometers of hiking trails, 1,000 kilometers of mountain bike routes and 22 climbing routes, the ways to experience our nature are just as varied as the region itself. And the cuisine is also of the highest quality with us: over 50 cultivated alpine pastures are open all summer here for you.
Rating
Location / Surroundings
Hiking-/Skiing Area
Restore Factor
Location
Other / Satisfaction
Care
Price
Facilities
Comfort
Facilities
Cleanliness
---
Dear friends of Hüttenpartner – tell us your opinion!
Of course we hope that you had wonderful, relaxing cabin holidays, but maybe you have further suggestions for us. Tell future guests about your experiences! Read what our customers wrote:
Harald 45-50 Jahre, verreist im Juni 2021
Hütte in allen Belangen 5*, Vermieter 5*, Freizeitfaktor Umgebung Ennstal 5* - perfekt - nix zu meckern - wir kommen wieder
---
Felix 50-55 Jahre, verreist im September 2016
Wunderbar! In jeder Hinsicht. Sehr freundliche Gastgeber, hervorragende Lage, sehr ruhig und bequem, herrliche Gegend mit vielen Freizeitangeboten. Gute Restaurants und ein gut sortierter Supermarkt im Ort. Die Hütte ist geräumig und sehr gut ausgestattet. Wir wären am liebsten einfach dort geblieben.
---
Wolfgang 60-65 Jahre, verreist im Mai 2015
Sehr empfehlenswert.
---
Klaus 45-50 Jahre, verreist im Oktober 2014
Das Haus ist perfekt ausgestattet. Es fehlt nichts. Die Lage ist erstklassig und der Blick über das Ennstal fantastisch. Die Vermieter sind sehr nett. Es hat uns sehr gut gefallen!
---
Chris 45-50 Jahre, verreist im August 2014
super schöne moderne Hütte mit toller Terrasse, Fernblick und Sonne (sofern sie scheint ;-) bis Abends
---
Harald 45-50 Jahre, verreist im Juni 2011
Hütte in allen Belangen 5*, Vermieter 5*, Freizeitfaktor Umgebung Ennstal 5* - kurz perfekt - nix zu meckern - wir kommen wieder
---