Steiermark, Lachtal, GEI-STM
SteiermarkLachtal
Cabin Description
---
Önellátó kunyhó 8 személynek
3 dupla és 1 kétágyas szoba
Rácsos gyerekágy elözetes kérésre
Tusoló/WC, WC
Wellness terem szaunával, tusoló
Lakóterület 150m²
Tengerszint feletti magasság 1630m
Személygépkocsival elérhetö
Si és turaterület közepén
Háziállat nem vihetö

Ski Area

Sauna/Infrared

Pond
Location
Kb. 500 méterre a völgyállomás felett, közvetlen a Lachtal si és turaterületen, mégis személygépkocsival elérhetö. Napos, kilátás a kunyhó elött fekvö kis tóra.
Distances
A sipálya közvetlen a ház mögött van, snowboard (hódeszka) iskola a silift völgyállomásánál 500 méterre a ház alatt, sifutópálya, megvilágitott szánkópálya és korcsolyapálya a közvetlen közelben. Vásárlási lehetöség 300 m, sikunyhó 50 m, éttermek 200 m (nyitva az idényöl függöen). A gyógyfürdö Aqualux 30 km, golfpálya 31 km. A ház fekvése ideális kiindulópont gyalogos és kerékpárturákhoz.
Equippment
Az 2013 épitésü kunyhó rendkivül kényelmes, izlésesen és fényüzöen berendezett. A földszinten modern, jól felszerelt konyha elektromos tűzhely (indukciós), sütő, mosogatógép, hűtő, fagyasztó, mikro, Nesspresso- és szűrő kávéfőző, kenyérpirító, bárral, étkezöasztallal, nappali valódi bör kanapéval, SAT-TV és teljesen automatikusan müködö kamin, kijárat a teraszra. Wellnessterem finn szaunával, tusoló és pihenöszoba, WC, elöszoba, elektromos sícipő szárító. Az emeleten 3 duplaágyas szoba SAT-TV-vel, (kettö balkonnal), 1 kétágyas szoba, tusoló/WC. W-LAN. A kunyhó elött terasz grillsütövel és nyugágyak. Központi fütés pelletskazánnal.
Additional charges on-site subject to minor changes:
Àram 0,40€/kWh, idegenforgalmi adó jelenleg € 2,50/személy/éjszaka, végtakaritás € 120,-, kautio (óvadék) € 300,-. Ágynemű bérelhető € 10,-r/szett. Kérjük,saját törölközöt gondoskodjanak.
Grundrisszeichnung: Erdgeschoss | Dachgeschoss
---
Offers
Last Minute (5)
Travelperiod

Duration

Persons

Price

1. Apr. 2023 - 8. Apr. 2023

7 Nights
8 Persons

€ 1.403,-

€ 2.450,-

1. Apr. 2023 - 10. Apr. 2023

9 Nights
8 Persons

€ 1.785,-

€ 2.100,-

8. Apr. 2023 - 15. Apr. 2023

7 Nights
8 Persons

€ 1.488,-

€ 1.750,-

15. Apr. 2023 - 22. Apr. 2023

7 Nights
8 Persons

€ 891,-

€ 990,-

22. Apr. 2023 - 29. Apr. 2023

7 Nights
8 Persons

€ 855,-

€ 990,-
Schnäppchen (9)
Winter 2022/23 (3)
Kurz mal weg (31)
Frühling 2023 (8)
Sommer 2023 (5)
Herbstgenuss 2023 (9)
Winter 2023/24 (8)
Ski-Openings 2023 (1)
Frühling 2024 (12)
Sommer 2024 (10)
Herbstgenuss 2024 (10)
All offers (97)
---
Location/Info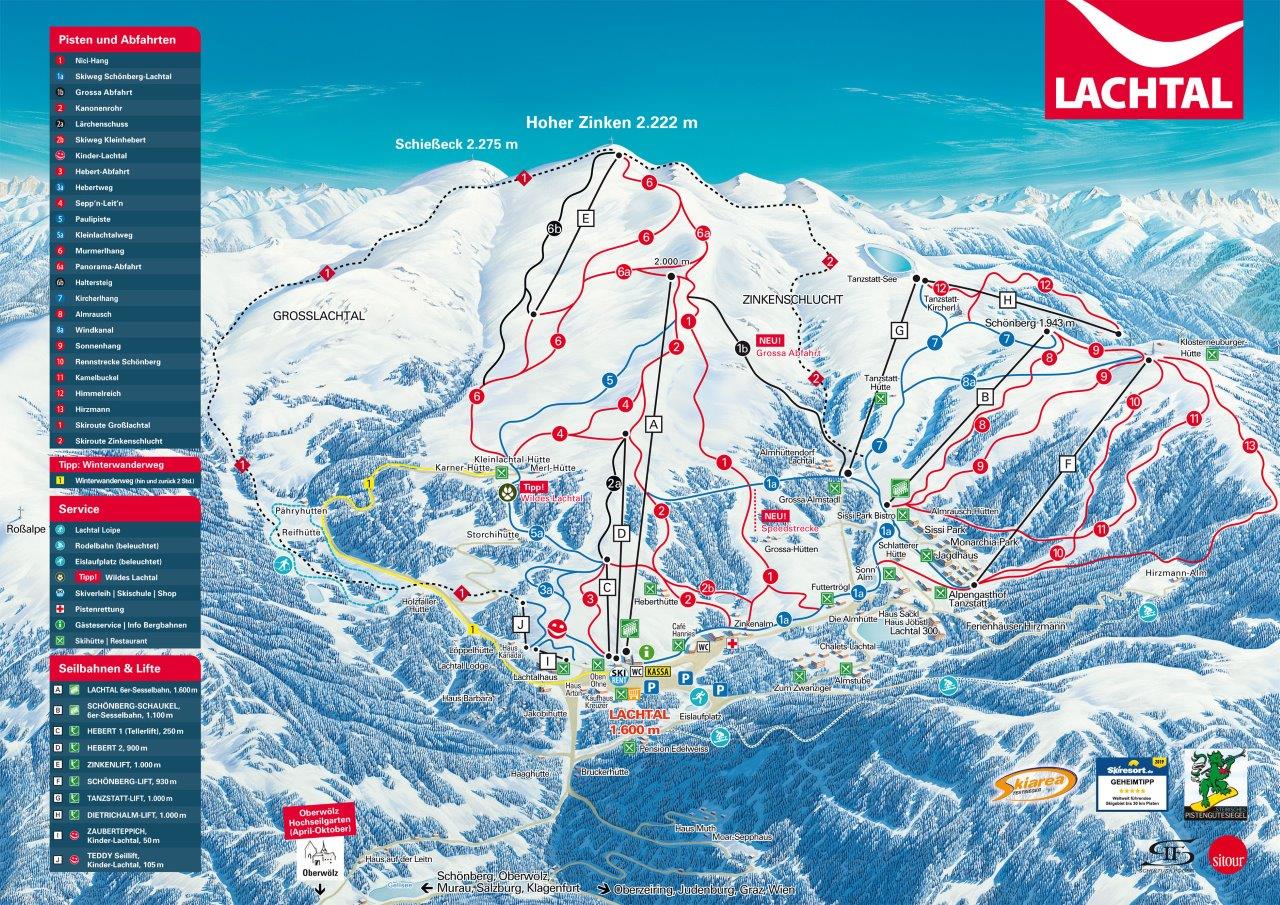 Winter Infos
(c) www.lachtal.at

The Lachtal!
It is one of the biggest, most popular skiing areas in Styria where also snow is mostly assured. Skiing on an altitude between 1,600m and 2,222m, 40km slopes at all levels of difficulty (blue-red-black) and 10km skiing routes are available. It is a 150 ha sunny skiing area with 2 modern "6er chairlifts" and 8 ski lifts. The offer at the "Kinder-Lachtal" is presentable and perfect for children and novices in skiing. A "magic carpet" (that´s a kind of conveyor belt), a Teddy-ski tow, mini slalom, coloured figure parcours, wave course, treasure hunt and a lot more services are offered.
Summer Infos
Far away from the hustle and bustle of everyday life, experience nature with all your senses, take a deep breath and find yourself again. Those who hike in such an environment inevitably feel the beneficial effects on body, mind and soul.
Wonderful walking and hiking trails from the valley to the high mountains, from leisurely family hikes to extreme mountain hikes.
Where in summer - surrounded by imposing two thousand meter peaks - cows graze with their calves, lush green colors the alpine pastures and alpine flowers provide splashes of color, in winter all signs point to fun on the slopes.
Rating
Location / Surroundings
Hiking-/Skiing Area
Restore Factor
Location
Other / Satisfaction
Care
Price
Facilities
Comfort
Facilities
Cleanliness
---
Dear friends of Hüttenpartner – tell us your opinion!
Of course we hope that you had wonderful, relaxing cabin holidays, but maybe you have further suggestions for us. Tell future guests about your experiences! Read what our customers wrote:
Michael 50-55 Jahre, verreist im Februar 2023
Wir sind nun schon das 8te Mal in der Hütte und haben auch schon für nächstes Jahr wieder gebucht Die Hütte ist absolut genial für Familien Wir genießen den Aufenthalt jedes mal
---
Christian, Anne, Arthur, Charlotte 40-45 Jahre, verreist im Dezember 2022
Wir haben mit unserer Familie einen wundervolle Zeit im Dezember in der Almhütte verbracht. Ich habe noch nie eine so saubere Unterkunft erlebt. Die Ausstattung und der Komfort sind großartig. Der Vermieter hat uns pünktlich empfangen. Die Übergabe war super. Beschreibung passt exakt. Ich würde gerne mehr als 5 Sterne vergeben. Wir kommen gerne wieder! Vielen Dank lieber Reinhard für die schöne Zeit in der Steiermark! Liebe Grüße, Familie Sch.
---
Kathrin 40-45 Jahre, verreist im Mai 2018
Unser Aufenthalt vom 09. – 13. Mai 2018 in Familie

Die Hütte: urig und modern zugleich, bietet sie ausreichend Platz für 8 Personen und ist mit allem ausgestattet, was man braucht. Sowohl im Wohn-Essbereich, als auch auf Terrasse kann man es sich bei herrlichem Ausblick gemütlich machen. Ein besonderer Pluspunkt gilt der Sauberkeit!

Wir haben "leider" die Zwischensaison erwischt, so dass im Umkreis nur vereinzelt Feriengäste anzutreffen waren und die Gasthöfe und auch der Lift geschlossen waren. Einzig im geöffneten "Futtertrögl" gleich nebenan konnten wir sehr lecker speisen :O) …am Ende kein Problem, wir waren mobil, haben die Gegend bis hin zum Wörthersee erkundet und sind uns einig, dass wir gerne nochmal hier Urlaub machen.

Danke auch an das Hüttenpartner-Team für den netten Kontakt und natürlich den Gastgeber vor Ort - sehr freundlich!

---
Jörg 50-55 Jahre, verreist im Oktober 2016
Wir fahren schon viele Jahre in Selbstversorgerhütten. Aber noch keine Hütte war so toll wie diese. Absolut sauber, perfekt eingerichtet, gemütlich und viel Platz. Super Lage zum Wandern... Türe auf und los gehts. Die Betreuung und Hilfsbereitschaft des Vermieters war super!
Liebe Fam. Geissler..wir werden wiederkommen.
---
Cornelia 40-45 Jahre, verreist im Februar 2016
Wir waren schon in vielen Selbstversorgerhütten auf Urlaub, aber diese war eindeutig die Schönste. Pefekte Lage, sehr gemütlich ausgestattet mit viel Stauraum und Platz (4 Kinder!) - geschmackvolle Einrichtung. Direkt an der Piste, sehr freundlicher und hilfsbereiter Vermieter.
---
Tanja 40-45 Jahre, verreist im Dezember 2015
Das ist die beste und schönste Hütte die wir bisher gebucht haben!!
Lage, Ausstattung, Einrichtung, Sauberkeit, Betreuung, ... alles perfekt!!
---
Ina 25-30 Jahre, verreist im November 2015
Top Lage und Super Ausstattung. Bequeme Betten. Es war nicht ersichtlich, dass das genannte Zweibettzimmer aus einem Hochbett besteht, welches für Erwachsene nicht all zu großen Komfort bietet. Küche und Wohnzimmer sind sehr bequem eingerichtet und einladend gestaltet. Es fehlt an einem Wasserkocher und eventuell ein paar gemütlichen Wolldecken auf dem Sofa. Auch die Sauna lud zum gemütlichen Entspannen ein.
---
Heiko 35-40 Jahre, verreist im August 2015
Susan 40-45 Jahre, verreist im Dezember 2014
Die Hütte ist Super! Die sauberste Hütte, die wir jemals gemietet haben.
---