Salzburg, Mandling, MAN-SBG
SalzburgMandling
Location
Magasan az Enns fölött, Schladming (Dachstein-Tauern) és Radstadt (Salzburgi Amadé Sportvilág) között, gyönyörű kilátással a Dachstein-hegytömbre. A ház egy mező közepén fekszik, nagyon idilli, nyugodt és napos helyen egy parasztgazdaság mellett, ahol van istálló, lakóház, kis saját uzsonnázóhely és saját törpefenyőolaj- és pálinkafőzde.
Distances
A Reiteralm nevű síterület új kabinos felvonóval és síiskolával 4km, jégtekepálya a háznál és szánkópálya 9 kmre, korcsolyapálya 1,5km, uszoda 1,5km, fürdőtó 4km, kerékpárkölcsönző és lovasiskola 10km, séta- és túrautak a háztól, saját pékárú házhoz szállítás, vendéglő 1,5km.
Equippment
A hüttében a földszinten található: nagy szoba ülőhellyel 20 személy számára, ízléses konyhával villanytűzhellyel, fatűzhellyel, sütővel, hűtővel, mosogatógéppel, kávéfőzővel, mikrohullámú sütővel. Játszószoba a kicsiknek. Nappali. Lomkamra, éléskamra, 2 WC. 1. emelet: 4 hálószoba zuhannyal és WC-vel, a idős tulajdonos elkülönített magánlakrésze. Tetőtér: 4 hálószoba, ebből 1 duplaágyas zuhannyal és WC-vel, egyébként egy zuhanyzó/WC a folyosón. Ezenkívül: központi fűtés, műholdas TV, rádió. Terasz nyugágyakkal, grillsütő, nagy mezők, halastó, kút, játszótér. Látogassa meg kisgyerekeivel az istállót a tehenekkel, csacsival, birkákkal, malacokkal. A gazdaságban saját törpefenyőolajégetés az egészséges életmódra törekvőknek, ahol a főnök állítja elő és dolgozza fel a törpefenyőolajat. Vagy figyelje, hogy állítják elő és palackozzák a saját pálinkafőzdében a a legfinomabb gyümölcspálinkákat.
Additional charges on-site:
Idegenforgalmi adó jelenleg € 1,20/fő/éj, energiacsomag € 80,-/hét, háziállat 25€/hét, takarítás € 150,-, szükség esetén ágynemű bérelhető € 15,-. Kaució € 300,-.
Foglalásnál 11 személyig csak az 1. emeleten levő hálószobák állnak rendelkezésre (2 duplaágyas, 1 háromágyas, 1 négyágyas szoba).
---
---
Location/Info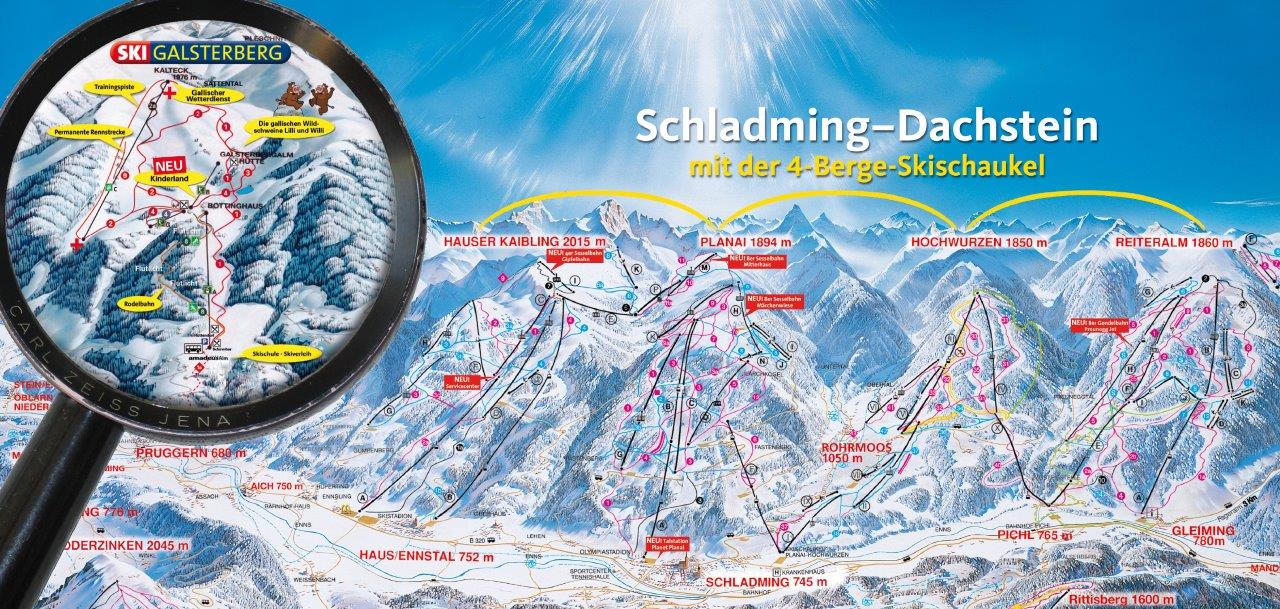 Winter Infos
The Galsterberg at a glance
5 cable cars and ski lifts, about 50 new parking spaces very close to the valley station of the cable car, 60 snow-covering machines help to improve the snow conditions.
The regions biggest wonderland for children: people skiing through the Gallic wonderland will be surprised - Gauls, Romans and animals move around there. They talk, bark and grunt. Children can experience unforgettable adventures:
- indoor-playing ground at the Romans tower
- huge snow figure
The Glasterberg in Pruggern is a small but nice skiing area with a lot of opportunities. Novices in skiing are happy about the easy and flat slopes, while passionate skiers can enjoy the fore-col-piste on an altitude of 1,200m, which counts to one of the most beautiful slopes in the whole region. The skiing region Galsterbergalm offers 20km bride and well prepared slopes and is part of the skiing region Dachstein-Tauern with 86 cable cars and ski lifts and 152km prepared slopes. It is also a member of ski amadé (just one ski pass for more than 760km slopes and 270 cable cars and ski lifts).
Access to the skiing paradise Schladming-Dachstein from Haus im Ennstal in 9km. Ski school with child care at the valley station. The 5km long lighted natural sledding run (one of the longest in Austria) ends at the valley station.
Rating
Location / Surroundings
Hiking-/Skiing Area
Restore Factor
Location
Other / Satisfaction
Care
Price
Facilities
Comfort
Facilities
Cleanliness
---
Dear friends of Hüttenpartner – tell us your opinion!
Of course we hope that you had wonderful, relaxing cabin holidays, but maybe you have further suggestions for us. Tell future guests about your experiences! Read what our customers wrote:
Franziska 18-25 Jahre, verreist im Juli 2015
Sehr schöne Hütte. In einer sehr schönen und ruhigen Lage. Kinder finden draußen eine Beschäftigung und benötigen keinen Fernseher.

---