Steiermark, Pruggern, APA-STM
SteiermarkPruggern
Location
Egy 24.000m²-t átfogó területen épült 7 kényelmes menedékház (SEP-STM) 24 szeméylig, 6 fényűző kis luxusház (SPA-STM) 12 személyig, valamint egy apartman (APA-STM) 10 személyig az önellátó ház emeletén. A ház földszintjén található egy üzlet (nyitvatartás a főszezonban), melyben italokat, péksüteményeket, élelmiszereket és cigarettát vásárolhatnak. Internetes csatlakozás. Péksütemény szolgáltatás is rendelkezésükre áll. A házak nagyon csendes és napos fennsíkon fekszenek, csodálatos kilátással a környező hegyekre, valamint az Ennstalra.
Distances
A házak a családbarát sí- és túraterület Galsterberg központjában, 5km-rel Pruggern helység fölött találhatók. Személygépkocsival elérhetö (egész évben). Pruggern az Ennstalban, kb. 14km távolságra Schladmingtól és 100km távolságra az ünnepi játékok városától, Salzburgtól. A síterület Galsterberg 20km széles, rendkívül jól előkészített pályákkal szolgál, 86 kötélpályákkal és liftekkel, valamint 152km-es előkészített lesiklópályákkal együtt képezi a síparadicsom Schladming-Dachstein részét. A terület a ski amadé tagja (egy síbérlet, mely több mint 760km-es pályákat és 270 kötélpályát és lifteket foglal magába). Felszállás a Schladming-Dachstein síparadicsomra az Ennstal-i háztól 10km-re. A 5km-es megvilágított természetes szánkópálya (Ausztria egyik leghosszabb pályája) a házak mellett halad végig! Síiskola gyerekfelügyelettel 300m távolságra a völgy irányába, a völgyállomástól sítalpakon jól megközelíthető. Természetesen hosszú lesiklásokon, hócipő- vagy lovasszán-kirándulásokon is részt lehet venni. Gazdálkodó menedékház 150m-re! Lovarda és teniszpálya a helységben. Az önellátó ház napos terasza előtt egy létrehozott 250m²-es fürdűzőtavacskában lehet lubickolni és játszadozni, valamint rendelkezik egy kis játszótérrel. Ezenkívül fürdőzőtó 10km-re, golfpálya 15km-re, valamint vadvízi evezés 15km-re! Magasdrót-kertes csapatos akadálypálya 13km-re. Közvetlen ráhajtási lehetőség az Alpentour Steiermark kerékpárútra! A háztól kellemes túrautak indulnak a gazdálkodó legelőkig!
Equippment
Az önellátó menedékház teljes emelete beköltözhető. A földszinten található üzlet a főszezonokban többnyire 8:00-10:00-ig, valamint 16:30-18:00-ig tart nyitva. Egyébként más személyek nem tartózkodnak a házban. A házban található 3 hálószoba egyenként 2-töl 4 személyig, ide tartozik 1 duplaágy és egy kinyitható heverő. 1 fürdőszoba, zuhanyzó, WC. Tágas nappaliban kényelmes heverősarok, SAT-tv. W-LAN-hálózat. Étkezőasztal, konyhasarok elektromos tűzhellyel, sütővel, kisebb fagyasztóval rendelkező hűtőszekrény, mosogatógép, kávéfőző, mikrohullámú sütő. Sörcsapoló berendezés (a sört hordók, amelyek rendelkezésre állnak a helyszínen). Etetőszék és gyerekágy igény szerint. Fűtött sícipő-szárító rendelkezésükre áll.
Additional charges on-site:
Idegenforgalmi adó € 2,50 + működési költség jelenleg € 1,-/fő/éj, végtakarítás € 120,-. Kaució € 400,-. Ágynemű € 8,-/igény szerint, törölköző/fürdőlepedő € 4,-/set.
Alaprajz: tetőtér

WINTERSAISON 2022/23
ski lift open all day from
December 8th 2023 - April 10th 2023

Facebook Huettendorf Pruggern
Instagram Huettendorf Pruggern
Homepage
---
Offers
Last Minute (4)
Travelperiod

Duration

Persons

Price

8. Okt. 2022 - 15. Okt. 2022

7 Nights
10 Persons

€ 575,-

€ 790,-

15. Okt. 2022 - 22. Okt. 2022

7 Nights
10 Persons

€ 575,-

€ 790,-

22. Okt. 2022 - 29. Okt. 2022

7 Nights
10 Persons

€ 711,-

€ 790,-

29. Okt. 2022 - 5. Nov. 2022

7 Nights
10 Persons

€ 711,-

€ 790,-
Kurz mal weg (30)
Herbstgenuss 2022 (8)
Schnäppchen (18)
Winter 2022/23 (5)
Ski-Openings 2022 (7)
Frühling 2023 (11)
Sommer 2023 (9)
Herbstgenuss 2023 (15)
All offers (85)
---
Location/Info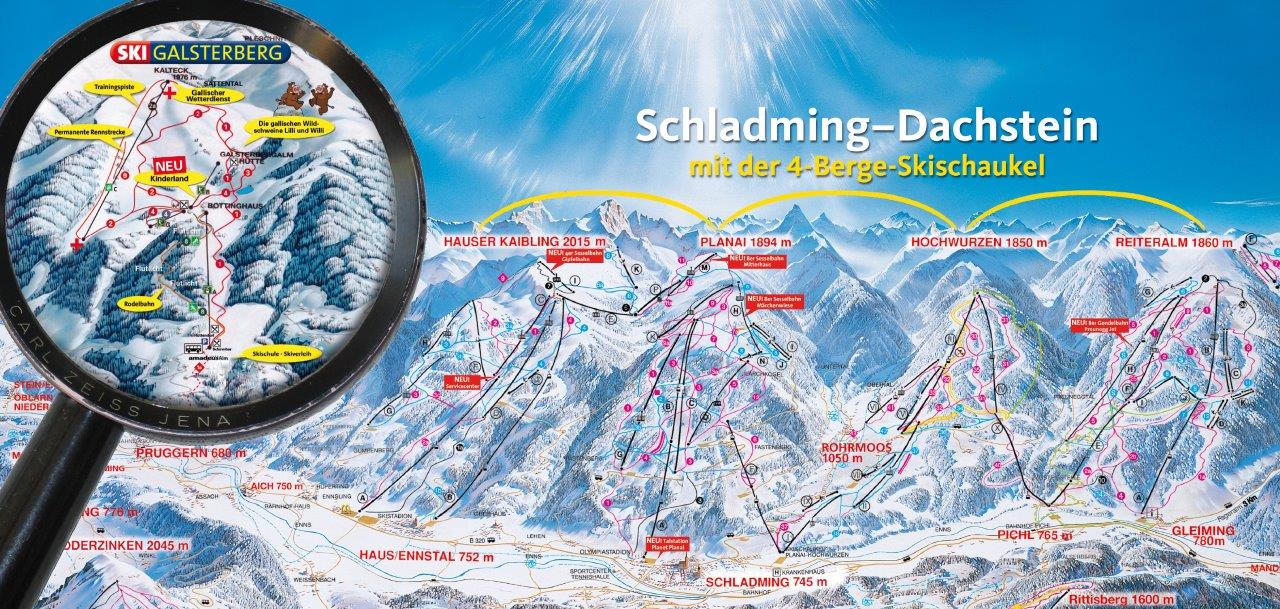 Winter Infos
The Galsterberg at a glance
5 cable cars and ski lifts, about 50 new parking spaces very close to the valley station of the cable car, 60 snow-covering machines help to improve the snow conditions.
The regions biggest wonderland for children: people skiing through the Gallic wonderland will be surprised - Gauls, Romans and animals move around there. They talk, bark and grunt. Children can experience unforgettable adventures:
- indoor-playing ground at the Romans tower
- huge snow figure
The Glasterberg in Pruggern is a small but nice skiing area with a lot of opportunities. Novices in skiing are happy about the easy and flat slopes, while passionate skiers can enjoy the fore-col-piste on an altitude of 1,200m, which counts to one of the most beautiful slopes in the whole region. The skiing region Galsterbergalm offers 20km bride and well prepared slopes and is part of the skiing region Dachstein-Tauern with 86 cable cars and ski lifts and 152km prepared slopes. It is also a member of ski amadé (just one ski pass for more than 760km slopes and 270 cable cars and ski lifts).
Access to the skiing paradise Schladming-Dachstein from Haus im Ennstal in 9km. Ski school with child care at the valley station. The 5km long lighted natural sledding run (one of the longest in Austria) ends at the valley station.
Summer Infos
Regardless of whether you are looking for adventure or tranquility, the Schladming-Dachstein region is there for everyone. With around 1,000 kilometers of hiking trails, 1,000 kilometers of mountain bike routes and 22 climbing routes, the ways to experience our nature are just as varied as the region itself. And the cuisine is also of the highest quality with us: over 50 cultivated alpine pastures are open all summer here for you.
Rating
Location / Surroundings
Hiking-/Skiing Area
Restore Factor
Location
Other / Satisfaction
Care
Price
Facilities
Comfort
Facilities
Cleanliness
---
Dear friends of Hüttenpartner – tell us your opinion!
Of course we hope that you had wonderful, relaxing cabin holidays, but maybe you have further suggestions for us. Tell future guests about your experiences! Read what our customers wrote:
Karin 45-50 Jahre, verreist im Februar 2014
Besten geeignet für Familien mit Kindern, Großfamilien oder befreundete Familien.
Ein gemeinsamer Urlaub für klein und groß.

---