Steiermark, Pruggern, UGO-STM
SteiermarkPruggern
Location
Etwa 4km oberhalb von Pruggern, neben der Talstation der Gondelbahn Galsterberg, sehr ruhig und sonnig, mit weiter Aussicht in die umliegende Bergwelt und den Dachstein.
Distances
Gondelbahn in das familienfreundliche Skigebiet (nur Winterbetrieb) direkt daneben. Das Skigebiet Galsterberg bietet 20km breite, bestens präparierte Pisten und ist Teil des Skiparadies Schladming-Dachstein mit 86 Seilbahnen und Liften und 152km präparierten Abfahrten und auch Mitglied der ski amadé (ein Skipass für über 760km Pisten und 270 Seilbahnen und Lifte). Skischule mit Kinderbetreuung und Skiverleih im Haus. Einstieg Skiparadies Schladming-Dachstein ab Haus im Ennstal in 9km. Die 7km lange beleuchtete Naturrodelbahn (eine der längsten Österreichs) endet direkt beim Haus. Natürlich gibt es auch die Möglichkeit zum Schneeschuhwandern oder Pferdeschlittenfahren. Reitstall und Tennis im Ort, Badesee in 10km, Golf in 15km oder Rafting in 15km Entfernung! Hochseilgarten mit Teamparcours 12km. Direkter Einstieg in den Radweg der Alpentour Steiermark möglich! Herrliche Wanderwege zu bewirtschafteten Almen ab Haus!
Equippment
Die neuwertige Doppelhütte besteht aus 2 gleichen, je 250m2 großen und völlig getrennten Einheiten für je bis zu 24 Personen. Je Hüttenhälfte bewohnen Sie: EG: Eingangsbereich mit separatem Skistall/Skischuhtrockner mit Lüfter, 1 WC, 50m2 große Stube mit Küchenecke perfekt ausgestattet mit E-Herd, Backofen, 3 Kühl- und Gefrierschränke, Geschirrspüler, Kaffeemaschine, Mikrowelle, Wasserkocher, Toaster. Bar mit Bierzapfanlage (für jene Fässer welche vor Ort erhältlich sind), große Sitzecke, Kaminofen und gemütliche Couchecke mit SAT-TV. Ausgang zur großzügigen 25m2 großen Sonnenterrasse mit Sitzecke, Liegestühle und Griller. 2 Schlafzimmer mit je 1 Doppelbett und Ausziehcouch und DU/WC. OG: 4 Schlafzimmer für je 2 – 4 Personen mit je 1 Doppelbett und Ausziehcouch, DU/WC. In einem Badezimmer ist zusätzlich zur Dusche auch eine Sauna. Die Hütten haben eine zentrale Fußbodenheizung, W-LAN. Absperrbare Fahrradgarage steht zur Verfügung. Wir bitten in den Hütten nicht zu rauchen! Im Untergeschoß (eigener Eingang durch Hanglage) der 2 Hütten befindet sich die Skischule mit Skiverleih. (nur Winter). Bettwäsche und Handtücher bitte mitbringen.
Additional charges on-site:
Strom nach Verbrauch € 0,40/kwh, Müllentsorgung und Ortstaxe derzeit € 2,50/Person/Nacht, Endreinigung € 220,-. Haustier € 50,-/Aufenthalt. Kaution € 600,-.
WINTERSAISON 2021/22
Durchgehender Liftbetrieb
vom 8. Dezember 2021 - 27. März 2022

Grundrisszeichnung: Erdgeschoss | Obergeschoss
Panorama: Erdgeschoss | Obergeschoss
---
Offers
Last Minute (6)
Travelperiod

Duration

Persons

Price

23. Okt. 2021 - 30. Okt. 2021

7 Nights
14 Persons

€ 786,-

€ 950,-

23. Okt. 2021 - 30. Okt. 2021

7 Nights
24 Persons

€ 1.016,-

€ 1.090,-

6. Nov. 2021 - 13. Nov. 2021

7 Nights
14 Persons

€ 855,-

€ 950,-

6. Nov. 2021 - 13. Nov. 2021

7 Nights
24 Persons

€ 1.125,-

13. Nov. 2021 - 20. Nov. 2021

7 Nights
14 Persons

€ 855,-

€ 950,-

13. Nov. 2021 - 20. Nov. 2021

7 Nights
24 Persons

€ 1.125,-

€ 1.250,-
Kurz mal weg (27)
Schnäppchen (15)
Herbstgenuss 2021 (8)
Winter 2021/22 (8)
Ski-Openings 2021 (11)
Frühling 2022 (16)
Sommer 2022 (7)
Herbstgenuss 2022 (24)
Winter 2022/23 (2)
Ski-Openings 2022 (10)
All offers (113)
---
Location/Info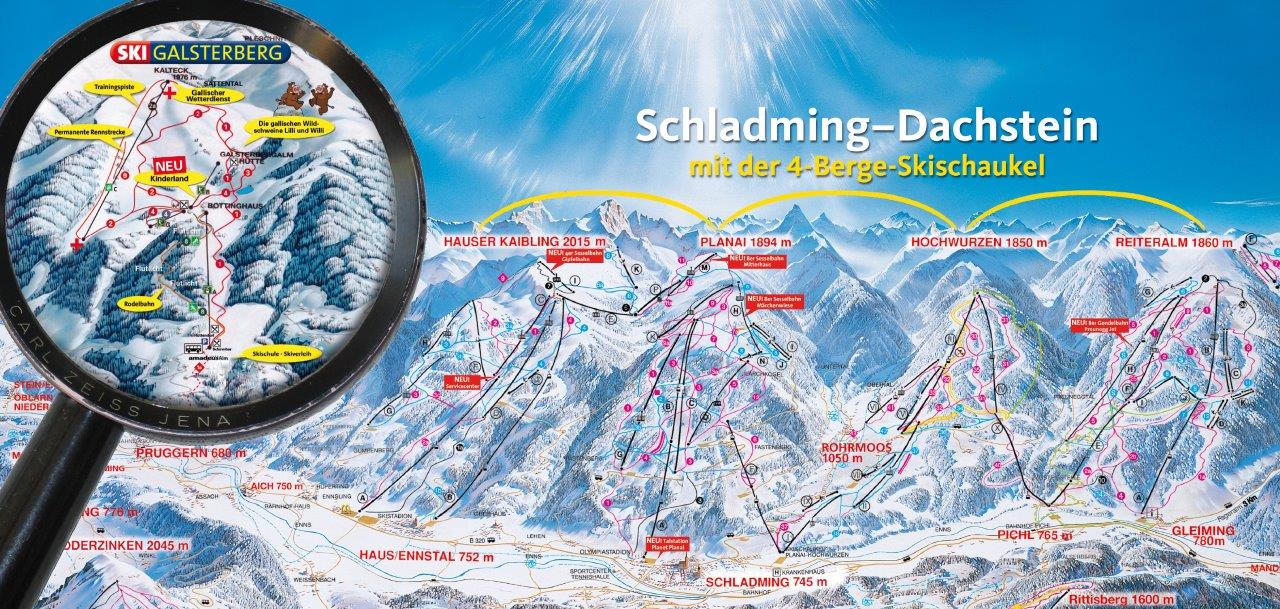 Winter Infos
Der Galsterberg auf einen Blick
5 Seilbahn- und Liftanlagen, rund 50 neue Parkplätze im Nahbereich der Gondel Talstation, 60 Beschneiungsgeräte verschaffen eine punktuelle Verbesserung bei der Schneeanlage.
Das größte Kinderland der Region: Wer durch das gallische Skidorf (=erlebnisreichstes Kinderland der Region) fährt, wird überrascht sein – Gallier, Römer und Tiere bewegen sich dort. Sie sprechen, bellen, grunzen. Kinder können im gallischen Skidorf unvergessliche Abenteuer erleben:
- Indoor-Spielparadies im Römerturm
- riesengroße Schneefigur
Der Galsterberg in Pruggern ist ein kleines, aber feines Skigebiet mit vielen Möglichkeiten.
Anfänger freuen sich über leichte, flache Pisten, während sich leidenschaftliche Skifahrer auf der 1.200 m langen Vorderkarpiste austoben, die sich mit Recht zu den schönsten Pisten der gesamten Region zählen darf.
Das Skigebiet Galsterbergalm bietet 20km breite, bestens präparierte Pisten und ist Teil des Skiparadies Dachstein-Tauern mit 86 Seilbahnen und Liften und 152km präparierten Abfahrten und auch Mitglied der ski amadé (ein Skipass für über 760km Pisten und 270 Seilbahnen und Lifte).
Einstieg Skiparadies Schladming-Dachstein ab Haus im Ennstal in 9km. Skischule mit Kinderbetreuung bei der Talstation. Die 5km lange beleuchtete Naturrodelbahn (eine der längsten Österreichs) endet bei der Talstation.
Summer Infos
Egal ob Du Abenteuer oder Ruhe suchst, die Region Schladming-Dachstein ist für alle da. Mit rund 1.000 Kilometern an Wanderwegen, 1.000 Kilometer Mountainbike-Routen und 22 Klettersteigen sind die Wege, unsere Natur zu erleben, ebenso vielseitig wie die Region selbst. Und auch die Kulinarik rangiert bei uns auf höchstem Niveau: Über 50 bewirtschaftete Almen sind den ganzen Sommer für Dich da.
Rating
Location / Surroundings
Hiking-/Skiing Area
Restore Factor
Location
Other / Satisfaction
Care
Price
Facilities
Comfort
Facilities
Cleanliness
---
Dear friends of Hüttenpartner – tell us your opinion!
Of course we hope that you had wonderful, relaxing cabin holidays, but maybe you have further suggestions for us. Tell future guests about your experiences! Read what our customers wrote:
Susanne 30-35 Jahre, verreist im August 2020
Wir durften unseren Sommerurlaub in Pruggern verbringen. Die Lage ist wirklich sehr toll. Man kann von dem Standort aus vieles unternehmen. Wandern, Rad fahren, Baden oder auch einfach mal die Seele baumeln lassen. Die Hütte ist sehr sauber und die Zimmer sind sehr komfortabel. Die Küche könnte noch etwas aufgerüstet werden, wenn man bedenkt dass die Hütte für 24 Personen ausgelegt ist. Mehrere größere Töpfe, Salatschüsseln, scharfe Messer, Kochlöffel, Salatbesteck, größere Gläser, Topfuntersetzer, Tassen. Und eine Ablage/Regal im Bad wäre noch wünschenswert. Und 1 oder 2 Sonnenschirme mehr wären im Hochsommer auch eine tolle Sache. Aber die Hütte an sich und die Sonnenterasse sind traumhaft.
---
Markus 45-50 Jahre, verreist im Juli 2020
Wir hatten als Gruppe von 27 Personen beide Hüttenseite und somit ausreichend Platz für klein und groß. Die Hütten sind sehr sauber und gut ausgestattet, jedoch könnten größere Topfe bzw Schüsseln vorhanden sein. Auch was die Sonnenliegen betrifft sind 4 Stück für eine mögliche Belegung von 48 Personen viel zu wenig. Der Außengrill könnte auch schöner und größer sein. Allem in allem eine sehr schöne Hütte und wir kommen mit Sicherheit nächstes Jahr wieder.
---
Barbara 50-55 Jahre, verreist im Juni 2017
Unsere Großfamilie hat auf dieser Hütte ein tolles verlängertes Wochenende verbracht. Die Hütte ist super sauber und sehr konfortabel. Wir haben die Zimmer mit eigenem Bad/WC sehr genossen. Die Ausstattung ist sehr gut. Ein oder zwei größere Töpfe und weitere Salatschüsseln könnten nicht schaden. Leider hat die Bierzapfanlage nicht perfekt funktioniert. Die Hälfte des 20l-Fasses um 70 EUR ist im Abfluss (Schaum) gelandet. Zudem war das Bier, trotz vorheriger Bestellung, bei unserer Ankunft nicht gekühlt. Erst am nächsten Morgen hatte es angenehme Trinktemperatur. Leicht überzogen finde ich auch den Preis für einen Korb Holz um 7,00 EUR. Alles in allem kann ich aber diese tolle Hütte zu 100% weiterempfehlen. Wir kommen nächstes Jahr wieder!
---
Franziska Huber 55-60 Jahre, verreist im Mai 2017
Super Hütte und sehr sauber
---
Ines 40-45 Jahre, verreist im Februar 2017
Liebes Hüttenpartner-Team und liebes amadeus-Team,
wir möchten uns noch einmal recht herzlich bei euch allen bedanken. Es war eine tolle Woche in einem wunderbaren Haus mit einer reizenden Crew!!!
Die Lage des Hauses - mit Skischule und Skiverleih im Untergeschoss und direkt neben der Gondelstation - ist wirklich einmalig und sowas von praktisch. :)
Zu den Übergaben: Natürlich erhielten auch wir die Mappe mit der sehr ausführlichen Hausordnung bei der Anreise. Jedoch hat diese wohl ihre Entstehungsgeschichte früheren Mietern bzw. schlechten Erfahrungen zu verdanken. Unsere Rückgabe am Abreisetag war völlig normal und Christina sehr freundlich. Wir haben das Haus anstandslos besenrein übergeben.
Wir möchten uns noch einmal bei dem wirklich sehr, sehr netten Team der amadeus Skischule bedanken, insbesondere bei Ina, Barbara und Horst, die einen Großteil unserer Gruppe unterrichteten. Fast alle unsere Kinder waren Anfänger und sausen nun die roten Pisten hinunter!!! Einfach toll!!!
Und wenn etwas frei ist im nächsten Jahr, kommen wir gern wieder. Legt ein gutes Wort für uns ein!!
Daaaaaankeeeeeeeee.
---
Nina 30-35 Jahre, verreist im Dezember 2015
Der letzten Bewertung kann ich mich voll und ganz anschließen... Die Hütte ist toll! Alleine schon die Lage direkt neben der Gondelstation hoch ins Skigebiet fanden wir optimal. Auch der Ausblick über das darunter liegende Tal ist traumhaft. Die Hütte ist hochwertig ausgestattet, sie war sehr sauber und bietet wirklich jeglichen Komfort wie in der Beschreibung angegeben ...uns hat es diesbezüglich an nichts gefehlt. Top!!

---
Constanze 35-40 Jahre, verreist im August 2015
Das Haus befindet sich in einem super Zustand. Es ist sehr sauber, gepflegt und sehr gut ausgestattet. Es ist absolut empfehlenswert, besonders für größere Gruppen oder mehrere Familien.
---
Stefan 25-30 Jahre, verreist im Juni 2015
Wie waren über das Wochenende in der Hütte und von dieser sehr angetan. Der Komfort in den Zimmern ist einmalig, die Sonnenterrasse traumhaft, hier fehlt es fast an nichts! Die Umgebung ist einmalig, die Hütte liegt ruhig gelegen auf 1000m mit schöner Aussicht. Die komplette Hütte ist sehr gepflegt und war sehr sauber zu unserer Ankunft.
Die Kosten für die Endreinigung sind meiner Meinung nach überzogen - wir haben die Hütte sehr sauber hinterlassen und mussten dennoch diesen hohen Betrag zahlen! Eine Staffelung wäre hier wünschenswert, bei Apartments geht es ja auch. Auch, dass nicht pro Person abgerechnet werden kann ist wirklich schade, hier sind unnötige Kosten möglich.
Weiterhin war der Grill eine Enttäuschung. Wie man auf einem Schachbrettgroßen Grill für über 20 Personen grillen soll, ist mir schleierhaft.
Zu guter Letzt fanden wir schade, dass wir die Hütte bereits um 9 (nach Verhandeln um 10) verlassen mussten - angeblich weil dann die Endreinigung sofort erfolge
Dennoch war es ein wirklich schönes Wochenende und wir würden die Hütte weiterempfehlen.
---
Manuela 30-35 Jahre, verreist im Juni 2014
Sind bereits seit 2008 in Pruggern und stets begeistert.
Die Almhütte besticht durch viel Raum und einen sehr freizügig gestalteten Aufenthaltsraum / Essraum.
Die Ausstattung war gut, obwohl uns Kleinigkeiten wie Eierkocher, Uhr, Radio usw. gefehlt hatten, die wir vom Hüttendorf gewohnt waren.

---