Bayern, Reit im Winkl, WID-BRD
BayernReit im Winkl
Cabin Description
---
Önellátó menedékház 12 személyre
1 duplaágy, 2 négyszemélyes ágy,
galéria heverővel
Gyermekágy rendelkezésre áll
3 zuhanyzó, 3 WC, szauna
Lakófelület 140m²
Tengerszintfeletti magasság 1.160m
Személyautóval megközelíthető
Síző- gyalogtúrázó terület
Háziállatot nem fogadunk

Ski Area

Sauna
Location
A menedékház Bajorországban van, az osztrák határhoz egészen közel, havasi legelő közepén, síző-gyalogtúrázó terület Winklmoosalm/Steinplatte.(14 felvonó, 44 km lesíklópálya). Autóval innen még 4km felhajtás, vagy az autó a Seegatterl-i parkolóban hagyható és innen függővasúton Winklmoosalm elérhető. A menedékház a Winklmoosalm-i parkolótól még kb.650m-re van. A menedékháztulajdonos segít a csomagszállításnál. Autóval nyáron akadálymentesen elérhető.
Distances
Legközelebbi helység üzletekkel, éttermekkel Reit im Winkl 9 km-re, sípálya, síoktatás a közvetlen közelben, ezenkívül 35 km hosszúpálya és télitúra-utak, melyek nyáron (családbarát-módon) gyerekkocsival is járhatóak. Étterem 150m-re. A környék ideális kerékpározók és hegymászók részére is. Tenisz, fürdőzés-úszócsarnok, golfpálya a helységben. Festői környezet 5km távolságra a Weitsee tónál.
Equippment
Fszt: van egy kényelmes szoba ülősarokkal és cserépkályhával, SAT-tv. Konyha, elektromos-kályha, sütő, fafűtésű kályha, mosogatógép, kávéfőző, mikrohullámú sütő, hűtőszekrény, fagyasztó. 2 WC, zuhanyzó. Az elsö emeleten: előszoba kihúzható kanapéval, ha szükséges, 3 hálószoba. Alagsor: szauna és pihenöszoba, 2 zuhanyzó, 1 WC. Fűtés cserépkályhával vagy árammal. A ház előtt terasz!
Additional charges on-site:
Áram: 0,40eur/kwh, helyi árszabás (Inklusivcard) 2,70eur télen, 2,50eur nyáron (árkedvezmény vagy ingyenszolg.). Végtakarítás 90eur. Bérelhető: ágynemű 7eur, törölköző 5eur. Kaució 400eur.
---
Offers
Herbstgenuss 2022 (4)
Travelperiod

Duration

Persons

Price

3. Okt. 2022 - 8. Okt. 2022

5 Nights
12 Persons

€ 1.025,-

8. Okt. 2022 - 15. Okt. 2022

7 Nights
12 Persons

€ 1.250,-

15. Okt. 2022 - 22. Okt. 2022

7 Nights
12 Persons

€ 1.250,-

22. Okt. 2022 - 28. Okt. 2022

6 Nights
12 Persons

€ 1.095,-

€ 1.250,-
Schnäppchen (8)
Ski-Openings 2022 (3)
Winter 2022/23 (5)
Kurz mal weg (12)
Frühling 2023 (5)
Herbstgenuss 2023 (11)
All offers (40)
---
Location/Info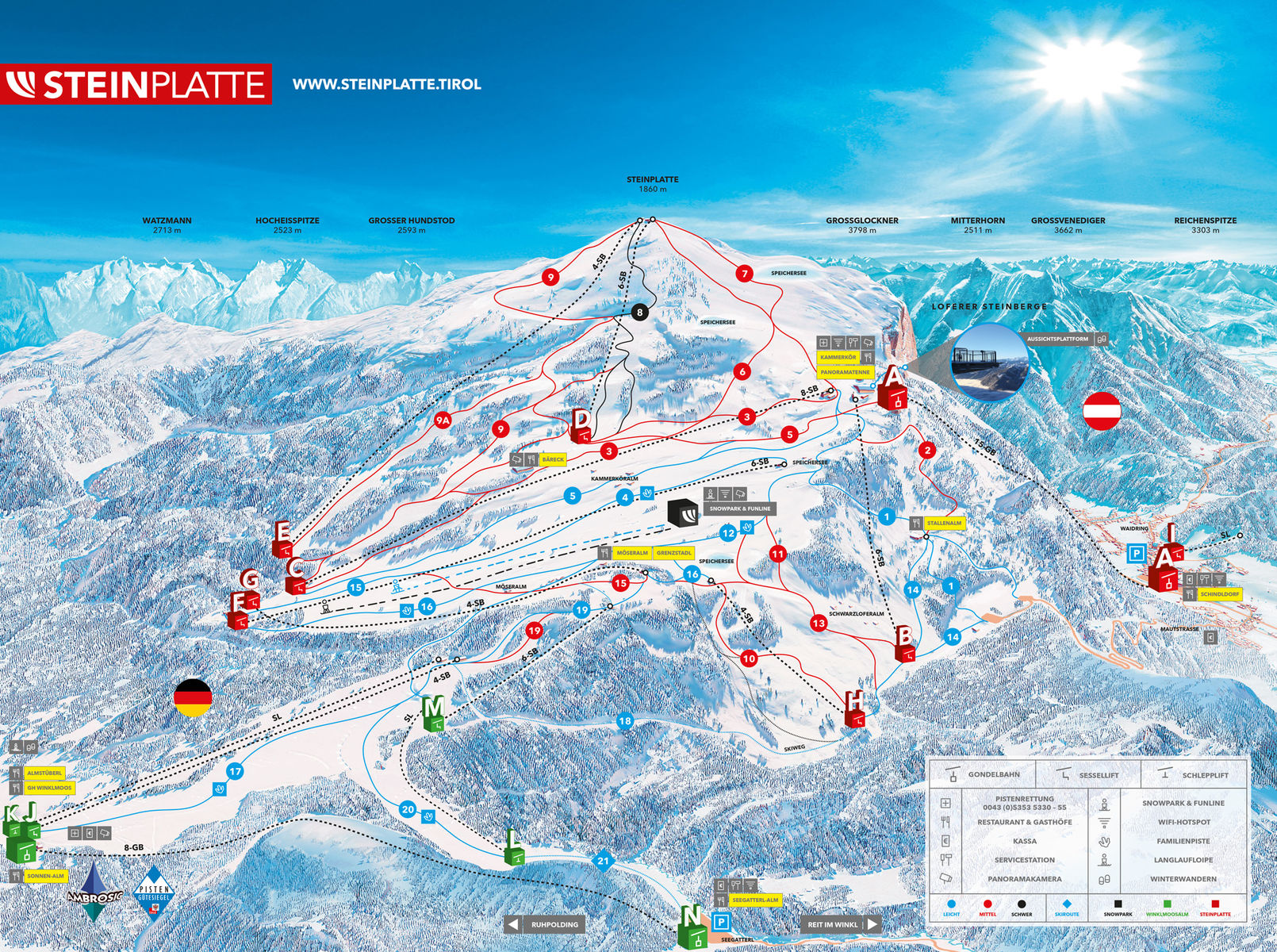 Winter Infos
Winter sport knows no limits in Reit im Winkl.
Our skiing region Winklmoosalm/Steinplatte reaches from Bavaria until Tyrol!
Cable car, ski lifts and chairlifts - all in all 14 lifts, 44km slopes - from it are 32km snow covered! Round the town Reit im Winkl are numerous possibilities to explore the wintry mountains and peaks.
Ski- snowboard- and cross-country skiing school on site, toboggan run. More than 35km cross-country ski runs and winter hiking trails, which are baby carriage- and family-friendly in summer.
Summer Infos
An extensive network of hiking trails opens up the fantastic area of the Winklmoosalm from Bavaria to Austria.
In the middle of the Chiemgau Alps lies the Winklmoosalm / Bavaria, made famous by Rosi Mittermaier!
Or use the possibility of a guided tour on the mountain pasture.
Bicycle tours, hiking trails suitable for prams, torch-lit hikes, fairy tale and amusement parks - there is something for everyone.
Rating
Location / Surroundings
Hiking-/Skiing Area
Restore Factor
Location
Other / Satisfaction
Care
Price
Facilities
Comfort
Facilities
Cleanliness
---
Dear friends of Hüttenpartner – tell us your opinion!
Of course we hope that you had wonderful, relaxing cabin holidays, but maybe you have further suggestions for us. Tell future guests about your experiences! Read what our customers wrote:
Rolf 60-65 Jahre, verreist im März 2022
Die Lage der Hütte ist unübertrefflich - nah genug am Skigebiet um die Bretter einfach vor der Hütte anzuschnallen, weit genug um vom Skitrubel nichts mitzubekommen. Die Ausstattung ist teils richtig gut (Fußbodenheizung, drei sehr ordentliche Duschen, Sauna), teils zusammengetragen (gilt für die Ausstattung der Küche).
---
Katharina 35-40 Jahre, verreist im Dezember 2018
Ein sehr schönes, sauberes Haus. Die Lage ist echt super. Mitten im Skigebiet.
---
Thomas 45-50 Jahre, verreist im Mai 2017
Ein sehr schönes Haus in Alleinlage. Das Objekt befindet sich in einem sehr guten und sauberen Zustand. Zimmer sind liebevoll eingerichtet und die Sanitäranlagen sehr zu empfehlen. Der Preis ist angemessen. Nur die Ausstattung der Küche bekommt einen Punktabzug, da das Inventar zusammengewürfelt und für größere Gruppen nicht optimal ist (Beispiel: Mini-Sieb zum Nudeln abgießen, keine Weingläser etc).
---
Jutta 55-60 Jahre, verreist im März 2017
Sehr gut ausgestattetes Haus direkt im Skigebiet und unkomplizierte freundliche Kommunikation mit den Vermietern. Frühling am Haus und Schnee auf der Steinplatte. Wir haben es sehr genossen!
---
Ralph 45-50 Jahre, verreist im März 2016
Ralph 35-40 Jahre, verreist im Februar 2016
Ralph 35-40 Jahre, verreist im Januar 2016
Anke 35-40 Jahre, verreist im Oktober 2014
Das Haus befindet sich in einer super Lage, sehr ruhig (wir waren in der Nebensaison da) mit einem fantastischen Ausblick auf die Berge. Für 12 Personen ist das kleine Bad mit Dusche zu wenig, wir waren mit 8 Personen dort - es war in Ordnung. Super schön ist die Sauna.
---