Steiermark, Schladming, APT-STM
SteiermarkSchladming
Location
Kb. 500m-rel Schladming, az alpesi világbajnokság helyszíne fölött, az üdülőterület Schladming-Dachstein központjának kellős közepén, valamint a "Ski amadé", Ausztria legnagyobb pálya- és felvonóválasztéka közepén, (760km-es pályák és 270 felvonó) 22.000m² területen 10 kényelmes menedékház épült 24 személyig (SKI-STM) és 1 apartman a recepcióval rendelkező ház EM.-én (APT-STM) 12 személyig. Szintén ennek a háznak a Fszt.-jén található egy üzlet (nyitvatartás a főszezonban), melyben italokat, péksüteményeket, pizzát, élelmiszereket és cigarettát vásárolhatnak. Internetes csatlakozás és péksütemény-szolgáltatás is a vendégek rendelkezésére áll.
Distances
Schladming kitűnő vendéglátással, pubokkal, aprés ski-vel, üzletekkel, pékséggel 500m-re. A pálya közvetlenül a házak mellett halad végig, 300m hosszú lesiklópálya a "Planai West" felvonókhoz vagy az ülőlifthez (Hochwurzen). A kunyhófaluban egy 300m²-t átfogó, vízeséssel rendelkező fürdőzőtavacska és egy kis játszótér található. Nagyszerű túra- ill. kerékpárútvonalak a háztól, golfpálya 6km-re, vadvízi evezés 3km-re, síiskola 300m-re. Charging station for your electric car (22kw, type 2) on site!
Equippment
A menedékház teljes emelete beköltözhető. A földszinten található üzlet a főszezonokban többnyire 8:00-10:00-ig, valamint 15:30-18:30-ig tart nyitva. Egyébként más személyek nem tartózkodnak a házban. A fényűzően berendezett apartmanban található 3 hálószoba egyenként 2-től 4 személyig, ide tartozik 1 duplaágy és egy kinyitható hever. 1 fürdőszoba szaunával, zuhanyzó, WC. 1 külön WC. Kényelmes nappalihoz tartozik 1 erkély, ülősarok,heverő, SAT-tv, tökéletesen berendezett konyhasarok elektromos tűzhellyel, sütő, hűtőszekrény, mosogatógép, kávéfőző, vízforraló, kenyérpiríto és mikrohullámú sütő. Sörcsapoló berendezés (a sört hordók, amelyek rendelkezésre állnak a helyszínen). DVD-CD lejátszó, vezeték nélküli LAN és fűtött sícipő szárító áll rendelkezésre. Etetőszék és gyerekágy igény szerint. Kérjük, az apartmanban ne dohányozzanak!
Additional charges on-site subject to minor changes:
Áram fogyasztás szerint € 0,60/kwh, idegenforgalmi adó € 2,50 + működési költség jelenleg € 1,-/fő/éj, végtakarítás € 150,-. Kaució € 600,-. Ágynemű € 8,-/igény szerint, törölköző/fürdőlepedő € 4,-/set.
Floor plan: Grundrisszeichnung: upper floor

WINTERSEASON 2023/24
ski lift open all day from
beginning of december 2023 - April 7th 2024
SUMMERSEASON 2024 coming soon
Planai: May xth - October xnd 2024
October xth - October xth 2024 (only TH-SO)
October xth - November xst 2024
Hochwurzen: May xth - September xth 2024

Facebook Huettendorf Schladming
Instagram Huettendorf Schladming
Homepage
---
Offers
Last Minute (1)
Travelperiod

Duration

Persons

Price

17. Dez. 2023 - 23. Dez. 2023

6 Nights
12 Persons

€ 1.440,-

€ 1.995,-
Ski-Openings 2023 (4)
Weihnachten/Silvester 2023/24 (1)
Winter 2023/24 (1)
Schnäppchen (8)
Frühling 2024 (10)
Kurz mal weg (21)
Sommer 2024 (8)
Herbstgenuss 2024 (10)
Winter 2024/25 (4)
Ski-Openings 2024 (8)
All offers (67)
---
Location/Info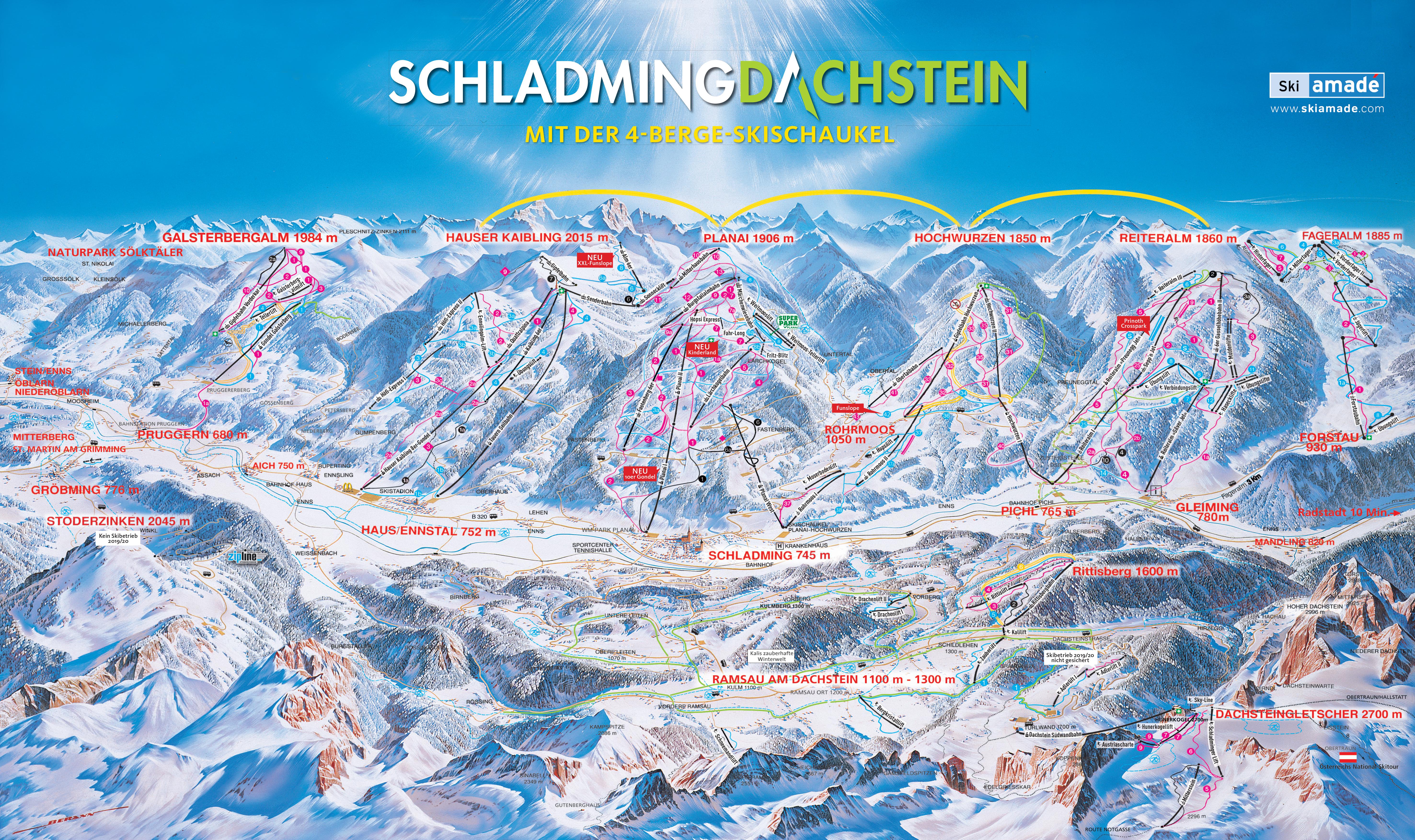 Winter Infos
The Schladming 4 mountains linked ski area connects the 4 highest Styrian mountains for skiing - Hauser Kaibling, Planai, Hochwurzen and Reiteralm. 123km slopes and 44 modern cable cars and ski lifts - non-stop! This is very unique, not just at ski amadé, but also in whole Austria.
The Dachstein-glacier and the smaller mountains, like the "Schneebärenland", as well as the family-skiing regions Stoderzinken and Galsterberg are part of the great offer of ski amadé, which is one of the most diversified winter sport areas in Europe. 760km slopes, 356 best prepared slopes and 270 comfortable ski lifts are provided - you need just one ski ticket!
Summer Infos
Regardless of whether you are looking for adventure or tranquility, the Schladming-Dachstein region is there for everyone. With around 1,000 kilometers of hiking trails, 1,000 kilometers of mountain bike routes and 22 climbing routes, the ways to experience our nature are just as varied as the region itself. And the cuisine is also of the highest quality with us: over 50 cultivated alpine pastures are open all summer here for you.
Rating
Location / Surroundings
Hiking-/Skiing Area
Restore Factor
Location
Other / Satisfaction
Care
Price
Facilities
Comfort
Facilities
Cleanliness
---
Dear friends of Hüttenpartner – tell us your opinion!
Of course we hope that you had wonderful, relaxing cabin holidays, but maybe you have further suggestions for us. Tell future guests about your experiences! Read what our customers wrote:
Steffen 45-50 Jahre, verreist im Januar 2020
Liebe Vermieter, es war eine tolle Woche bei Euch. sehr freundlich und schnell im erledigen von Sonderwünschen!!!! Die Brötchen schmecken und immer pünktlich da!!! Einen kleiner Manko ist nur das es keine 2.Dusche gibt...schade aber egal...wir kommen wieder. Bleiben Sie alle Gesund
---
Peter 50-55 Jahre, verreist im März 2017
Tolles Haus (schöne Einrichtung,alles sehr gepflegt!), Piste und Parkplatz vor der Unterkunft! Auch die Dame am Empfang sehr freundlich. Ich würde sofort wieder buchen!!
---
Harald und Corinna 35-40 Jahre, verreist im März 2016
Jochen 45-50 Jahre, verreist im Februar 2016
Jochen 45-50 Jahre, verreist im Februar 2016