Steiermark, St. Wolfgang, FOS-STM
SteiermarkSt. Wolfgang
Location
A turistaház a stájer Zirbenland közepén fekszik kb. 10km-re Obdachtól és kb. 1,5km-re St. Wolfgangtól. Megközelítés egy sík kavicsos úton át. Egy erdei tisztáson áll teljesen magányosan, abszolút nyugalomban, kilátással a völgyre.
Distances
A legközelebbi helység St. Wolfgang, egy idilli fekvésű kis hegyi falu. Ideális kiindulópont hegyi és sítúrákhoz a Zirbitzkogel-hegytömbre valamint a Seetaler Alpokba, számos jelzett túraúttal és üzemeltetett turistaházzal. St. Wolfgangban van 3 sífelvonó, egyébként a Klippitztörl nevű síterület 40km, szánkózási lehetőség 800m.
Equippment
Földszint: otthonos lakószoba ebédlőasztallal és konyhasor fatűzhellyel, elektromos tűzhellyel, sütővel, kávéfözö, hütöszekrény, műholdas TV. A szoba két ággyal. Hűvös éléskamra, fürdőszoba káddal és WC. Emelet: 1 hálószoba duplaággyal és két-sofa szükség esetén, WC. Központi fűtés fával. A ház előtt ülőhely, kút, grillező, hinta, nyugágyak, kilátótorony ülőhellyel és kilátással a völgyre és egy fafütésü szaunaházikó!
Additional charges on-site:
Csomagár: € 3,-/fö/éj, háziállat € 25,-/hét, ágynemühuzat bérelhető € 5,-/szett. Kaució: € 100,-, pótágy € 6,-/éj.
---
Offers
Herbstgenuss 2022 (5)
Travelperiod

Duration

Persons

Price

24. Sep. 2022 - 1. Okt. 2022

7 Nights
6 Persons

€ 575,-

€ 590,-

8. Okt. 2022 - 15. Okt. 2022

7 Nights
6 Persons

€ 575,-

€ 590,-

29. Okt. 2022 - 5. Nov. 2022

7 Nights
6 Persons

€ 590,-

5. Nov. 2022 - 12. Nov. 2022

7 Nights
6 Persons

€ 575,-

€ 590,-

12. Nov. 2022 - 19. Nov. 2022

7 Nights
6 Persons

€ 590,-
Schnäppchen (16)
Kurz mal weg (16)
Winter 2022/23 (19)
Frühling 2023 (11)
Sommer 2023 (6)
Herbstgenuss 2023 (15)
All offers (72)
---
Location/Info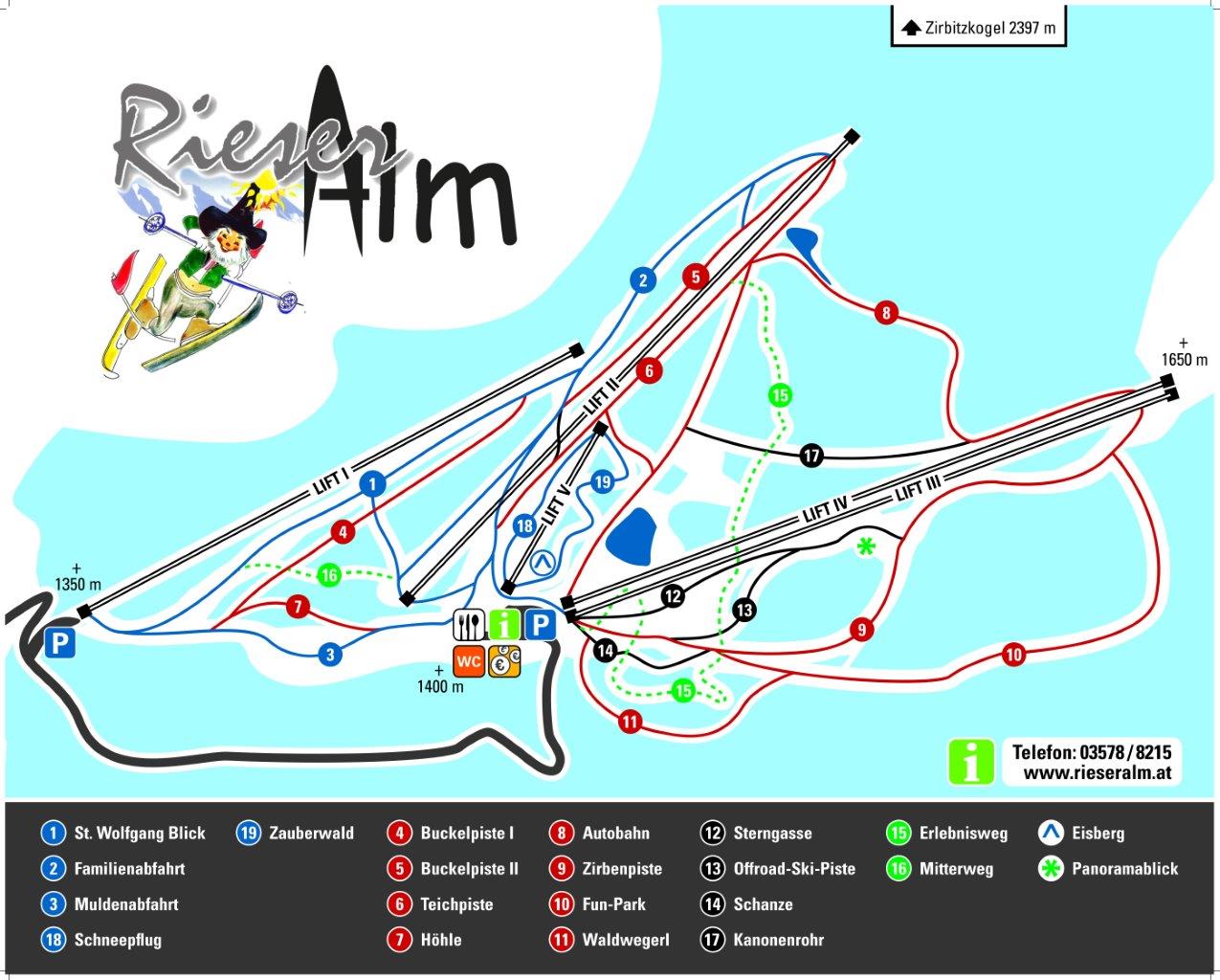 Winter Infos
From the sporty snowboarder to the leisurely winter hiker. On the Rieseralm, skiing fun begins right on the doorstep - and at extremely family-friendly prices!
5 drag lifts with natural snow slopes and snowmaking, 12 km of fun on the slopes, family run, mogul slope, forest path, steep slope, fun park. The Rieseralm is also the ideal starting point for ski tours in the Seetal Alps.

NEW:
-) Rieseralm children´s area with pommel lift
and floodlights
-) Snowmaking system
-) Top family offers for season tickets
-) Day ticket + lunch
Summer Infos
The town of Obdach is the perfect destination for everyone. Signposted bike and hiking trails, the Zirbitzkogel and the proximity to the Red Bull Ring make the place something very special. Enjoy hospitality like nowhere else and relax from everyday stress.
Rating
Location / Surroundings
Hiking-/Skiing Area
Restore Factor
Location
Other / Satisfaction
Care
Price
Facilities
Comfort
Facilities
Cleanliness
---
Dear friends of Hüttenpartner – tell us your opinion!
Of course we hope that you had wonderful, relaxing cabin holidays, but maybe you have further suggestions for us. Tell future guests about your experiences! Read what our customers wrote:
Christian 50-55 Jahre, verreist im August 2022
Hütte sehr schön am Waldrand gelegen, alles da was man für 5 Personen braucht. Alleinlage, Zufahrt leicht möglich (Waldweg/Schotter), wurden herzlich empfangen und haben uns sehr wohl gefühlt (mit Kids 13,13,17,18).
---
Johann + Doris 60-65 Jahre, verreist im Juni 2021
Perfekt ausgestattet, liebevoll eingerichtet und sehr sauber. Das Haus und die Umgebung sind traumhaft.
---
Wilfried 60-65 Jahre, verreist im September 2020
Wir waren Ende September da als wir ankamen lag Schnee im August soll es wohl auch schon geschneit haben sagte die Besitzerin bei der Einweisung. Sie war übrigens sehr nett .Wer Ruhe sucht ist hier sehrgut aufgehoben hinter dem Haus beginnt der Bergwald. Die Ausstattung ist zwegmäßig es ist alles da was man braucht wir haben uns mit unseren Hund sehr wohlgefühlt
---
Sylvia 50-55 Jahre, verreist im September 2018
Wir waren im September 2018 zu Gast und haben uns rundrum sehr wohl gefühlt. Ein tolles Ambiente in wirklicher Alleinlage und Highlight waren für uns der HOT POT und die Sauna. Die Gastleute waren sehr nett. Die Hütte war gut ausgestattet und komplett eingezäunt. Über kleinere notwendige Reparaturen (Dusche) konnten wir absolut hinwegsehen. Es gab viel zu erkunden und die Wanderungen konnten größtenteils gleich von der Hütte aus erfolgen. Ein Aufstieg auf den Zirbitzkogel ist ein Muss und einen Tagesausflug Wert. Wir kommen auf alle Fälle gern wieder und können die Hütte nur empfehlen.
---
Brigitte u. Mario 50-55 Jahre, verreist im Juli 2016
Tolle Hütte, nette Hüztenbesitzer
---
Gregor 35-40 Jahre, verreist im April 2015
Traumhaftes, kleines Häuschen in einmaliger Lage - einfache, aber funktional ausreichende Ausstattung. Bei Anreise im Schnee unbedingt für gutes Profil auf den Reifen sorgen oder Ketten mitnehmen - Zufahrt ist recht unwegsam bei Glätte. Sehr freundlichem, hilfsbereite Gastgeber.
---