Steiermark, Stein an der Enns, ROB-STM
SteiermarkStein an der Enns
Location
Die Hütte liegt vollkommen alleine, mit herrlicher Aussicht, umgeben von Wiese über dem Ort Stein an der Enns mit Blick in das Ennstal und die Dachstein-Tauern-Region.
Distances
Ort Stein zum Einkaufen 2,5km, beschilderter Wanderweg direkt ab Hütte. Die Hütte liegt mitten im "Naturpark Sölktäler". Dieser alpine Naturpark bietet auf einer Fläche von 277km2 zahlreiche Bergseen sowie bewirtschaftete Almen. Hier finden Sie Lehrpfade, geführte Wanderungen, ein Naturmuseum und zahlreiche kulturelle Veranstaltungen. Langlaufloipe in 3km, Skigebiet Dachstein-Tauern 12km, Tennisplatz 4,5km, Badesee Aich 10km.
Equippment
Die Hütte hat im EG eine Stube mit Sitzplätzen, Bar, SAT-TV. Küchenzeile mit Holzherd, Backofen, Kühlschrank, Kaffeemaschine und Wasserkocher. DU/WC. Aufgang in das Dachgeschoß mit Vierbettzimmer und Durchgang zu Doppelzimmer. Heizung und Warmwasser mit Holzofen. Vor der Hütte überdachte Terrasse mit Sitzplatz, Griller und Brunnen. Bettwäsche mitbringen.
Additional charges on-site:
Ortstaxe derzeit € 1,50/Person/Nacht, Betriebskosten € 20,-/Woche, Haustier € 20,-/Woche.
---
Offers
Schnäppchen (9)
Travelperiod

Duration

Persons

Price

16. Okt. 2021 - 23. Okt. 2021

7 Nights
6 Persons

€ 460,-

€ 490,-

3. Dez. 2021 - 8. Dez. 2021

5 Nights
6 Persons

€ 425,-

7. Dez. 2021 - 12. Dez. 2021

5 Nights
6 Persons

€ 425,-

2. Jan. 2022 - 8. Jan. 2022

6 Nights
6 Persons

€ 510,-

15. Jan. 2022 - 22. Jan. 2022

7 Nights
6 Persons

€ 470,-

5. Feb. 2022 - 12. Feb. 2022

7 Nights
6 Persons

€ 560,-

19. Feb. 2022 - 26. Feb. 2022

7 Nights
6 Persons

€ 560,-

26. Feb. 2022 - 5. März 2022

7 Nights
6 Persons

€ 660,-

7. Mai 2022 - 14. Mai 2022

7 Nights
6 Persons

€ 460,-
Herbstgenuss 2021 (4)
Kurz mal weg (13)
Winter 2021/22 (19)
Frühling 2022 (10)
Sommer 2022 (9)
Herbstgenuss 2022 (10)
All offers (65)
---
Location/Info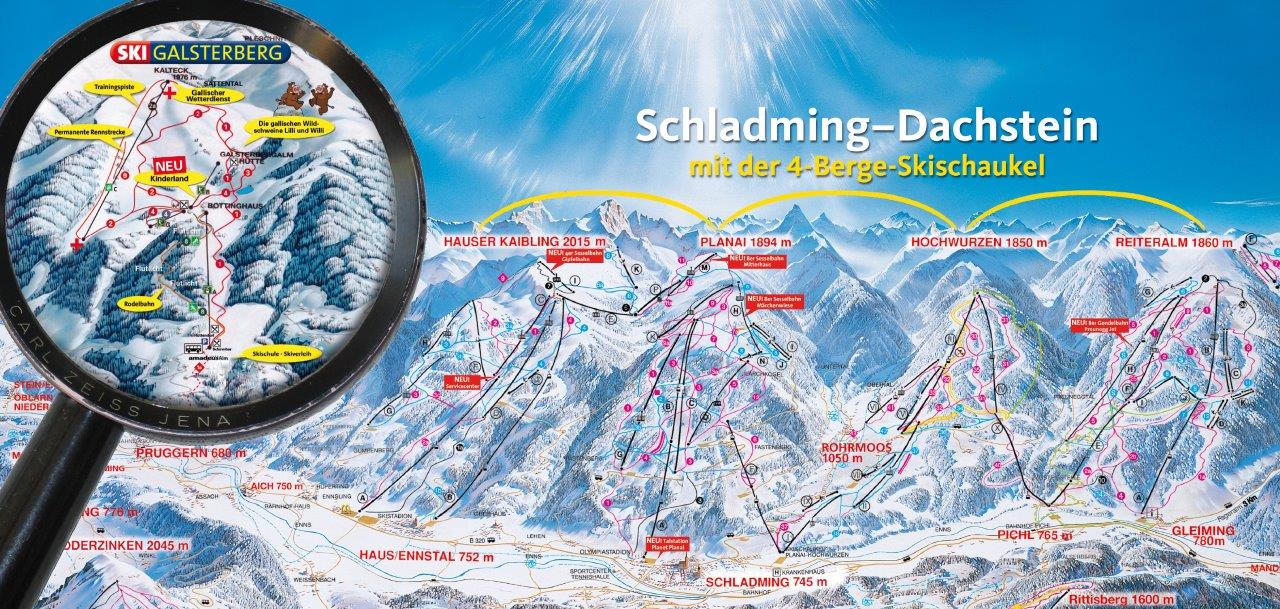 Winter Infos
Der Galsterberg auf einen Blick
5 Seilbahn- und Liftanlagen, rund 50 neue Parkplätze im Nahbereich der Gondel Talstation, 60 Beschneiungsgeräte verschaffen eine punktuelle Verbesserung bei der Schneeanlage.
Das größte Kinderland der Region: Wer durch das gallische Skidorf (=erlebnisreichstes Kinderland der Region) fährt, wird überrascht sein – Gallier, Römer und Tiere bewegen sich dort. Sie sprechen, bellen, grunzen. Kinder können im gallischen Skidorf unvergessliche Abenteuer erleben:
- Indoor-Spielparadies im Römerturm
- riesengroße Schneefigur
Der Galsterberg in Pruggern ist ein kleines, aber feines Skigebiet mit vielen Möglichkeiten.
Anfänger freuen sich über leichte, flache Pisten, während sich leidenschaftliche Skifahrer auf der 1.200 m langen Vorderkarpiste austoben, die sich mit Recht zu den schönsten Pisten der gesamten Region zählen darf.
Das Skigebiet Galsterbergalm bietet 20km breite, bestens präparierte Pisten und ist Teil des Skiparadies Dachstein-Tauern mit 86 Seilbahnen und Liften und 152km präparierten Abfahrten und auch Mitglied der ski amadé (ein Skipass für über 760km Pisten und 270 Seilbahnen und Lifte).
Einstieg Skiparadies Schladming-Dachstein ab Haus im Ennstal in 9km. Skischule mit Kinderbetreuung bei der Talstation. Die 5km lange beleuchtete Naturrodelbahn (eine der längsten Österreichs) endet bei der Talstation.
Summer Infos
Egal ob Du Abenteuer oder Ruhe suchst, die Region Schladming-Dachstein ist für alle da. Mit rund 1.000 Kilometern an Wanderwegen, 1.000 Kilometer Mountainbike-Routen und 22 Klettersteigen sind die Wege, unsere Natur zu erleben, ebenso vielseitig wie die Region selbst. Und auch die Kulinarik rangiert bei uns auf höchstem Niveau: Über 50 bewirtschaftete Almen sind den ganzen Sommer für Dich da.
Rating
Location / Surroundings
Hiking-/Skiing Area
Restore Factor
Location
Other / Satisfaction
Care
Price
Facilities
Comfort
Facilities
Cleanliness
---
Dear friends of Hüttenpartner – tell us your opinion!
Of course we hope that you had wonderful, relaxing cabin holidays, but maybe you have further suggestions for us. Tell future guests about your experiences! Read what our customers wrote:
Andre 50-55 Jahre, verreist im Oktober 2019
Wem eine einfache Ausstattung mag, ist hier genau richtig. Sehr ruhig und gemütlich. Zum nichts tun genau richtig.
---
Dave 40-45 Jahre, verreist im Februar 2019
Das Haus hat alles was Sie brauchen. Schön eingerichtet, viel Platz und gute Betten. Abends Holz im Ofen und im Kessel und es ist wunderbar warm. Nur die Straße zum Haus war nicht sehr schön (schmal, Eis, Schnee, glatt), daher sind Ketten praktisch. Das Skigebiet ist ziemlich nah und der Gletscher ist fantastisch zu sehen. Der Besitzer des Hauses war auch sehr nett und wenn Sie etwas brauchen, arrangiert er das richtig.
---
Agnes 40-45 Jahre, verreist im Juli 2018
Eine sehr schön gelegene, gut ausgestattete Hütte. Für uns war es ein Luxus, auf einer Hütte einmal Kabelfernsehen und eine tolle Internetverbindung zu haben! Der Ausblick ist einmalig! Manchmal weiden Kühe direkt neben der Hütte. Es gibt zwar einen Wanderweg ab Hütte, die schöneren Wege muss man mit dem Auto anfahren (Naturpark Sölktäler etc). Im Ort Stein an der Enns gibt es einen "Nah und Frisch", im nahe gelegenen Gröbming auch tolle Einkaufsmöglichkeiten und Lokale.
Einziger Minuspunkt: Das Backrohr im Holzofen funktioniert nicht.
Sonst war alles perfekt und wir waren sehr zufrieden!

---
Silke 50-55 Jahre, verreist im Juli 2018
Das Häuschen ist perfekt für einen entspannten Urlaub in der Steiermark! Die Einrichtung ist gemütlich, liebevoll ausgesucht und praktisch. Man findet alles, was für die Urlaubszeit nötig ist - von der Sonnenliege bis zum Eierbecher. Die Wirtsleute haben reichlich Feuerholz vorbereitet, sodass warmes Wasser und selbst Gekochtes kein Problem waren - im Gegenteil, es hat Spaß gemacht! Das Häuschen bietet echt viel Platz, wir und unsere Hündin haben uns superwohl gefühlt! Es gibt einen kleinen eingezäunten Hof mit hübschen Essplätzen und rundherum Weiden und Wald und einen tollen Ausblick auf´s Dachsteingebirge. Das Haus ist gut mit dem Auto erreichbar und liegt direkt am Dachstein-Panorama-Wanderweg, ist perfekter Ausgangspunkt zum Wandern wie zum Beerensuchen.
---
Olga 25-30 Jahre, verreist im Oktober 2017
Die Hütte ist sehr schön und gemütlich drinnen und hat alles was man braucht und sogar mehr (moderner Frenseher, Elektrogrill, Kaffeemaschine, 1 Gasheizgerät). Perfekte Erholung vom Alltag und Stadt. Komplett abgelegen, romantisch und ruhig. Wunderschöner Ausblick!
---
Simone 40-45 Jahre, verreist im August 2017
Wer keinen Luxus braucht, sondern einfach nur Erholung, der ist hier genau richtig. Sehr schöne Hütte mit allem was man braucht. Auch für Kinder und Hunde einfach perfekt. Wir waren nicht zum letzten Mal dort.

Wir haben uns sehr wohl gefühlt. Urlaub pur. Wir kommen auf jeden Fall nochmal wieder.

---
Mario 40-45 Jahre, verreist im Juni 2017
Wir und unsere Hunde haben uns sehr wohl gefühlt.
Aufenthalt von 17.06. - 01.07.2017
---
Ralph 30-35 Jahre, verreist im August 2016
Ralph 35-40 Jahre, verreist im Juni 2016
Ralph 25-30 Jahre, verreist im Mai 2016