Salzburg, Unken, TAL-SBG
SalzburgUnken
Location
A menedékház a festői "Heutal"-ban fekszik, csendes és napos részen! Ez a hely a sítúrázók, kirándulók és kerékpárosok paradicsomaként van számontartva.
Distances
A családi sízésre rendkívül alkalmas Heutal, 4 húzólifttel, 12km-es sípályával rendelkezik, az 1,5km távolságra lévő síiskola személyautóval elérhető. A Loferer Alm síterület (46 pályakilométer) 14km, a Tiroler Steinplatte (32 pályakilométer) 17km távolságra érhető el. Bevásárlási lehetőség az 5km távoli Unken-ben. Vendéglő 1km-re, szánkópálya 500m-re, széles, hosszú lesiklópálya a háztól elérhető, számos kiránduló-, és kerékpárút szurdokhoz vagy barlanghoz szintén a háztól. A Bad Reichenhall termálfürdő 16km-re, kerékpár kölcsönző 5km-re. A háztól ideális kirándulási lehetőségek adottak Salzburgba, a szomszédos Tirolba vagy Bayernbe!
Equippment
Fszt: konyha, elektromos tűzhely, sütő, fafűtéses tüzhely, hűtőszekrény, mosogatógép, kávéfőző. Kényelmes szobában ülősarok, kandallóval, SAT-tv. Fürdőszoba: zuhanyzó, WC, padlófűtés. EM: a lépcső egy nagy négyágyas szobába vezet (franciaágy és emeletes ágy), 2 duplaágyas szoba, 1 WC. Hűvös pince, kerékpártároló helyiség rendelkezésre áll. Fütés fakályhával vagy villanykályhával. A ház előtt ülőhelyek grillezési lehetőséggel. Kérjük, ne dohányozzanak a házban!
Additional charges on-site subject to minor changes:
Áram 0,45eur/kwh, idegenforgalmi adó jelenleg 1,80eur/fő/éj, tüzelőfa díj 45eur/hét a téli időszakban. Végtakarítás € 80,-. Ágynemű 7eur/szett, törölközők 3eur/szett bérelhető.
---
Offers
Winter 2023/24 (5)
Travelperiod

Duration

Persons

Price

24. Feb. 2024 - 2. März 2024

7 Nights
8 Persons

€ 850,-

€ 890,-

2. März 2024 - 9. März 2024

7 Nights
8 Persons

€ 890,-

9. März 2024 - 16. März 2024

7 Nights
8 Persons

€ 850,-

€ 890,-

16. März 2024 - 23. März 2024

7 Nights
8 Persons

€ 690,-

30. März 2024 - 6. Apr. 2024

7 Nights
8 Persons

€ 690,-
Schnäppchen (9)
Frühling 2024 (11)
Sommer 2024 (9)
Herbstgenuss 2024 (9)
Winter 2024/25 (8)
All offers (42)
---
Location/Info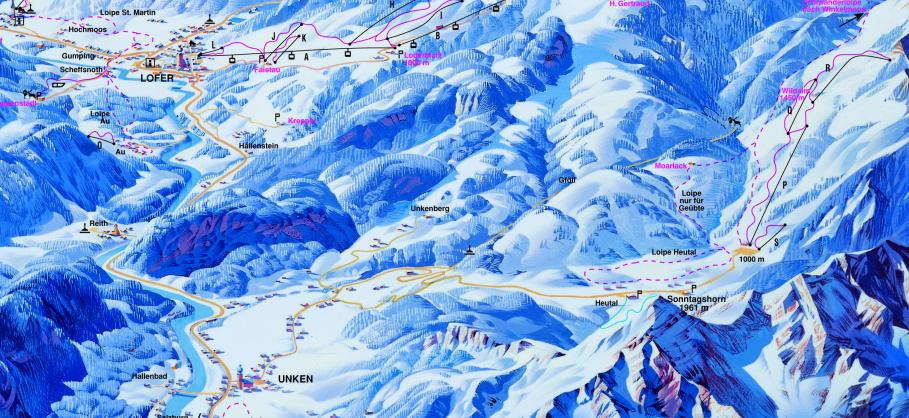 Winter Infos
The skiing area Heutal is a family skiing area with 12 kilometres slopes, 2 ski lifts and modern snow covering machines. It is a perfect initial point for ski tours via the Hochalm to the Peitingkopf (1,720m) or the Sonntagshorn (1,961m). More than 50km cross-country ski runs lead through the high valley, uphill to the "Wildalm" or the "Moalock", to the nearby "Winkelmoos Alm" (alp) and further to the "Steinplatte".
Summer Infos
Located in the heart of the Pinzgau and in the triangle between Salzburg, Tyrol and Bavaria, is the Salzburg Saalachtal with the towns of Lofer, Unken, St. Martin and Weißbach.
Picturesque, each unique and connected by the rushing Saalach, they are an ideal starting point for outdoor adventures such as white water, rafting, canyoning, and kayaking. Climbing, hiking in the Almenwelt Lofer or much more. Whether summer or winter, the wonderful nature surrounds you at all times.
In the Salzburger Saalachtal you can enjoy your vacation days to the fullest. When hiking in search of that one, very special summit victory, prefer to explore the mountains on an e-mountain bike, discover the wild water in all its facets or spend and experience time and adventures with the family - there is something for everyone.
Rating
Location / Surroundings
Hiking-/Skiing Area
Restore Factor
Location
Other / Satisfaction
Care
Price
Facilities
Comfort
Facilities
Cleanliness
---
Dear friends of Hüttenpartner – tell us your opinion!
Of course we hope that you had wonderful, relaxing cabin holidays, but maybe you have further suggestions for us. Tell future guests about your experiences! Read what our customers wrote:
Max 65-70 Jahre, verreist im Juni 2021
Die Vermieter waren sehr hilfsbereit, offen und die Hütte hat die Erwartungen mehr als erfüllt. Wir freuen uns auf ein Wiedersehen!
---
Max 65-70 Jahre, verreist im Juni 2021
Die Vermieter waren sehr hilfsbereit, offen und die Hütte hat die Erwartungen mehr als erfüllt. Wir freuen uns auf ein Wiedersehen!
---
Saskia 45-50 Jahre, verreist im Juni 2020
Wir hatten (zu zweit) eine wundervolle, erholsame und ruhige Woche in der "Hütte" und wären gerne noch länger geblieben..;o) "Hütte" in Anführungszeichen deshalb, weil a.) sehr geräumig und b.) mit allem und noch mehr ausgestattet, was man sich nur vorstellen kann - ein Traum! Toller E-Herd (und ein Holzherd), eine Spülmaschine (kein Geschirrspülen, juhu!), fließend warmes bis heißes Wasser ohne Schwankungen, im Bad Fußbodenheizung, eine sehr geräumige Dusche und zwei Waschbecken, zweites WC, genügend Stauraum überall... Auch an vermeintliche "Kleinigkeiten" wurde gedacht - z.B. Dosenöffner, Schere, Flaschenöffner, Salz und Pfeffer... Es war alles super sauber und wir haben uns sehr wohl gefühlt. Durch die sehr ruhige Lage (keine direkten Nachbarn) kann man toll abschalten; wir haben vor allem die Ruhe nachts sehr genossen. Vielen Dank an Maria und Hans für den freundlichen Empfang und die ebenso freundliche Verabschiedung! Bis zum nächsten Mal..;o)
---
Klaus 50-55 Jahre, verreist im Juli 2018
sehr schöne und liebevoll/durchdacht ausgebaute Hütte, ruhige Lage; zahlreiche Wanderungen ab Hütte möglich, die Straße nach Lofer ist gut ausgebaut

@Hans und Maria: Wir kommen wieder!
---
Karoline 35-40 Jahre, verreist im August 2017
Insgesamt eine sehr schöne und sehr saubere Hütte, allerdings ist das 4-Bett-Zimmer ein Durchgangszimmer. Das war für uns doof.
---
Fabian 35-40 Jahre, verreist im März 2017
Sehr tolle und schöne Hütte. Wirklich gemütlich und super ausgestattet - alles sehr, sehr sauber.

Wir waren mit drei Generationen zum Skiurlaub dort und hatten eine tolle und erholsame Zeit. Das Skigebiet ist für Kinder, die mit dem Skifahren starten super.

Wir kommen wieder.
---
Patrick 35-40 Jahre, verreist im Mai 2016
Wir hatten einen sehr netten Empfang in der Hütte. Die Hütte selber ist gemütlich, urig nett und war sehr sehr sauber. Die Gegend ist ein Traum, viele Wandermöglichkeiten direkt ab Hütte, mit unvergesslichen Ausblicken, aber auch viele Möglichkeiten wenn es mal regnet. Wir hatten wirklich einen tollen Urlaub.
---