Salzburg, Uttendorf, EZI-SBG
SalzburgUttendorf
Location
The place Uttendorf am Weißsee is located where the Stubachtal (=valley) ascends to the white glacial mountains. Especially the central location and the convenient situation for public transport at the holiday destination national park Hohe Tauern are very appreciated.
Distances
Next village with shops, restaurants and lake is Uttendorf: 1.5 km away, Kitzbühel skiing area (entrance Hollersbach): 14 km, Zell am See (European sport region): 20 km, Kaprun: 15 km, Weißsee (glacier skiing area): 16 km (ski bus stop in 500m). The cross-country skiing tracks and horse sledge trip organiser: nearby. The hiking and cycle track net: near the house. Bio products from the farm house, bread rolls delivery service. Beside the house: a smal lodge for barbecue evenings, a children playground, trampoline, slide, a petting zoo, bicycle rental service, go-karts for kids.
Equippment
Ground floor: a big and comfortable breakfast kitchen with big dining table, electric cooker, oven, chimney (with window glass, therefore you can watch the fire), fridge, dishwasher, microwave, coffee machine. 2 double rooms, a bathroom and a toilet. Ski boot dryer. Upper floor: 2. kitchen with lounge, a sofa and satellite TV, 1 double room with balcony, 1 four-bed room, bathroom, toilet. At the garden is a sauna and next to it a hot pot. Central heating. WiFi. In front of the house are seats and a barbecue. Carport available. The infrared cabin at the farmhouse next-door can be used. Sauna in front of the house (electrically heated).
Additional charges on-site:
Electricity € 0,20/kWh, local tourism tax currently € 1,30/person/night, Final cleaning € 50,-. Bed linen can be rented for € 7,-/set and towels for € 4,-/set, dog € 8,€/night. Infrared cabin/sauna € 30,-/week, hotpot € 25,-/use.
---
Offers
Herbstgenuss 2022 (9)
Travelperiod

Duration

Persons

Price

17. Sep. 2022 - 24. Sep. 2022

7 Nights
10 Persons

€ 660,-

€ 690,-

1. Okt. 2022 - 8. Okt. 2022

7 Nights
10 Persons

€ 690,-

15. Okt. 2022 - 22. Okt. 2022

7 Nights
10 Persons

€ 690,-

21. Okt. 2022 - 25. Okt. 2022

4 Nights
10 Persons

€ 595,-

22. Okt. 2022 - 29. Okt. 2022

7 Nights
10 Persons

€ 660,-

€ 690,-

25. Okt. 2022 - 30. Okt. 2022

5 Nights
10 Persons

€ 595,-

29. Okt. 2022 - 5. Nov. 2022

7 Nights
10 Persons

€ 690,-

5. Nov. 2022 - 12. Nov. 2022

7 Nights
10 Persons

€ 690,-

12. Nov. 2022 - 19. Nov. 2022

7 Nights
10 Persons

€ 690,-
Schnäppchen (23)
Kurz mal weg (24)
Winter 2022/23 (13)
Ski-Openings 2022 (7)
Frühling 2023 (11)
Sommer 2023 (6)
Herbstgenuss 2023 (15)
All offers (85)
---
Location/Info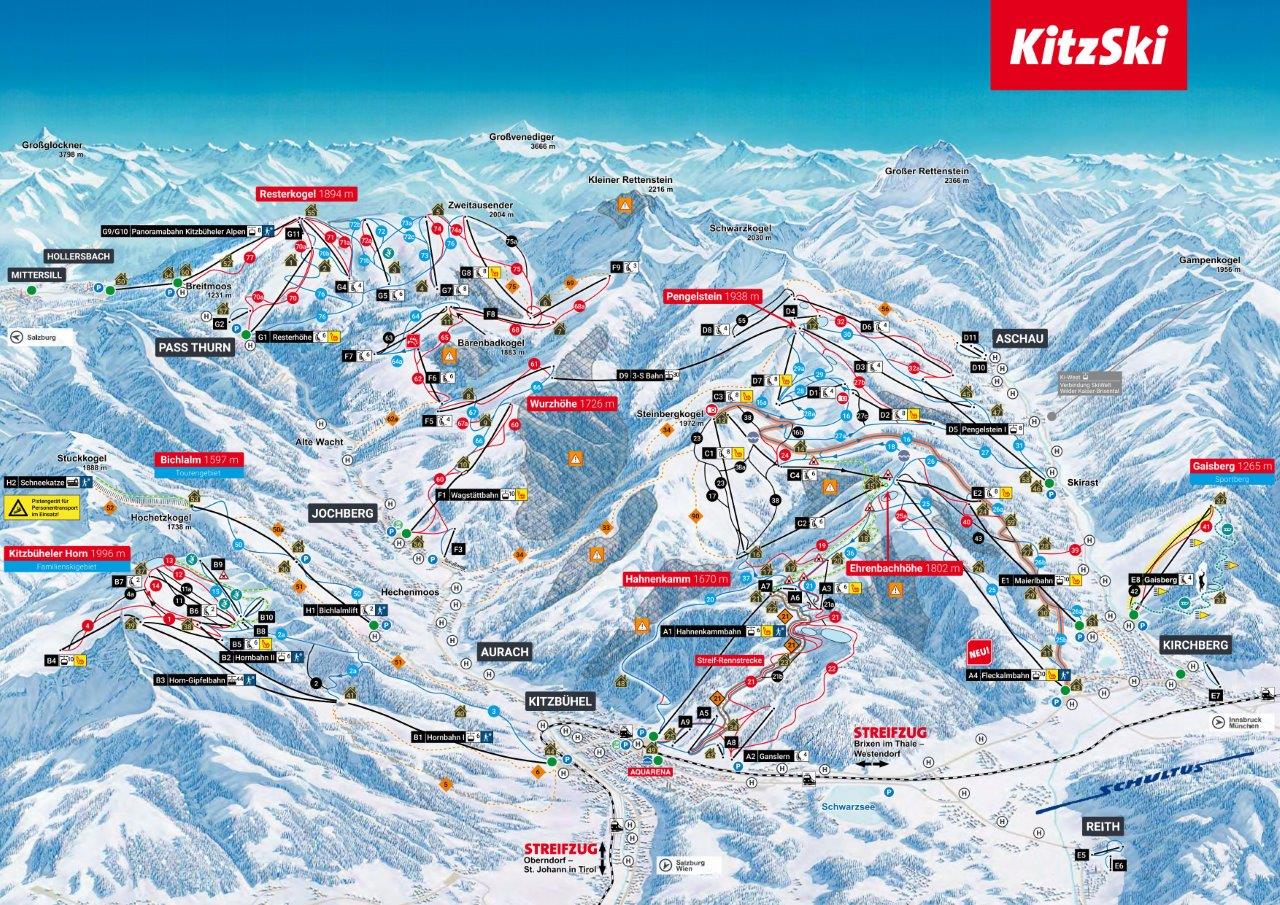 Winter Infos
About 170 kilometres perfect prepared slopes and 32 kilometres marked ski routes at all levels of difficulty. Snowboard-fun parks, natural toboggan runs and hundreds of kilometres for cross-country skiing are the reason why the skiing area Kitzbühel, that by the way, extends over 7 boroughs and 2 federal states, is famous as a real winter sports paradise in the Alps.
With all in all 53 modern cable cars and ski lifts the "Bergbahn AG Kitzbühel" is the biggest cable car company in Austria. Every day it transports a lot of winter sport fans to the snow-covered hillsides, slopes, ski huts and stations where you can enjoy a short break.
Summer Infos
Kitzbühel - summer retreat in Austria!
Those who only know Kitzbühel and the holiday villages of Reith, Aurach and Jochberg in winter have yet to discover most of the charm. The town of chamois has always been inviting you to a relaxing summer freshness in the heart of the Alps. Especially on vacation, there is an unmistakable combination of time for rest and relaxation with activity, because sports tradition with hiking, cycling and golf is also very important in summer.

A unique combination of sport and lifestyle.

-) Official bearer of the European hiking seal of approval
-) Certified hiking hosts for the perfect hiking experience
-) Over 1,000 kilometers of well-maintained hiking trails
-) Free guided hikes to the most beautiful places
-) Ascent aids with the summer lifts of Bergbahn AG Kitzbühel
-) 1,200 km of racing bike routes in all levels of difficulty
-) 800 km of cycling and mountain bike trails
-) Routes and tours - whether by bike or on foot
-) Excellent cuisine in rustic mountain huts
Rating
Location / Surroundings
Hiking-/Skiing Area
Restore Factor
Location
Other / Satisfaction
Care
Price
Facilities
Comfort
Facilities
Cleanliness
---
Dear friends of Hüttenpartner – tell us your opinion!
Of course we hope that you had wonderful, relaxing cabin holidays, but maybe you have further suggestions for us. Tell future guests about your experiences! Read what our customers wrote:
Claudia 25-30 Jahre, verreist im Dezember 2019
Sehr nette, gastfreundliche Gastgeber und ein tolles Ferienhaus. Es gab einen Brötchenservice, zusätzlich frische Milch, Eier und Butter - immer wieder selbst gebackener Kuchen und ein Schnaps von der Vermieterin - einfach weiter zu empfehlen!
---
Stefan Leisering 30-35 Jahre, verreist im August 2018
Ein rustikal eingerichtetes Ferienhaus mit 2 Küchen und vielen Küchengeräten (Herd, Backofen, Kühlschrank, Geschirrspülmaschine, Mikrowelle und Wasserkocher). Des Weiteren sind zwei kleine Bäder mit separater Toilette und insgesamt 4 Schlafzimmern (Doppelbetten) und 2 Gitterbetten (Baby) ausgerüstet. Die Unterkunft ist sauber, jedoch kein Luxus (Staubsauger vorhanden). Der Garten ist super für Kinder geeignet, hier findet man ein großes Trampolin, Sandkasten, Kettcar, Fahrrad, 4 gewinnt, Tischtennis und Federball. Für die Erwachsenen gibt es einen Pool, Sauna sowie Gartenblockhaus mit reichlich alkoholischen Getränken und Sitzgelegenheit. Wenn gewünscht gibt es jeden Morgen frische Brötchen und Milch vom hauseigenen Hof. Auf Nachfrage gibt es Speck und Honig aus eigener Herstellung. Für mich ist die Unterkunft in Ordnung gegangen.
---
Stefan 30-35 Jahre, verreist im August 2018
Silvia 40-45 Jahre, verreist im Juni 2018
Sehr uriges, gemütliches Haus. Alles da, was man braucht. Besonders toll sind die Spielangebote im Garten. Die Familie ist sehr nett und hilfsbereit.
---
Olaf 50-55 Jahre, verreist im Februar 2018
Gute Lage, gut ausgestattet, tolle und sehr sympathische Vermieter. Sehr hilfsbereit und der selbstgemachte Kuchen absolut spitze!!!!!!!!! Gemütliches, rustikales Haus.
---
Alex 50-55 Jahre, verreist im Juli 2016
...das Ferienhaus befindet sich auf einem Bauernhof, in schöner Umgebung, etwas abseits vom Kern des Dorfes Uttendorf, es gibt mehrere Plätze, um sich im Freien aufhalten zu können, außerdem eine Tischtennisplatte und wer mag, eine urige Hütte, um sich mit anderen Feriengästen zu einem gemütlichen Abend zu treffen; das Ferienhaus war sehr sauber und individuell eingerichtet, viel Platz, schöne gr. Küche, sehr nette Vermieter, einziger kl. Kritikpunkt wäre, dass die Matratzen im oberen Schlafzimmer mal erneuert werden könnten.
---
Rogier 40-45 Jahre, verreist im Juli 2016
Zeer netjes, een hele leuke tuin met veel speeltoestellen voor de kids, ruim huis erg knus.
---
Marion 18-25 Jahre, verreist im April 2016
Agnes 45-50 Jahre, verreist im Februar 2016
Een gezellig Oostenrijks huis voor 10 personen.
---
Marion 25-30 Jahre, verreist im Januar 2016
Marion 18-25 Jahre, verreist im Januar 2016
Ines 45-50 Jahre, verreist im Juli 2015
Alles bestens!
---
Angela 45-50 Jahre, verreist im Mai 2015
Een leuk vrijstaand huis met twee verdiepingen. Op iedere verdieping een woonkeuken, apart toilet, 2 slaapkamers en een badkamer. Naast het huis staat een leuke stube waar ook gebruik van gemaakt kon worden. Fietsen ter beschikking, skelters voor de kinderen, een tafeltennistafel en andere spelletjes. Ook mochten we de bbq gebruiken. Zeer compleet. Een prima accommodatie. Schoon en netjes. Landelijk gelegen, maar toch dicht bij het plaatsje Uttendorf.
---
Mynda 30-35 Jahre, verreist im August 2012
Alles, was man braucht für die Großfamilie, plus eine super Gastgeberin!
---
Erik mit Familie 40-45 Jahre, verreist im Juli 2011
Hallo Ihr lieben Quatiersucher, Eure suche hat ein ENDE !!! GARANTIERT !! geht zu Gitti und ihrer Familie und ihr werdet den Urlaub nicht vergessen. Das Gästehaus ist liebevoll eingerichtet und wunderschön gelegen!! Der Frühstücksservice ( Milch, Brötchen, Eier, usw..... ) ist Klasse! Wir waren diesen Sommer mit Kindern, Schwager, Schwägerin, Opa und Hund auf`m Enzighof. Wir hatten mit 9 Mann und Hund das komplette Gästehaus, und ich muß sagen es war der SCHÖNSTE Urlaub seit Jahren!! - wir schwärmen heute noch vom Urlaub in Uttendorf!! Die Spielmöglichkeiten für Kinder ( auch für die junggebliebenen "Alten" ) sind der Hammer ( Riesentrampolin, Tischfußball, Schaukel, Rutsche, Spielblockhaus.....) Es war wirklich ein Urlaub der VIIIIIIIIEEEEEEEEEEEEEEL zu schnell vorbei ging! Aber eines ist sicher da fahren wir nochmal hin!! - und dann nehmen wir gern wieder ein Schnapserl - gell Gitti !!
---