Steiermark, Fischbach, AXI-STM
SteiermarkFischbach
Advice of the day:
Heute stellen wir euch diese gemütliche Hütte, die in absoluter Alleinlage inmitten eines 1.400 m² großen, eingezäunten Gartens, etwa 3 km vom Ortskern des Höhenluftkurortes Fischbach liegt. Nach einem anstrengenden Skitag im Skigebiet Schneeland Wenigzell oder St. Jakob im Walde könnt ihr euch in der Stube mit Sitzecke und Couch entspannen. Im Sommer warten weiter Wander- und Radwege durch die Fischbacher Alpen auf euch.
Wenn ihr heute noch bucht, spart ihr euch sogar die Buchungsgebühr!
Location
Die Hütte liegt in den Fischbacher Alpen, in absoluter Alleinlage inmitten eines 1.400m² großen, eingezäunten Gartens. Entlang des Gartens fließt ein Bächlein.
Distances
Der Höhenluftkurort Fischbach zählt mit den besonders schönen Blumen zu den schönsten Gebirgsdörfern der Steiermark und ist ein ausgezeichnetes Wanderdorf. Fischbach mit Geschäften, Bäckerei, Fleischerei, Haubenlokal 3km. Badeteich/Freizeitanlage 3km. Reitmöglichkeit in Strallegg in ca. 9km. Ab Hütte weite Wander- und Radwege durch die Fischbacher Alpen und Peter Roseggers Waldheimat. Die beliebtesten Strecken sind die Fischbacher Alpen Tour und "Der große Jogl". Im Ort gibt es 2 Lifte! Skigebiet Schneeland Wenigzell, St. Jakob im Walde, das Eldorado für Skifahrer, Snowboarder, Langläufer, Rodler und Schneewanderer mit Nachtskilauf je ca 15km. Im Winter kann man auf dem Naturbadeteich oft eislaufen! In und um Fischbach findet man außerdem viele Langlaufloipen!
Equippment
Die Ferienhütte hat im EG 2 Doppelzimmer, Dusche, WC. Eine Stube mit Sitzecke, Couch, Pelletsofen, SAT-TV, Durchgang zur Küche mit E-Herd, Holzherd, Backofen, Kühlschrank, Geschirrspüler, Kaffeemaschine, Mikrowelle. Aufgang in das OG, wo ein Zweibettzimmer und ein Lager mit SAT-TV sind. Radio/CD, Heizung mit vollautomatischen Pelletsöfen, Waschmaschine, W-LAN (€10,-/Woche) vorhanden. In der gepflegten Gartenanlage haben Sie eine große Terrasse mit Sitzplatz und Grillplatz. Bitte im Haus nicht zu rauchen!
Additional charges on-site:
Strom € 0,25/kwh, Ortstaxe derzeit € 2,10/Person/Nacht. Bei Bedarf Pellets derzeit € 4,50/Sack (ca. 1 Tagesration), Haustier € 25,-/Woche. Endreinigung € 35,-. Bettwäsche/Handtuchset € 10,- mietbar.
---
Offers
Last Minute (3)
Schnäppchen (9)
Winter 2021/22 (8)
Kurz mal weg (13)
Frühling 2022 (6)
Herbstgenuss 2022 (13)
Winter 2022/23 (10)
Weihnachten/Silvester 2022/23 (7)
All offers (57)
---
Location/Info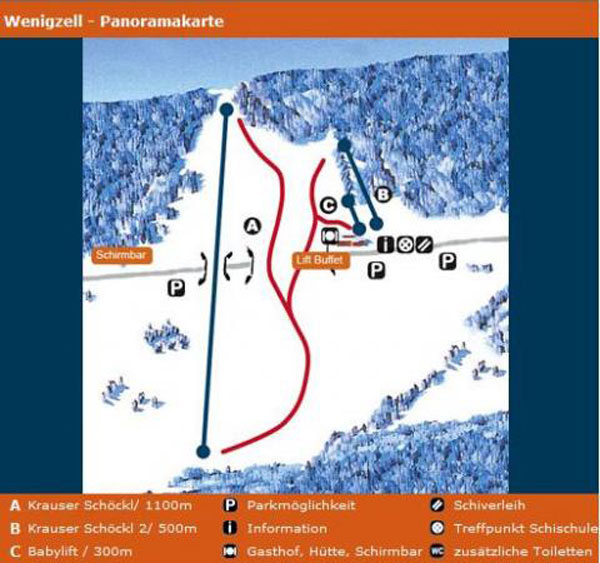 Winter Infos
Die Skiregion Joglland mit den Skigebieten Mönichwald und Strallegg bietet 8km Pisten! Das Skigebiet Wenigzell hat 2 Schlepplifte und insgesamt 2 Pistenkilometer. St. Jakob im Walde hat 6 Pisten mit rund 4km. Jeden Freitag Flutlichtpiste!
Aufgrund der Übersichtlichkeit der Pisten eignen sich diese Skigebiete besonders für Kinder und Jugendliche, die alleine die Pisten erkunden wollen. Für die Snowboarder gibt es einen eigenen Funpark. Aber auch Nichtskifahrern wird hier nicht langweilig. Sie können Eislaufen, Eisstockschießen, Pferdeschlittenfahrten unternehmen oder einfach durch die wunderschöne Winterlandschaft spazieren.
Summer Infos
Genießen Sie Ihren Sommerurlaub im Joglland - egal ob mit der ganzen Familie, allein oder zu zweit. Natürlich kommt bei uns auch keine Langeweile auf, dafür sorgen zahlreiche Wanderwege, Ausflusgziele oder Kulinarikbetriebe. Gerade im Sommer sind auch unsere Freibäder und Feizeitseen beliebte Ziele für eine Abkühlung an heißen Tagen.
Gründe für einen Besuch gibt es viele:
-) die Natur, die mit den ersten Frühlingsblüten zum Genießen einlädt.
-) die zahlreichen Wanderwege für einen aktiven Start in die neue Jahreszeit.
-) die Radtouren, allen voran "Der große Jogl", die am 01. April die Biker einladen.
-) die vielen kulinarischen Frühlingsspezialitäten in den Gasthöfen und Wirtshäusern.
-) der Klangtunnel in Birkfeld lädt Sie ein auf eine interaktive Reise ein.
-) im Blasmusikmuseum Ratten erleben Sie 200 Jahre Musikgeschichte.
-) an Herbsttagen empfiehlt sich ein Ausflug zur Felber Schokoladenmanufaktur

Rating
Location / Surroundings
Hiking-/Skiing Area
Restore Factor
Location
Other / Satisfaction
Care
Price
Facilities
Comfort
Facilities
Cleanliness
---
Dear friends of Hüttenpartner – tell us your opinion!
Of course we hope that you had wonderful, relaxing cabin holidays, but maybe you have further suggestions for us. Tell future guests about your experiences! Read what our customers wrote:
Karl-Jürgen Hartmann 60-65 Jahre, verreist im Juli 2020
Zwei junge Menschen, ein Kind, ein Opa: drei Generationen plus zwei Hunde - allen hat es super gut gefallen!! Lage top, Austattung top, sehr netter Hüttenbesitzer, freundlicher Empfang ... uneingeschränktes Lob, war ein toller Urlaub.
---
Birigtt 60-65 Jahre, verreist im Juni 2019
Das Haus ist sehr empfehlenswert. Wer Ruhe und Erholung sucht, ist hier genau richtig. Wir und unser Hund haben den Urlaub genossen.
---
Helmut 65-70 Jahre, verreist im Augustus 2018
Erholung pur! Für meine Frau und mich war der Urlaub sehr schön, auch unser Hund ist bei dem riesen eingezäunten Grundstück auf seine Kosten gekommen! Die
Ausstattung hat unsere Erwartungen bei weitem übertroffen! Wir werden wieder kommen!
---
Eva-Maria 65-70 Jahre, verreist im Juni 2018
Super Lage, aber nur für sehr mobile Menschen, selbst der Zugang zum Haus ist steil. Natur pur, der Bach daneben, die Kühe kommen auf Besuch zum Zaun Das Haus ist geräumig, gut ausgestattet, nur die Schlafzimmerkästen gehören erneuert. Nette und freundliche Betreuung SEHR hundefreundlich
---
Brigitte 50-55 Jahre, verreist im Oktober 2017
Wir haben eine erholsame Woche mit unseren 3 Hunden und unserer Katze hier verbracht. Wir haben uns alle von Anfang an hier sehr wohl gefühlt, es hat einfach alles gepasst. Die Betreuung vor Ort war sehr nett. Wir kommen sicher wieder.
---
Gabler Rudolf 45-50 Jahre, verreist im Juni 2015
Susanna 55-60 Jahre, verreist im Juni 2015
Wir verbrachten im Juni eine Woche mit unseren Hunden in diesem Haus. Alle haben sich sofort wohl und zu Hause gefühlt. Es gefiel uns so gut dass wir gleich auch 2 Wochen zu Weihnachten gebucht haben. Ideale Hütte für Hundebesitzer. Sehr komplett ausgestattet und sehr sauber und gepflegt.
---
Eva & Walter 45-50 Jahre, verreist im Juni 2015
Eine sehr nette Hütte - die Betreuung vor Ort war sehr nett und hilfsbereit - da wir gerade einen Verlust erlebt hatten sind wir nicht wandern gegangen - daher bewerten wir diese Kategorie nicht. Wir kommen gerne wieder!
---
Petra 40-45 Jahre, verreist im Mei 2014
Sehr gut ausgestattet, ruhige Lage, Preis okay.
---