Salzburg, Lungau-Prebersee, MIC-SBG
SalzburgLungau-Prebersee
Location
Die Hütte liegt in absolut ruhiger Alleinlage, mit herrlicher Fernsicht, nahe des Naturschutzgebietes Prebersee im Lungau. Ende Februar bis Mitte Mai ist die Zufahrt über den 2km Forstweg gesperrt. Die Hütte ist dann zu dieser Zeit nur zu Fuß erreichbar.
Distances
Der 5,5 ha große Prebersee, ein Paradies für Angler, ist 2,5km entfernt, Tip: Rundwanderweg um den See, Mountainbike-Prebertour, ausgiebige Langlauftouren, Rodelpartien, Skitouren. Bewirtschaftete Hütte am See mit einheimischer Küche 2km, im Sommer sind außerdem viele Almen bewirtschaftet. Nächster großer Ort Tamsweg 10km. Skigebiete Speiereck oder Aineck 20km.
Equippment
Die Hütte hat im EG: eine gemütliche Hüttenstube mit Sitzecke, Couch, Küchenzeile mit Holzherd, Backofen, Abwasch. Kühler Lagerkeller. 1 DU/WC. OG: 2 große Schlafzimmer mit je 1 Doppelbett und Einzelbetten. Heizung mit Holzofen, Badeofen für Warmwasser. Solarstrom 12 Volt für Licht. Vor der Hütte überdachte Veranda mit Sitzplatz, Garten mit Brunnen, Grillplatz. Vor der Hütte urige Faßsauna. Rundherum viel Wiese, Wald, Baumschaukel – ideal für abenteuerlustige Kinder!
Additional charges on-site:
Ortstaxe derzeit € 1,50/Person/Nacht, Endreinigung € 70,-, Holzpauschale € 30,-. Kanalpauschale € 30,-. Bettwäsche mietbar € 8,-/Set. Haustier € 30,-/Woche. Winter: Schneeräumpauschale € 30,-/Woche.
Homepage
http://www.michein.at/almhuette.html
---
Offers
Herbstgenuss 2021 (8)
Travelperiod

Duration

Persons

Price

18. Sep. 2021 - 25. Sep. 2021

7 Nights
10 Persons

€ 790,-

25. Sep. 2021 - 2. Okt. 2021

7 Nights
10 Persons

€ 790,-

2. Okt. 2021 - 9. Okt. 2021

7 Nights
10 Persons

€ 750,-

€ 790,-

9. Okt. 2021 - 16. Okt. 2021

7 Nights
10 Persons

€ 790,-

16. Okt. 2021 - 23. Okt. 2021

7 Nights
10 Persons

€ 790,-

23. Okt. 2021 - 30. Okt. 2021

7 Nights
10 Persons

€ 750,-

€ 790,-

6. Nov. 2021 - 13. Nov. 2021

7 Nights
10 Persons

€ 790,-

13. Nov. 2021 - 20. Nov. 2021

7 Nights
10 Persons

€ 790,-
Kurz mal weg (21)
Schnäppchen (10)
Winter 2021/22 (14)
Frühling 2022 (9)
Sommer 2022 (8)
Herbstgenuss 2022 (11)
All offers (71)
---
Location/Info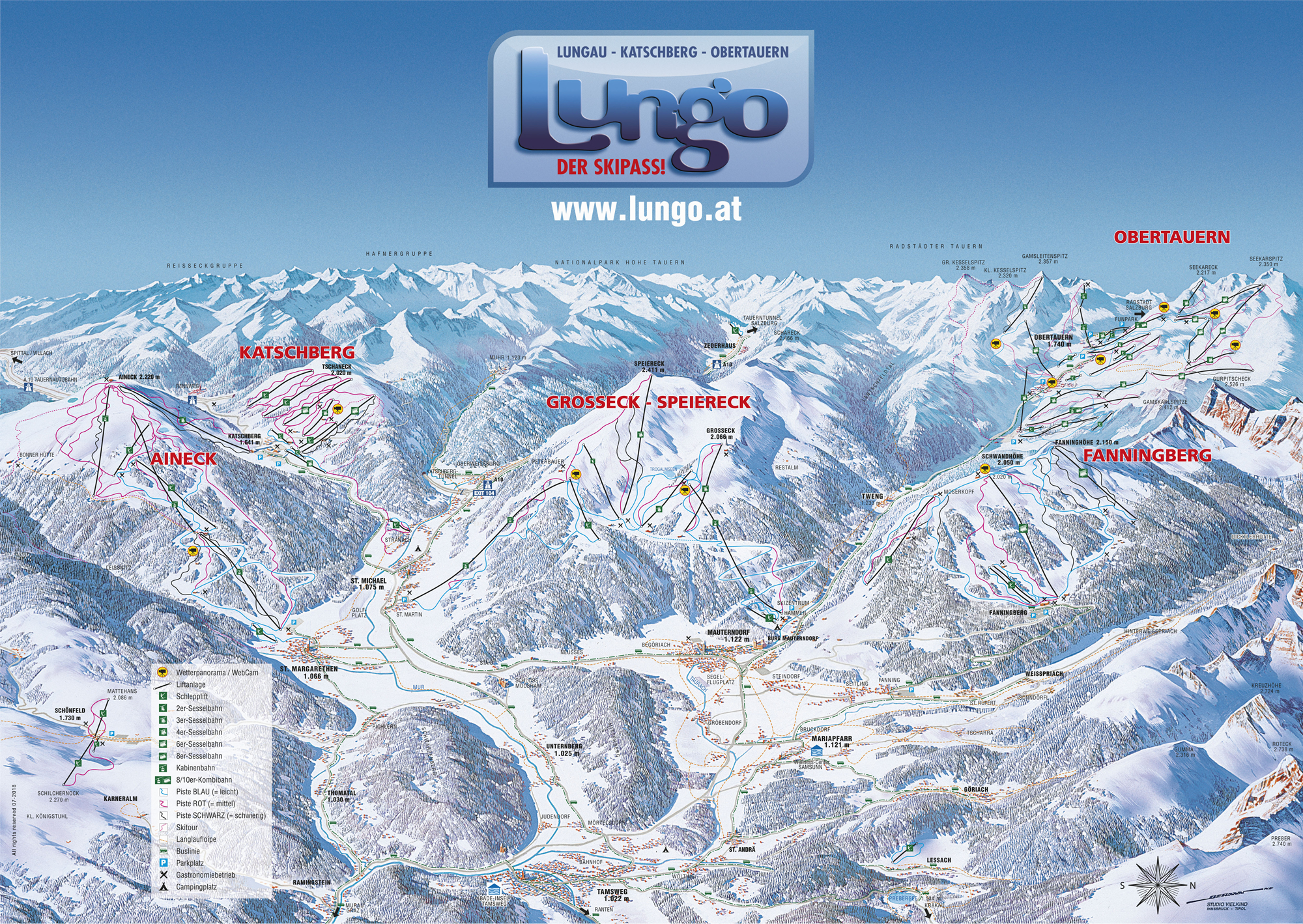 Winter Infos
Skifahren in St. Michael ist ein Erlebnis. Die 4 Skigebiete Aineck, Katschberg, Fanningberg und Grosseck-Speiereck bieten über 220 km Pisten und 50 Liftanlagen!
Traumhafte Tiefschneehänge und bestens präparierte Abfahrten in allen Schwierigkeitsgraden bieten Fahrspaß für Anfänger und Profis. Die 6er-Samson-Bahn, die längste Sesselbahn der Welt am Fanningberg, die 8er-Kabinen-Bahn mit einer 4 km langen Talabfahrt im Skigebiet Grosseck-Speiereck und ein Boarder Park für Snowboarder am Aineck machen die Ferienregion St. Michael zu einer Top-Skiregion.
Summer Infos
Der Salzburger Lungau ist eingebettet zwischen den Radstädter Tauern und den Kärntner Nockbergen. Er ist die sonnenreichste Region Österreichs und mit der Auszeichnung "UNESCO Biosphärenpark Salzburger Lungau" unter besonderen Schutz gestellt. Es gibt unzählige Möglichkeiten sich in der intakten Natur frei und individuell zu bewegen, wobei Wandern und Radfahren zu den absoluten Lieblingen im Lungauer Almsommer gehören. Eingebettet in eine traumhaft schöne Gebirgslandschaft mit zahlreichen Bergseen, sprudelnden Gebirgsbächen, Wiesen und Wäldern, bietet der Salzburger Lungau für Kinder und Erwachsene Erholung und Abenteuer in jeder Form.
Ob alleine oder geführt, die Wanderrouten im Salzburger Lungau reichen von sanften Wegen im Tal, über gemütliche Hütten- und Bergseetouren, bis hin zu ausgedehnten Expeditionen.
Der Salzburger Lungau ist wie geschaffen für Bike-Touren. Dafür sorgt nicht nur die Kombination aus dem breiten, offenen Talboden mit seinen vielen bezaubernden Seitentälern. Es gibt ein sorgfältig ausgeschildertes Netz für E-Bike Ausflüge und Familientouren samt dem berühmten Murradweg. Auf sportliche Radler warten 17 Mountainbike-Routen und die Tour Lungau EXTREM als absolutes Highlight. Neben dem Wandern und dem Radsport gibt es im Salzburger Lungau noch eine Vielzahl an weiteren Outdooraktivitäten wie Golf, Reiten oder sogar Fliegen. Den Aktivitäten sind keine Grenzen gesetzt.

Rating
Location / Surroundings
Hiking-/Skiing Area
Restore Factor
Location
Other / Satisfaction
Care
Price
Facilities
Comfort
Facilities
Cleanliness
---
Dear friends of Hüttenpartner – tell us your opinion!
Of course we hope that you had wonderful, relaxing cabin holidays, but maybe you have further suggestions for us. Tell future guests about your experiences! Read what our customers wrote:
Matthias 35-40 Jahre, verreist im December 2018
Super Hütte, das Beste was wir bisher erlebt haben... Die Lage ist ein Traum und die Vermieter sind sehr sehr nett!!!
---
Doris 30-35 Jahre, verreist im Augustus 2016
Wunderbare-ruhige Lage, sehr -sehr saubere Hütte, die Sauna ist super,sehr netter Vermieter, alles da- was man braucht, nicht weit auf Tamsweg, für Familien mit Kindern ideal (Familienprogramm ist Top in dieser Gegend), es sind sehr-sehr viele Eierschwammerl rund um die Hütte zu finden,1 Woche auf dieser Hütte war viel zu schnell vorbei- leider! Wir kommen sicherlich wieder!!!

---
Lucia Roj 30-35 Jahre, verreist im September 2015
Jedes Jahr wieder.
---
Ilse 55-60 Jahre, verreist im Juli 2015
Die Hütte ist riesig, viel Platz für alle! Den Ofen zu befeuern lernt man schnell, kein Problem. Es ist eun tolles Wandergebiet mit Bademöglichkeit im Prebersee.wir hatten einen sehr schönen Urlaub!
---