Steiermark, Präbichl, REG-STM
SteiermarkPräbichl
Location
Die Hütte liegt inmitten der Skiarena Präbichl direkt neben dem Zellerhang und dem Polster Quattro. Sehr sonnig und absolut ruhig mit Aussicht auf die Bergwelt und den Grübl-Bergsee. Die Hütte ist bis auf 50m unterhalb mit dem PKW erreichbar.
Distances
Skigebiet Skiarena Präbichl, Polster Quattro Sessellift (kein Sommerbetrieb) neben der Hütte. Skischule, Übungslift, beleuchtete Rodelbahn in der Nähe. Skiverleih bei der Talstation. 21km lange Langlaufloipen in die Eisenerzer Ramsau bis 1064m Seehöhe, in 10km. Hallenbad 10km. Im Sommer schaukeln Sie mit einem Einersessellift in nur 11 Minuten auf fast 2000m! Von hier zahlreiche markierte Wanderwege in die Region Hochschwab Süd und Eisenerzer Alpen. Ein Eldorado für Paragleiter. Steirischer Erzberg 8km. Der Grübl-Bergsee Präbichl mit PADI/CMAS Tauchschule (Unterwasserstreichelzoo) in 350m bietet perfekte Erholung nach einer Wanderung oder Bergtour. Einkauf im nächsten Ort Vordernberg 5km oder Eisenerz 8km. Bewirtschaftete Hütte 290m.
Equippment
Die Hütte hat eine gemütliche Hüttenstube mit Sitzecke, Kaminofen, Couch (bei Bedarf ausziehbar für 2 Personen), SAT-TV, DVD, HiFI mit USB/MP3link. Küche mit Holzherd mit Backofen, E-Herd (Kochfeld), Original Resch und Frisch Back's Ofen (Brötchenbackofen), Kühlschrank, Kaffeemaschine (SAECO/Lavazza Caffe Crema). 1 Schlafzimmer mit Doppelstockbett und Einzelbett, 1 DU, 1 WC. Heizung mit Kaminofen (Rika Schwedenkamin), Warmwasser elektrisch. W-Lan vorhanden (kostenlos). Vor der Hütte sonnige Terrasse mit herrlicher Aussicht! Liegewiese mit gemauertem Grillkamin. Gut sortierte Vinothek vom Weingut, lokale steirische Biere.
Additional charges on-site:
Strom € 0,29/kWh, Ortstaxe derzeit € 1,50/Person/Nacht, Endreinigung € 35,-. Kaution € 100,- Bettwäsche € 7,- Handtuchset € 3,- mietbar.
NEU: Gästekarten Hochsteiermark und Erlebnisregion Erzberg mit zahlreichen Ermäßigungen erhältlich. Vor Ort gibt es ein POS-Terminal, Sie können bequem die Nebenkosten mit Karte bezahlen!
---
Offers
Schnäppchen (12)
Travelperiod

Duration

Persons

Price

5. Maa. 2022 - 12. Maa. 2022

7 Nights
5 Persons

€ 660,-

€ 690,-

12. Maa. 2022 - 19. Maa. 2022

7 Nights
5 Persons

€ 560,-

€ 590,-

26. Maa. 2022 - 2. Apr. 2022

7 Nights
5 Persons

€ 550,-

€ 590,-

7. Mei 2022 - 14. Mei 2022

7 Nights
6 Persons

€ 460,-

18. Juni 2022 - 25. Juni 2022

7 Nights
6 Persons

€ 460,-

3. Sep. 2022 - 10. Sep. 2022

7 Nights
6 Persons

€ 525,-

10. Sep. 2022 - 17. Sep. 2022

7 Nights
6 Persons

€ 460,-

24. Sep. 2022 - 1. Okt. 2022

7 Nights
6 Persons

€ 460,-

15. Okt. 2022 - 22. Okt. 2022

7 Nights
6 Persons

€ 460,-

21. Okt. 2022 - 26. Okt. 2022

5 Nights
6 Persons

€ 425,-

25. Okt. 2022 - 30. Okt. 2022

5 Nights
6 Persons

€ 425,-

2. Jan. 2023 - 7. Jan. 2023

5 Nights
6 Persons

€ 850,-
Winter 2021/22 (7)
Kurz mal weg (23)
Frühling 2022 (9)
Sommer 2022 (8)
Herbstgenuss 2022 (13)
Winter 2022/23 (8)
Ski-Openings 2022 (3)
Weihnachten/Silvester 2022/23 (7)
All offers (84)
---
Location/Info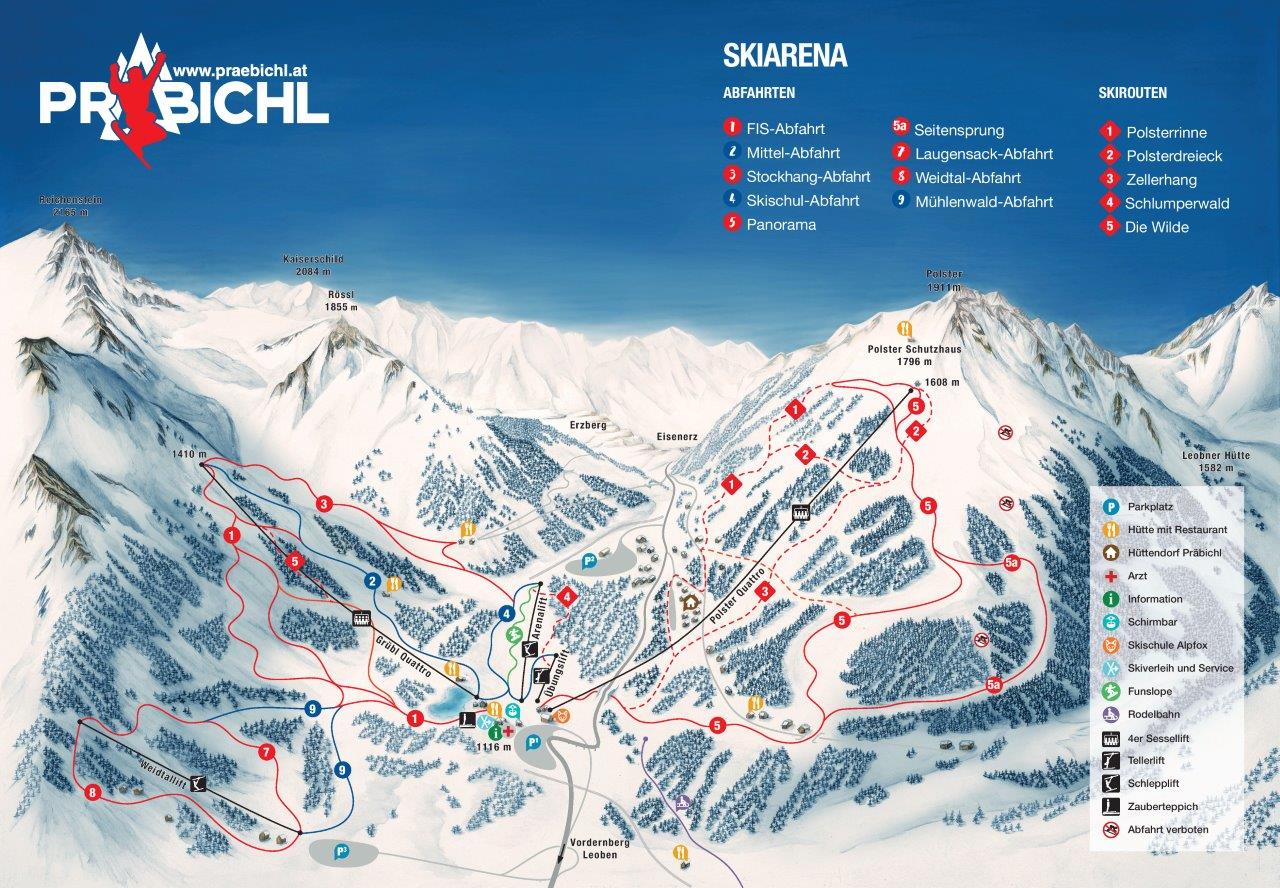 Winter Infos
Der Präbichl, das Schigebiet für "Anfänger" und "Könner" verfügt über ein vielfältiges Angebot. Sowohl Schifahrer als auch Snowboarder und "Carver" - ob "Bucklpisten", Tiefschneeabfahrten oder Übungswiesen - alle finden hier das passende Abenteuer im Schnee.
Und nicht zuletzt - die legendäre "Polsterrinne" - die wirklich nur die Besten an sich heranlässt - da geht die Post ab!!
Für entsprechende Schneesicherheit ist durch die vollautomatische Beschneiungsanlage gesorgt.
Die Skiarena Präbichl liegt auf 1.100m bis 1.900m und bietet ihnen 20 Pistenkilometer in unterschiedlichen Schwierigkeitsgraden mit:
- zwei 4er Sesselbahnen
- einem Einsersessellift
- zwei Schleppliften, einem Übungslift
- ein Förderband für Anfänger ("Zauberteppich")
Summer Infos
Adventure Park, Mountain Carts und der Flying Foxi stehen für euch bereit!

Am Präbichl bietet die Alpfox Berg- und Skischule außergewöhnlichen Erlebnissen: im Adventure Park begeben sich Kletterfreunde in schwindelerregende Höhen, beim Flying-Foxi erlebt man den Präbichl von der Zipline aus der Vogelperspektive, mit 3-rädrigen Mountaincarts geht es rasant über sechs unterschiedliche Strecken!

Fliegen Sie mittels 6 Ziplines bis zu 14m hoch über das kristallklare Wasser des Grüblsees.
Der Grüblsee ist die höchstgelegene Tauchbasis in Europa! Das Alpenaquarium bietet 14 unterschiedliche Süßwasserfischarten!

Leoben ist mit seiner Radstrecke entlang der Mur ein Bestandteil des Murradweges (R 2) und gehört zu einer der schönsten Flussradwege in Österreich.
Auch regionale Radtouren wie zB.: der Eisenstraßen-Radweg sind von überaus großer Beliebtheit. Für Mountainbiker hat die Region Leoben ebenso einiges zu bieten. Entdecken Sie die anspruchsvolle Tour auf die Mugel oder erleben Sie die abwechslungsreichen Touren der Eisenerzer Alpen.

Der Präbichl ist der ideale Ausgangspunkt für sportliche Aktivitäten wie Wandern, Klettern, Paragleiten und Mountainbiken. Aber auch gemütlich wandern und sich dabei ein gemächliches Tempo gestatten, imposante Landschaftsbilder genießen, die vielfältigen, atemberaubenden Ausblicke und die Stille der Berge mit jedem Atemzug in sich aufnehmen.

Weit weg vom Massentourismus erwartet unseren Gästen ein Bergland wie im Bilderbuch mit saftig grünen Wiesen, dunklen verträumten Wäldern und eine einzigartige und bis heute intakt erhaltene Tier- und Pflanzenwelt.
Rating
Location / Surroundings
Hiking-/Skiing Area
Restore Factor
Location
Other / Satisfaction
Care
Price
Facilities
Comfort
Facilities
Cleanliness
---
Dear friends of Hüttenpartner – tell us your opinion!
Of course we hope that you had wonderful, relaxing cabin holidays, but maybe you have further suggestions for us. Tell future guests about your experiences! Read what our customers wrote:
Agnes 45-50 Jahre, verreist im Oktober 2020
Schöne, sehr gemütliche und gut ausgestattete Hütte mit tollem Holzofen. Wunderbarer Kaffee aus einer Saeco-Kaffeemaschine, Wein- und Bierlager vorhanden (haben wir nicht genutzt). Vermieter ist sehr freundlich und engagiert. Man kann nicht direkt bis zur Hütte zufahren, die letzten Meter muss man über einen steilen, grasbewachsenden Hang zurücklegen. Je nach Windrichtung ist die Bundesstraße schon hörbar. Die Hütte liegt direkt im Schigebiet Präbichl. Wir haben eher die Wandermöglichkeiten in Richtung Gesäuse genutzt, die zahlreich und wunderschön sind. Erzberg liegt um die Ecke. Eine Lokalempfehlung: Unbedingt die Privatbrauerei Erzbergbräu in Eisenerz besuchen!
---
Wilhelm 55-60 Jahre, verreist im Juni 2019
Normale Hütte, aber bei weitem kein Chalet.
Sonst alles in Ordnung.
---
Marion 18-25 Jahre, verreist im Januari 2016
Marion 18-25 Jahre, verreist im Januari 2016
Marion 18-25 Jahre, verreist im Januari 2016