Salzburg, Ramingstein, RUP-SBG
SalzburgRamingstein
Location
The cottage is located at the Salzburger Lungau (= region), amidst the Nockberge (mountains), at the bottom of the Königstuhl (mountain), in a very calm and secluded area with a wonderful view.
Distances
Next town Ramingstein 12km. Obove this town there is the castle Finstergrün, the landmark of Finstergrün. Swimming pool 20km, tennis court 20km, golf course 26km. Hiking trails and mountain bike routes around the Königstuhl (mountain) and through the natural environment start directly in front of the cottage. Farmed hut (Niggeialm) 2km.
Equippment
Ground floor: living room with seating corner, tiled stove, sofa. Kitchenette with wood stove, oven. Here you can warm up the water which you get from the well. 1 Twin room. Upper floor: on the left as well as on the right side under the roof there is a three-bed room. Heating with tiled stove and wood stove. In front of the cottage is a fenced meadow as well as a barbecue, a well and a wonderful view. The earth closet is next to the barn (regular emptying). Solar electricity for having light, radio and charge the battery. In summer there are calves below the cottage.
Additional charges on-site:
Local tourism tax currently € 2,30/person/night, lump sum for wood € 35,-/week, pet € 20,-/week, final cleaning € 40,-. Bed linen can be rented for € 7,-/set and towels for € 3,-/set.
---
Offers
Schnäppchen (9)
Travelperiod

Duration

Persons

Price

3. Sep. 2022 - 10. Sep. 2022

7 Nights
8 Persons

€ 675,-

€ 695,-

24. Sep. 2022 - 1. Okt. 2022

7 Nights
8 Persons

€ 475,-

€ 495,-

8. Okt. 2022 - 15. Okt. 2022

7 Nights
8 Persons

€ 475,-

€ 495,-

13. Mei 2023 - 20. Mei 2023

7 Nights
8 Persons

€ 550,-

€ 575,-

17. Juni 2023 - 24. Juni 2023

7 Nights
8 Persons

€ 550,-

€ 575,-

2. Sep. 2023 - 9. Sep. 2023

7 Nights
8 Persons

€ 750,-

€ 795,-

16. Sep. 2023 - 23. Sep. 2023

7 Nights
8 Persons

€ 550,-

€ 575,-

7. Okt. 2023 - 14. Okt. 2023

7 Nights
8 Persons

€ 550,-

€ 575,-

20. Okt. 2023 - 26. Okt. 2023

6 Nights
8 Persons

€ 525,-
Herbstgenuss 2022 (5)
Frühling 2023 (7)
Sommer 2023 (9)
Herbstgenuss 2023 (8)
All offers (29)
---
Location/Info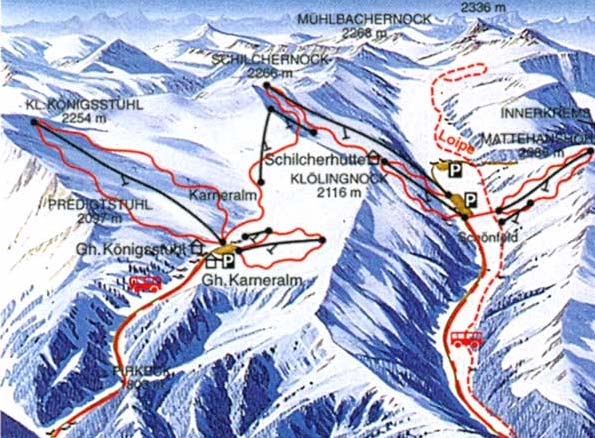 Winter Infos
Das Skigebiet Innerkrems-Schönfeld-Karneralm liegt eingebettet in den
sanften Hügel der Lungauer Nockberge im Süden der Region. Optimale
Schneeverhältnisse durch die Lage in 1500 m bis 2266 m. Über 60 km Pisten
und 15 Liftanlagen!
Summer Infos
Der Salzburger Lungau ist eingebettet zwischen den Radstädter Tauern und den Kärntner Nockbergen. Er ist die sonnenreichste Region Österreichs und mit der Auszeichnung "UNESCO Biosphärenpark Salzburger Lungau" unter besonderen Schutz gestellt. Es gibt unzählige Möglichkeiten sich in der intakten Natur frei und individuell zu bewegen, wobei Wandern und Radfahren zu den absoluten Lieblingen im Lungauer Almsommer gehören. Eingebettet in eine traumhaft schöne Gebirgslandschaft mit zahlreichen Bergseen, sprudelnden Gebirgsbächen, Wiesen und Wäldern, bietet der Salzburger Lungau für Kinder und Erwachsene Erholung und Abenteuer in jeder Form.
Ob alleine oder geführt, die Wanderrouten im Salzburger Lungau reichen von sanften Wegen im Tal, über gemütliche Hütten- und Bergseetouren, bis hin zu ausgedehnten Expeditionen.
Der Salzburger Lungau ist wie geschaffen für Bike-Touren. Dafür sorgt nicht nur die Kombination aus dem breiten, offenen Talboden mit seinen vielen bezaubernden Seitentälern. Es gibt ein sorgfältig ausgeschildertes Netz für E-Bike Ausflüge und Familientouren samt dem berühmten Murradweg. Auf sportliche Radler warten 17 Mountainbike-Routen und die Tour Lungau EXTREM als absolutes Highlight. Neben dem Wandern und dem Radsport gibt es im Salzburger Lungau noch eine Vielzahl an weiteren Outdooraktivitäten wie Golf, Reiten oder sogar Fliegen. Den Aktivitäten sind keine Grenzen gesetzt.

Rating
Location / Surroundings
Hiking-/Skiing Area
Restore Factor
Location
Other / Satisfaction
Care
Price
Facilities
Comfort
Facilities
Cleanliness
---
Dear friends of Hüttenpartner – tell us your opinion!
Of course we hope that you had wonderful, relaxing cabin holidays, but maybe you have further suggestions for us. Tell future guests about your experiences! Read what our customers wrote:
Martin 50-55 Jahre, verreist im Augustus 2020
Die Ruppenalm ist eine schöne, gut gelegene Alm auf 1.700 m. Anreise über gut befahrbare Forstwege (9 km). Sauberes Bergwasser draußen vom Brunnen. Gekocht und geheizt wird mit Holz. Kühlschrank(box) ist in der Tränke (kalt genug). Plumpsklo ist einfach. D1/A1-Netz (kein D2/A2-Netz).
Die Vermieterin hilft vor Ort mit Rat und Tat.
Tipps: Unbedingt Taschenlampen, Kerzen, Feuerzeug (ggf. Anzünder), Powerbank, Toilettenpapier mitnehmen.
---
erich 30-35 Jahre, verreist im Juni 2019
hansi 50-55 Jahre, verreist im Mei 2019