Steiermark, Strallegg, SNE-STM
Find the right cabin for your vacation
Explore the entire range of alpine huts, ski huts, chalets and holiday homes and find your perfect holiday destination in Austria
SteiermarkStrallegg
Location
The cabin is set in a wonderful scenery by meadows, very peaceful and sunny, close to the farm. Ideal for children: calves, kittens, chickens would love to have them there!
Distances
Next village with shops, swimming pool and tennis court in Stralleg in 3 km. Strallegg is located 140 km from Vienna and 40 km from Graz. Homemade products such as eggs, milk, jam can be purchased on the farm. Skiing area Schneeland Wenigzell (2 lifts, baby lift, ski school) in 3 km. Direct access to skiing area - at good snow conditions you can get back to the cabin on skis. Ideal for mountain biking, extensive walking paths from your doorstep.
Equippment
Ground floor: kitchen with electric cooker, oven, wood stove, fridge, microwave, dishwasher, coffee machine and dining table. Parlor with tiled stove, lounge, satellite TV, extendable sofa and, if required, a bunk bed for children. 1 bedroom with double bed and sofa, bathroom with shower, bath tub and washing machine, garage. Upper floor: living room with sofa, satellite TV, dining table and kitchen (same equipment as on the ground floor), 1 double room, 1 bedroom with bunk bed and single bed. Bathroom with shower, sauna, washing machine. In front of the hut are extensive meadows, a small children´s playground and a barbecue.
Additional charges on-site:
Electricity € 0,50/kWh, local tourism tax currently € 1,50/person/night. Winter: heating € 0,08/kWh. Please bring your own bed linen and towels
Other:
At an occupancy rate of up to 5 persons only one floor of the cabin is available.
---
---
Location/Info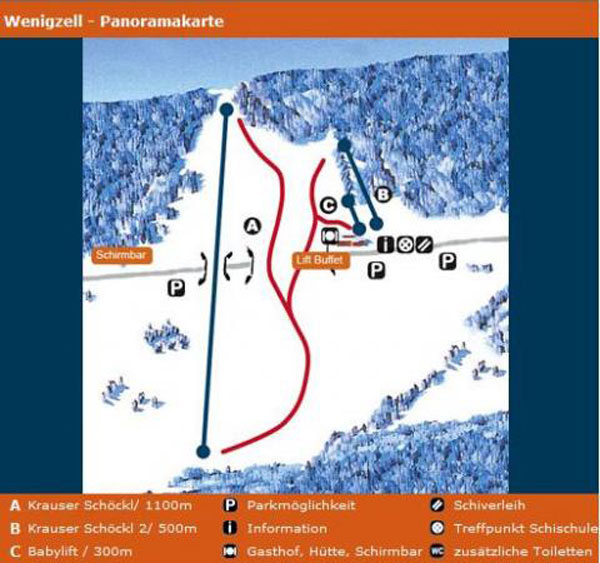 Winter Infos
Die Skiregion Joglland mit den Skigebieten Mönichwald und Strallegg bietet 8km Pisten! Das Skigebiet Wenigzell hat 2 Schlepplifte und insgesamt 2 Pistenkilometer. St. Jakob im Walde hat 6 Pisten mit rund 4km. Jeden Freitag Flutlichtpiste!
Aufgrund der Übersichtlichkeit der Pisten eignen sich diese Skigebiete besonders für Kinder und Jugendliche, die alleine die Pisten erkunden wollen. Für die Snowboarder gibt es einen eigenen Funpark. Aber auch Nichtskifahrern wird hier nicht langweilig. Sie können Eislaufen, Eisstockschießen, Pferdeschlittenfahrten unternehmen oder einfach durch die wunderschöne Winterlandschaft spazieren.
Summer Infos
Genießen Sie Ihren Sommerurlaub im Joglland - egal ob mit der ganzen Familie, allein oder zu zweit. Natürlich kommt bei uns auch keine Langeweile auf, dafür sorgen zahlreiche Wanderwege, Ausflusgziele oder Kulinarikbetriebe. Gerade im Sommer sind auch unsere Freibäder und Feizeitseen beliebte Ziele für eine Abkühlung an heißen Tagen.
Gründe für einen Besuch gibt es viele:
-) die Natur, die mit den ersten Frühlingsblüten zum Genießen einlädt.
-) die zahlreichen Wanderwege für einen aktiven Start in die neue Jahreszeit.
-) die Radtouren, allen voran "Der große Jogl", die am 01. April die Biker einladen.
-) die vielen kulinarischen Frühlingsspezialitäten in den Gasthöfen und Wirtshäusern.
-) der Klangtunnel in Birkfeld lädt Sie ein auf eine interaktive Reise ein.
-) im Blasmusikmuseum Ratten erleben Sie 200 Jahre Musikgeschichte.
-) an Herbsttagen empfiehlt sich ein Ausflug zur Felber Schokoladenmanufaktur

Rating
Location / Surroundings
Hiking-/Skiing Area
Restore Factor
Location
Other / Satisfaction
Care
Price
Facilities
Comfort
Facilities
Cleanliness
---
Dear friends of Hüttenpartner – tell us your opinion!
Of course we hope that you had wonderful, relaxing cabin holidays, but maybe you have further suggestions for us. Tell future guests about your experiences! Read what our customers wrote:
Steffen 30-35 Jahre, verreist im february 2019
4 - **** Tolle Lage über dem Tal, immer Sonne, angenehme Wärme Spielplatz vor der Tür, Kuhstall nebenann - toll für Kinder viel Spaß für alle inclusive, sehr freundliches und großes Haus, gene wieder, keine Probleme, freundliche Vermieter, meine Kinder wollten gar nicht mehr weg
---
Mario 35-40 Jahre, verreist im july 2018
Haus ist rustikal eingerichtet und entspricht der Beschreibung. Schöner Ort für Familienurlaub, Einbindung der Kinder beim Ausmisten und Füttern der Milchkühe, beim Mähdreschen und und und... Wir waren schon das 2. Mail hier und werden bestimmt noch mal wieder kommen.
---
Melanie 30-35 Jahre, verreist im december 2017
Die traumhafte Aussicht und die Lage neben dem Bauernhof war für unsere Kinder einfach nur toll! Das Haus war sauber und bot jede Menge Platz. Die Vermieter waren super freundlich und hilfsbereit! Evtl wird uns der Urlaub nochmal dort hin führen!!!!
---
Karin 65-70 Jahre, verreist im july 2017
Das Haus war sauber, gut ausgestattet und sehr geräumig. Wir waren drei Generationen (mit zwei Klein(st)kindern) dort; dafür war das Haus ideal - keiner störte jemanden anderen. Die Gastgeber sind äußerst liebenswürdig und hilfsbereit. Die Nähe zu Kühen, Hühnern und Traktoren ist für Kinder sehr attraktiv.
---
Ralph 35-40 Jahre, verreist im july 2016
Sylvia 35-40 Jahre, verreist im july 2016
Dieses Haus hat alles, was ein Ferienhaus haben soll. Sehr nette Vermieter und für Kinder ein Paradies.
---
Ralph 30-35 Jahre, verreist im february 2016
Kurt 60-65 Jahre, verreist im december 2015
Obwohl wir leider keinen Schnee hatten, war dieser Winterurlaub trotzdem sehr schön. Das Haus bot viel Platz und die traumhafte Umgebung war einfach umwerfend. Nicht zuletzt, die sehr freundlichen Gastgeber, die ausgesprochen liebenswürdig waren. Im Haus gab es bis auf einige Kleinigkeiten kaum etwas zu bemängeln (in der Küche fehlte uns ein Kartoffelstampfer und Tischdecken oder Tischsets als Unterlage beim Essen). In der unteren Wohnung wäre eine gemütlich Sitzecke z.B. Sofa oder Sessel wünschenswert. Trotzdem fast durchgehend 2 Wochen traumhaftes, sonniges Wetter im Dezember. Wir haben uns sehr wohl gefühlt.
---