Salzburg, Abtenau, JOS-SBG
Find the right cabin for your vacation
Explore the entire range of alpine huts, ski huts, chalets and holiday homes and find your perfect holiday destination in Austria
SalzburgAbtenau
Location
The cottage is located between Strobl am Wolfgangsee and Abtenau - directly on the Postalm - on a meadow, in a secluded area. The neighboring cottages are approximately 200m away. The cottage is reachable via a toll road. From Strobl € 16,-/car or € 11,-/car from Abtenau. In winter you have to walk the last 200m. The toll is refunded when you buy a lift ticket. In summer you can drive the last 200m on a forest road to the cottage.
Distances
Next town Abtenau 15km, or Strobl am Wolfgangsee 15km. Postalm ski resort with ski school, fun park, ski rental, high altitude trails (up to 15km long!), 8 lifts and 20km of groomed slopes in 1.5km distance. Skibus in 200m. The skiresort Postalm is particularly popular for families, ideal for cross country skiers and ski mountaineers! In the summer the hiking trails, climbing in the Postalmklamm, mountain biking, swimming under a waterfall, or trips to one of the many serviced huts will expect you!
Equippment
The hut has on the ground floor: living room with lounge, sofa and kitchenette with wood stove, oven, sink, coffee machine, water cooker, fridge. Four-bed room with double bed (1.60 m) and bunk bed, there is a connection to a small double room. 1 shower, Hairdryer, 1 toilet. Upper floor: 1 double room and 1 four-bed room (2 double beds). Heating with wood stove. In front of the cottage are roofed seats, meadow with playground equipment, a barbecue, a well and sunbeds.
Additional charges on-site subject to minor changes:
Electricity € 0,40/kWh, local tourism tax currently € 2,-/person/night, gas for water € 0,50/person/day, gas for heating € 3,-/kg. Wood € 35,-/week, pet € 25,- / stay. Bed linen € 7,- /towels € 3,- can be rented, Obectnumber: 50201-001911-2020
---
Offers
Kurz mal weg (19)
| Travelperiod | Duration | Persons | Price | |
| --- | --- | --- | --- | --- |
| Oct. 22. 2023 - Oct. 25. 2023 | 3 Nights | 12 Persons | € 825.- | |
| Oct. 31. 2023 - Nov. 4. 2023 | 4 Nights | 12 Persons | € 825.- | |
| Apr. 4. 2024 - Apr. 7. 2024 | 3 Nights | 12 Persons | € 690.- | |
| Apr. 11. 2024 - Apr. 14. 2024 | 3 Nights | 12 Persons | € 690.- | |
| Apr. 18. 2024 - Apr. 21. 2024 | 3 Nights | 12 Persons | € 690.- | |
| Apr. 25. 2024 - Apr. 28. 2024 | 3 Nights | 12 Persons | € 690.- | |
| Apr. 27. 2024 - May 1. 2024 | 4 Nights | 12 Persons | € 890.- | |
| May 1. 2024 - May 5. 2024 | 4 Nights | 12 Persons | € 890.- | |
| May 4. 2024 - May 8. 2024 | 4 Nights | 12 Persons | € 890.- | |
| May 17. 2024 - May 21. 2024 | 4 Nights | 12 Persons | € 925.- | |
| May 21. 2024 - May 25. 2024 | 4 Nights | 12 Persons | € 890.- | |
| May 25. 2024 - May 29. 2024 | 4 Nights | 12 Persons | € 890.- | |
| Oct. 2. 2024 - Oct. 6. 2024 | 4 Nights | 12 Persons | € 925.- | |
| Oct. 10. 2024 - Oct. 13. 2024 | 3 Nights | 12 Persons | € 690.- | |
| Oct. 17. 2024 - Oct. 20. 2024 | 3 Nights | 12 Persons | € 690.- | |
| Oct. 24. 2024 - Oct. 27. 2024 | 3 Nights | 12 Persons | € 690.- | |
| Oct. 31. 2024 - Nov. 3. 2024 | 3 Nights | 12 Persons | € 690.- | |
| Nov. 7. 2024 - Nov. 10. 2024 | 3 Nights | 12 Persons | € 690.- | |
| Nov. 14. 2024 - Nov. 17. 2024 | 3 Nights | 12 Persons | € 690.- | |
Herbstgenuss 2023 (1)
Schnäppchen (7)
Winter 2023/24 (7)
Frühling 2024 (6)
Sommer 2024 (4)
Herbstgenuss 2024 (8)
All offers (45)
---
Location/Info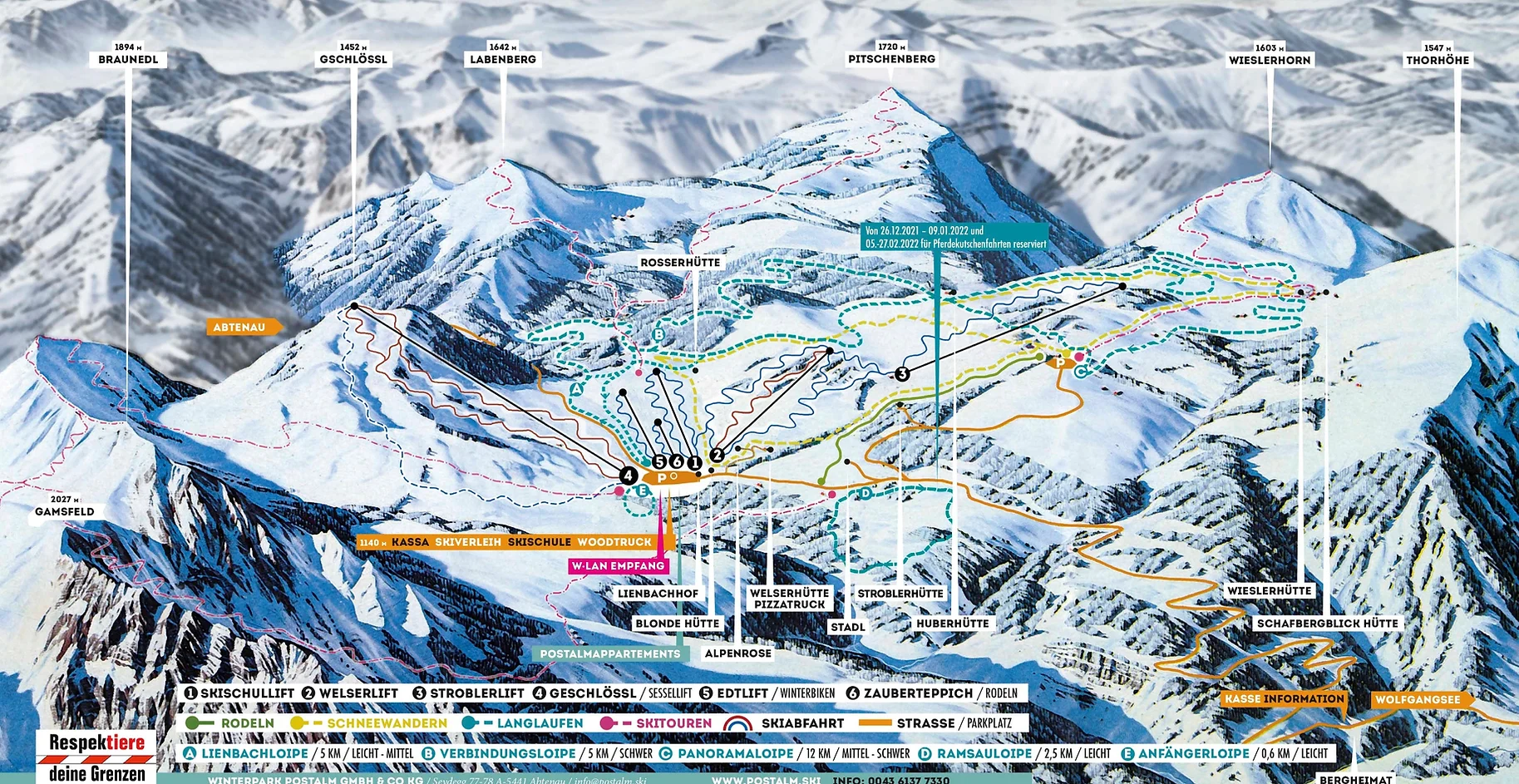 Winter Infos
(c) www.postalm.ski

The skiing area Postalm is a small family skiing area with 21km slopes and 6 ski lifts. If snowboarder, cross-country skier, sportsperson or competitive athlete, the skiing region Postalm has a range of offers for all sorts of individualities. The winter fun park offers also for the very small non-skiers a big variety.
Summer Infos
Hiking, climbing and biking in Austrias largest alpine pasture area! But enjoyment is not neglected either cozy huts invite you to linger.
About 12 km above Strobl on Wolfgangsee is the largest contiguous alpine pasture area in Austria and the second largest high plateau in Europe: the Postalm. Numerous hiking trails lead through the wide alpine pasture area, many alpine huts invite you to a hearty snack with homemade alpine products. The Postalmstraße is not only the direct route to the freedom of the mountains, but also a varied panoramic road with breathtaking views.
Water sports and fun at Lake Wolfgang!
Whether sailing or surfing, diving or stand up paddling, water skiing or wakeboarding, canoeing or kayaking, the crystal clear Wolfgangsee offers refreshing, cool and action-packed adventures all year round! The surrounding seaside resorts and beaches invite you to take a relaxing dip in the sun.
Rating
Location / Surroundings
Hiking-/Skiing Area
Restore Factor
Location
Other / Satisfaction
Care
Price
Facilities
Comfort
Facilities
Cleanliness
---
Dear friends of Hüttenpartner – tell us your opinion!
Of course we hope that you had wonderful, relaxing cabin holidays, but maybe you have further suggestions for us. Tell future guests about your experiences! Read what our customers wrote:
Rainer 60-65 Jahre, verreist im october 2022
Wir waren Ende Oktober zu unserem jährlich stattfindendem Ausfug auf der Postalm. Die urige Hütte hatte alles was wir zum Wohlfühlen benötigt haben. Vor allem die Lage hat uns begeistert. Einsam gelegen inmitten von Wiesen, abseits allen Trubels. Auch die Hüttenwirtin Josi hat alles dazu beigetragen, dass wir uns wohl gefühlt haben. Wir werden sicher wiederkommen. Liebe Grüße an Josi und Stefan
---
Steffi 40-45 Jahre, verreist im february 2020
Wir haben eine Woche auf der Almhütte Urlaub gemacht und es war ein Traum. Die Hütte bietet alles, was man braucht und hat dabei trotz einigem Komfort wie Strom und einer schönen warmen Dusche sehr viel Ursprünglichkeit bewahrt. Heizen und Kochen auf dem Holzherd war unkompliziert und hat eine angenehme Atmosphäre und viel Wärme verbreitet. Die Speisekammer hat den Kühlschrank perfekt ersetzt und überflüssig gemacht. Die oberen Schlafräume haben wir nicht genutzt, daher können wir dazu nichts sagen. Wir waren nur zu zweit und hatten daher natürlich ausreichend Platz. Obwohl die Hütte für sehr viel mehr Personen ausgelegt ist, ist sie auch für zwei Personen perfekt und sehr sehr gemütlich. Vor allem die Lage hat uns begeistert. Einsam gelegen auf der Postalm inmitten von Wiesen, abseits allen Trubels. Auch die Hüttenwirtin hat alles dazu beigetragen, dass wir uns wohl gefühlt haben. Es hat wirklich an nichts gefehlt! Wer Ruhe sucht, ist hier gut aufgehoben!
---
Arthur 40-45 Jahre, verreist im february 2019
Von der Lage und vom Erholungsfaktor her ist die Hütte ein Traum. Waren jetzt in den Semesterferien dort. Unmengen an Schnee, eine wunderbare Winterlandschaft. Wahnsinnig schön. Die Wirtin Josi sehr bemüht und freundlich. Jederzeit erreichbar, mit einem Ohr für unsere Probleme. Echt super. Danke! Zum Skigebiet Postalm sinds mit dem Auto auch nur 3-4 Minuten. Da ist man leicht der erste auf der Piste! :-)

Die Hütte selber ist urig und einfach, aber genau das, was ich erwartet habe. Das Bad ist sauber und ausreichend eingerichtet, es gibt immer sehr schnell Warmwasser. Duschen und Abwaschen also kein Problem. Nettes Hüttenflair! Das nicht bis kaum vorhandene Handynetz ist auch toll, denn so kann man endlich echt abschalten!

Neutral: Der Essbereicht drinnen ist etwas klein. Bei grösseren Gruppen muss man wohl getrennt essen. Im Sommer ist das wohl weniger ein Problem, da man auch draussen sitzen kann, aber im Winter wirds eng.
Wenn es viel schneit, kann es mit der Parkplatzsituation bei der Hauptstrasse kritisch werden, vor allem wenn die anderen Hütten auch besetzt sind. Dann stehen zuviele Autos für den vorhandenen Platz dort. Man muss so parken, dass das Räumfahrzeug vorbeikommt, aber das ist angesichts der Schneemassen etwas schwierig. (Stichwort Steckenbleiben! Deswegen immer Ketten und Schneeschaufel mitnehmen!)

Negatives gibts aber leider auch:
Wir waren 3 Familien...5 Erwachsene und 6 Kinder. Die Aufteilung (Stichwort Durchgangszimmer im EG) wurde schon in einem anderen Kommentar genannt, aber da wir uns gut verstehen, hat das nicht so gestört. :-)
Für Kleinkinder ist die Hütte im Winter aber nur bedingt geeignet. Denn Teile der Hütte sind sehr kalt, das Obergeschoss und das Bad wird nur mit Gaskonvektoren beheizt, aber der Zugang geht nur durch durch den unbeheizten Stadl/Holzraum, wo auch der Zugang ins Bad ist. Wenn man hier nicht dauernd heizt, hat es im Badezimmer in der Nacht "angenehme" 5-8°C°, die Zimmer sind dann auch nicht wärmer :-( Denn oben im OG sind auch einige Löcher in der Holzwand, dementsprechend frisch bleibt es auch immer. Da überlegt man 2mal ob man in der Nacht auf die Toilette geht. :-) Laut Josi soll heuer noch oben eine Elektroheizung kommen und die Löcher verschlossen werden. Das wäre natürlich top, aber ändert nichts an unseren Frostnächten. Im EG bzw den beiden Zimmern dort ist es dank des super Holzofens zumindest immer warm und erträglich.

Alles in allem war es trotzdem super.
Obgleich ich wohl das nächte Mal wohl lieber im Sommer komme und nicht mehr im Winter! :D
---
Petra 45-50 Jahre, verreist im august 2018
Diese Hütte bietet alles was erholungssuchende Menschen brauchen! Wir haben uns extrem wohlgefühlt und werden sicher wieder kommen! Dass der Handy Empfang nicht so gut funktioniert hat nur Vorteile!
Ideal um auch den Hund im Urlaub mitnehmen zu können.

---
Martin 35-40 Jahre, verreist im june 2018
Wir erlebten mit einigen kleinen Kindern und 4 Erwachsenen einen total gelungenen Hüttenurlaub. Die Räume sind so perfekt angeordnet dass die Kinder in aller Ruhe schlafen konnten während es im Hauptraum oder auch dem Freisitz dann doch öfters etwas lauter zuging. In der Umgebung gibt es für alle Geschmäcker tolle Möglichkeiten zum Wandern und die Natur genießen. Herzlichen Dank an dieser Stelle auch nochmals an das super liebe Hüttenpaar die sich für uns wirklich viel Zeit genommen haben um uns die komplette Umgebung mit den Freizeitmöglichkeiten zu erklären.
Wir kommen gerne wieder!
Viele Grüße
Martin

---
Maria 30-35 Jahre, verreist im may 2018
Hallo, hier ist die Maria :-)
wir waren mit zwei Familien (3kleine Kinder) vor Ort. Die Hütte ist ideal dafür!

Am tollsten ist die liebe Hüttenwirtin! Sie erfüllt jeden Wunsch...mein Mann war so begeistert von ihr, dass er bei der Abreise vor lauter Winken in den Weidezaun gefahren ist :-) :-) :-)

Danke für alles!!!

Kleiner Verbesserungsvorschlag: Rauchmelder.

Liebe Grüße
---
Kurt 30-35 Jahre, verreist im july 2017
Die Hütte ist für 12 Personen ungünstig aufgeteilt, da man die Speis nur über ein Schlafzimmer erreichen kann und dieses Schlafzimmer auch das Durchgangszimmer für ein weiteres Schlafzimmer ist. Wenn die Hütte voll belegt ist, sollte man das bedenken. Wenn das Wetter mitspielt ist der Außenbereich für Kinder und Erwachsene nett gestaltet - Kinderspielplatz und mehrere Sitzbereiche.
---
Alexander 35-40 Jahre, verreist im may 2016
Sehr schöne ruhige Hütte eigentlich genau das was man sucht. Die Hüttenbesitzerin ist sehr nett.
Die Hütte ist mit allem ausgestattet was man für einen richtigen Hüttenurlaub bracht.Und nach einer rundum erholsamen und wunderschönen Woche steht für uns fest:WIR KOMMEN WIEDER!

---
Karl 50-55 Jahre, verreist im october 2013
Genau das hatten wir zivilisationsgeschädigten Menschen nötig: tolle, liebevoll eingerichtete und saubere Selbstversorgerhütte im ausgesprochen ruhigen, wunderschönen Wandergebiet Postalm mit supernetten, aufgeschlossenen Leuten, allen voran die Vermieter Josi und Stefan. Auf Komfort brauchten wir nicht zu verzichten: Solarstrom, Warmwasser, Dusche und WC, holzbeheizter Wohnraum mit gemütlicher Eckbank und kompletter Küchenausstattung. Vor der Hütte eine überdachte Terrasse mit großer Sitzecke, einer weiteren Sitzecke an der Südostseite, darüber hinaus Gartenmöbel und für den Winter einige Rodel. Es gibt genügend bewirtschaftete Hütten, die gut zu Fuß zu erreichen sind. Der Handy-Empfang ist übrigens zu unserer Freude auf das nötigste beschränkt. Wir haben uns wunderbar umsorgt und wohl gefühlt. Ganz lieben Dank, Josi und Stefan!
---