Salzburg, Forstau, DAX-SBG
Find the right cabin for your vacation
Explore the entire range of alpine huts, ski huts, chalets and holiday homes and find your perfect holiday destination in Austria
SalzburgForstau
Cabin Description
---
2 self-catering cottages, each for until 24 people
2 double rooms, 3 four-bed rooms
2 addit. double rooms with shower/toilet on request
4 additional beds available, cot available
2 showers, 1 shower/toilet, 3 toilets
bathroom with Jacuzzi, shower, sauna
living space: 200m²
altitude: 980m
accessible by car
pets are on request

Sauna
Location
These 2 huts are located about 20m from each other, on a large meadow, on the edge of the forest, quiet and sunny, between Radstadt and Schladming, about 3km away from the village Forstau. The location is perfect for families and guests, who would like to enjoy the calm location on the fringe of the wood, the fresh air and the view onto the mountains. Alpine inn 100m from here.
Distances
Forstau 3km, ski region Fageralm 3km, great ski region Reiteralm ? Schladming 3km away, ski school 3km away. Alpine inn 100m away. Lake for swimming 4km, indoor pool 8km. An ideal starting point for cycling and walking.
Equippment
The wooden huts are very comfortable. Each of them has a ground floor: spacious snuggery with wood stove and satellite TV, integrated full-equipped kitchen with electric cooker, oven, 2 fridges with deep freezer, dishwasher, microwave, coffee machine, water boiler and toaster. Exit to the sun terrace with seats and barbecue. 1 bedroom for 2-4 persons with double bed and extendable sofa (if needed) with shower/toilet. Sauna with shower, whirlpool. 1 toilet. Upper floor: 4 bedrooms, each with double bed and extendable sofa (if needed). Internet access and WIFI. 2 showers. 2 toilets. Central heating. Bathroom with floor heating, hairdryer. Use of the washing machine in the Alpine inn on request. Fresh bread from the baker. Please do not smoke inside the hut!
Additional charges on-site subject to minor changes:
Electricity € 0,60/kWh, waste local tourism tax € 1,90 + operating costs currently € 1,-/person/night, final cleaning € 250,-, deposit € 800,-. Pet: € 50,-/stay, . Bed linen can be rented for € 8,-/set and towels for € 4,-/set. Additional bed € 10,-/night.
Other:
The price is for up to 16 persons. Furthermore, there are additional beds inside the hut for the price of € 10,-/night. Ground floor: 2 additional double rooms with shower/toilet, stallite TV and internet in every hut. This would cost € 20,-/person/night and has to be paid locally.
 
Floor plan: ground floor | first floor
Homepage
http://www.alpengasthof-draxler.at
---
Offers
Ski-Openings 2022 (2)
Winter 2022/23 (4)
Topangebot (1)
Schnäppchen (14)
Kurz mal weg (24)
Frühling 2023 (9)
Sommer 2023 (9)
Herbstgenuss 2023 (15)
Winter 2023/24 (5)
Ski-Openings 2023 (4)
All offers (72)
---
Location/Info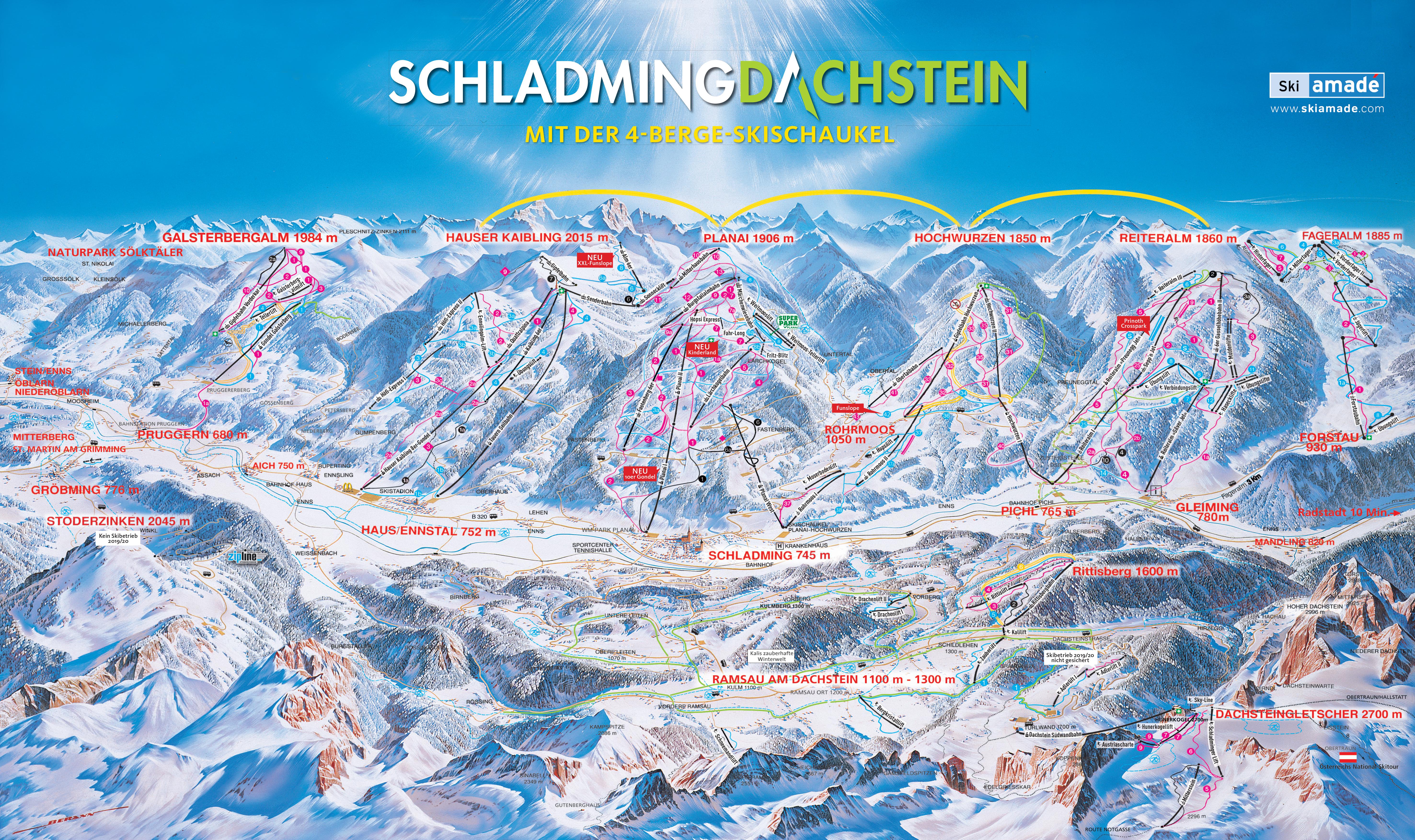 Winter Infos
The Schladming 4 mountains linked ski area connects the 4 highest Styrian mountains for skiing - Hauser Kaibling, Planai, Hochwurzen and Reiteralm. 123km slopes and 44 modern cable cars and ski lifts - non-stop! This is very unique, not just at ski amadé, but also in whole Austria.
The Dachstein-glacier and the smaller mountains, like the "Schneebärenland", as well as the family-skiing regions Stoderzinken and Galsterberg are part of the great offer of ski amadé, which is one of the most diversified winter sport areas in Europe. 760km slopes, 356 best prepared slopes and 270 comfortable ski lifts are provided - you need just one ski ticket!
Summer Infos
Regardless of whether you are looking for adventure or tranquility, the Schladming-Dachstein region is there for everyone. With around 1,000 kilometers of hiking trails, 1,000 kilometers of mountain bike routes and 22 climbing routes, the ways to experience our nature are just as varied as the region itself. And the cuisine is also of the highest quality with us: over 50 cultivated alpine pastures are open all summer here for you.
Rating
Location / Surroundings
Hiking-/Skiing Area
Restore Factor
Location
Other / Satisfaction
Care
Price
Facilities
Comfort
Facilities
Cleanliness
---
Dear friends of Hüttenpartner – tell us your opinion!
Of course we hope that you had wonderful, relaxing cabin holidays, but maybe you have further suggestions for us. Tell future guests about your experiences! Read what our customers wrote:
Claudia 40-45 Jahre, verreist im january 2019
Sehr schönes Ferienhaus, wunderschöne Lage, sehr freundliche Vermieter - alles bestens, kann man wirklich sehr empfehlen.
---
Reinhard 60-65 Jahre, verreist im august 2018
Ausstattung und Zustand des Ferienhauses entsprach voll den Erwartungen. Die Zimmer, die Küche und der Aufenthaltsraum waren sind großzügig bemessen. Das Ferienhaus hat im Erd- und Obergeschoß 5 Zimmer. Im Untergeschoß können zusätzlich 2 Zimmer separat über den Eigentümer gebucht werden. Wir hatten das gesamte Haus mit 14 Personen gebucht und waren sehr zufrieden.
---
Viktor 35-40 Jahre, verreist im january 2016
Ausstattung und Sauberkeit waren wirklich top!! Die Lage war OK, hätte aber besser sein können. Preis/Leistung ist vollkommen OK.
---
Rubin 18-25 Jahre, verreist im june 2015
Wir waren begeistert und kommen gerne. Wir waren 9 Personen und wohnten in der 2. Draxlerhütte.
Bis bald, wir freuen uns schon ;-)
---
Manfred 55-60 Jahre, verreist im may 2015
Wir waren im Mai 2015 für eine Woche mit 8 Personen Gäste in einer der zwei Draxler Hütten und sind begeistert. Die Hütten sind sehr wohnlich, sauber und komfortabel. Obendrein gibt es noch eine große Sauna mit Whirlpool. Eigentlich fehlt es an nichts. In jedem Raum ist ein LAN-Anschluss installiert. Um allerdings Smartphone und Tablett mit dem Internet zu verbinden sollte man ein entsprechendes Gerät (Access Point) im Reisegepäck haben. Von der Hütte aus lassen sich wunderschöne Wandertouren anfahren. Die Abwicklung selbst sowie die Betreuung vor Ort waren einwandfrei. Ideal für Gruppen und Familien und nur zu empfehlen. Wir kommen gerne wieder!
---
Kirsten 50-55 Jahre, verreist im may 2015
Das Haus ist sehr sauber und gut durchdacht (zeitgesteuerte Lüftung in den WC`s und Duschen, sensorgesteuertes Licht im OG). Die Ausstattung der Zimmer ist sauber und praktisch. Die zwei zusätzlichen Zimmer im UG sind etwas teuer und nur über die Außentreppe zu erreichen. Der Vermieter ist nett und gibt gute Tipps für Ausflugsziele, auch die Gaststube des Vermieters ist ganz in der Nähe und bietet sehr gutes Essen. Fehlende Küchenutensilien sind nach Rücksprache mit Vermieter (z.b. elektrisches Rührgerät) sofort zu bekommen. Der Schotterweg zur Hütte verursacht bei trockenem Wetter sehr staubige Autos. Die Lage des Hauses ist toll, ruhig und schöne Aussicht. Der Preis ist für Familien mit mehreren Kindern erschwinglich. Hoffentlich bleibt der Preis so, wir würden gerne wieder kommen.
---
Gudrun 60-65 Jahre, verreist im july 2014
Gute bis sehr gute Ausstattung. Hütte in sehr sauberem Zustand und schöne Lage mit guter Aussicht. Mietpreis für Haus ohne zusätzliche Zimmer im Untergeschoss ok. Preis für zusätzliche Zimmer im UG relativ teuer. Vermieter sehr hilfsbereit. Fehlende Küchenutensilien werden gerne bereitgestellt. Gastronomie direkt nebenan, Essen gut und Preise ok. Brötchenservice vorhanden (sehr gut). Hütte liegt oberhalb von Forstau.
---
Gerhard 35-40 Jahre, verreist im february 2011
Hervorragende Lage zu allen Skigebieten der Region. Abseits von Hauptverkehrswegen, dennoch gut erreichbar. Sehr schönes gemütliches Haus mit ausgezeichneter Ausstattung für Selbstversorger. Für Nichtselbstversorger ebenfalls geeignet, da gemütlicher Gasthof in 50m Entfernung vorhanden ist. Sehr freundlicher und hilfsbereiter Vermieter. Preis/Leistung sehr gut.
---
Thomas 30-35 Jahre, verreist im january 2011
Großes und wohnliches Ferienhaus. Die Wohnküche ist bestens geeignet für große Gruppen und bietet reichlich Platz für Essen, Aufenthalt, fernsehen und Freizeit. Kurze Wege in die Skigebiete im Umfeld.
---