Salzburg, Lungau-Seetal, HUS-SBG
Find the right cabin for your vacation
Explore the entire range of alpine huts, ski huts, chalets and holiday homes and find your perfect holiday destination in Austria
SalzburgLungau-Seetal
Location
The hut is located at the Gstoder, in the idyllic Seetal, amid the "Almgebiet", in fantastic tranquility and with a wonderful view! Approach via a 5 km long forest road. Driving ban from 5 p.m. until nightfall (repose period for the game)!
Distances
50m uphill there is a farmed chalet where you have the possibility to enjoy an "alpine snack" from the middle of june until the middle of september. Not far from here: the town Tamsweg 17 km, the lake Prebersee 26 km, fishing possibilitis on the Seetaler-lake in 5 km distance. Hiking trails from the hut until the mountian top (2.241 m) Skiing areas: St. Margarethen, Mauterndorf, Fanningberg, each about 30 km from here. Skiing tours on the Gstoder possible directly from the hut.
Equippment
The 200 years old cottage was completely renovated and lovely equipped. Anteroom with wood stove, oven. Here you cook and heat the water, which you get from the well in front of the cottage. Snuggery with seating corner and tiled stove, 1 double room. In the anteroom on the left side is a staircase to the attic floor, here is a double room. Further on the right side is a ladder which leads to the dormitory for 2 persons at the mansarde. Behind the cottage is the earth closet (continuous emptying). In front of the cotage are seats, a well and a place to make barbecue. Light with gas cartridge, electricity via aggregate if needed.
Additional charges on-site:
Local tourism tax currently € 2,50/person/night, lump sum for wood/light € 50,-/week. Petrol for power unit currently € 1,50/liter, bed linen can be rented for € 10,-/set and towels for € 5,-/set. Pet € 25,-/week, deposit for the gate key: € 100,-.
---
Offers
Last Minute (1)
Travelperiod

Duration

Persons

Price

May 29. 2022 - June 4. 2022

6 Nights
6 Persons

€ 404.-

€ 525.-
Frühling 2022 (1)
Herbstgenuss 2022 (9)
Schnäppchen (6)
Frühling 2023 (9)
Sommer 2023 (9)
Herbstgenuss 2023 (7)
All offers (36)
---
Location/Info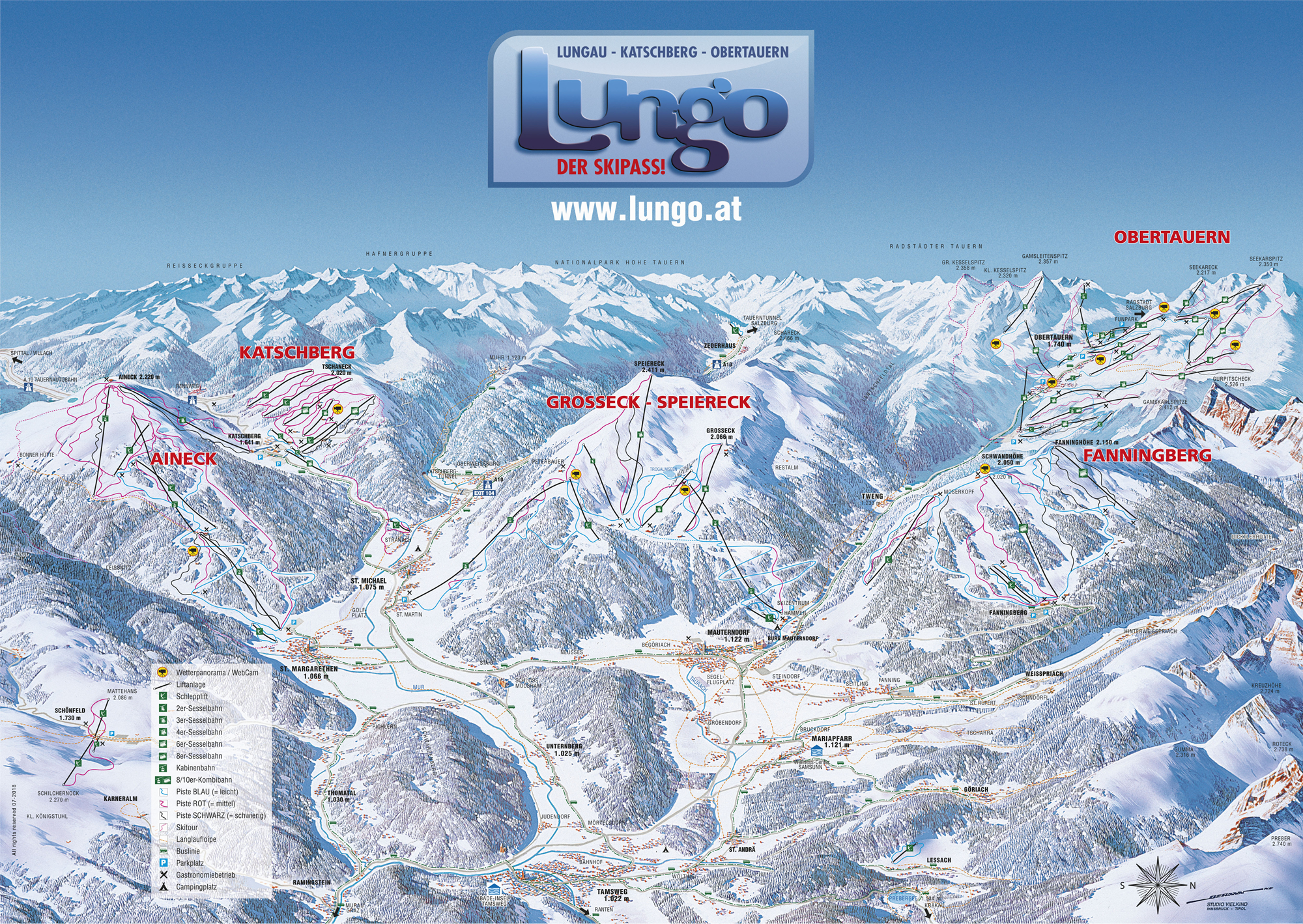 Winter Infos
Skifahren in St. Michael ist ein Erlebnis. Die 4 Skigebiete Aineck, Katschberg, Fanningberg und Grosseck-Speiereck bieten über 220 km Pisten und 50 Liftanlagen!
Traumhafte Tiefschneehänge und bestens präparierte Abfahrten in allen Schwierigkeitsgraden bieten Fahrspaß für Anfänger und Profis. Die 6er-Samson-Bahn, die längste Sesselbahn der Welt am Fanningberg, die 8er-Kabinen-Bahn mit einer 4 km langen Talabfahrt im Skigebiet Grosseck-Speiereck und ein Boarder Park für Snowboarder am Aineck machen die Ferienregion St. Michael zu einer Top-Skiregion.
Summer Infos
Der Salzburger Lungau ist eingebettet zwischen den Radstädter Tauern und den Kärntner Nockbergen. Er ist die sonnenreichste Region Österreichs und mit der Auszeichnung "UNESCO Biosphärenpark Salzburger Lungau" unter besonderen Schutz gestellt. Es gibt unzählige Möglichkeiten sich in der intakten Natur frei und individuell zu bewegen, wobei Wandern und Radfahren zu den absoluten Lieblingen im Lungauer Almsommer gehören. Eingebettet in eine traumhaft schöne Gebirgslandschaft mit zahlreichen Bergseen, sprudelnden Gebirgsbächen, Wiesen und Wäldern, bietet der Salzburger Lungau für Kinder und Erwachsene Erholung und Abenteuer in jeder Form.
Ob alleine oder geführt, die Wanderrouten im Salzburger Lungau reichen von sanften Wegen im Tal, über gemütliche Hütten- und Bergseetouren, bis hin zu ausgedehnten Expeditionen.
Der Salzburger Lungau ist wie geschaffen für Bike-Touren. Dafür sorgt nicht nur die Kombination aus dem breiten, offenen Talboden mit seinen vielen bezaubernden Seitentälern. Es gibt ein sorgfältig ausgeschildertes Netz für E-Bike Ausflüge und Familientouren samt dem berühmten Murradweg. Auf sportliche Radler warten 17 Mountainbike-Routen und die Tour Lungau EXTREM als absolutes Highlight. Neben dem Wandern und dem Radsport gibt es im Salzburger Lungau noch eine Vielzahl an weiteren Outdooraktivitäten wie Golf, Reiten oder sogar Fliegen. Den Aktivitäten sind keine Grenzen gesetzt.

Rating
Location / Surroundings
Hiking-/Skiing Area
Restore Factor
Location
Other / Satisfaction
Care
Price
Facilities
Comfort
Facilities
Cleanliness
---
Dear friends of Hüttenpartner – tell us your opinion!
Of course we hope that you had wonderful, relaxing cabin holidays, but maybe you have further suggestions for us. Tell future guests about your experiences! Read what our customers wrote:
Jörg 35-40 Jahre, verreist im august 2019
Ein sehr schönes Haus für Erholung pur. Das Haus hatte alles, was wir benötigt haben. Es war sehr gemütlich eingerichtet und hat uns einen schönen-erholsamen Hüttenurlaub geliefert. Sehr empfehlenswert.
---
Karin 55-60 Jahre, verreist im june 2019
Einfache, sehr schöne, saubere und gut eingerichtete Almhütte mit Klo-Häuschen hinter der Hütte - sensationell für unsere Enkel ! Schöne Aussicht, gute Wandermöglichkeiten und Einkehrmöglichkeit in benachbarter bewirtschafteter Alm. Längere Anfahrt über Forstweg hinauf auf den Berg, für "tiefer gelegte" Fahrzeuge wohl etwas schwierig....für "normale" KFZ fahrbar. Sehr hilfsbereite und freundliche Vermieter!
---
Katrien 40-45 Jahre, verreist im may 2018
Wij hebben een week met onze 3 kinderen in dit huisje doorgebracht en wij hebben ons erg vermaakt. De ligging van het huisje is prachtig. Vanuit het huis loop je zo de bergen in. De beekjes in de tuin zijn erg leuk voor kinderen. Ook als het slecht weer is is het huis prima om in te verblijven. Het is van binnen erg gezellig en goed warm te houden. Wij zouden hier graag weer terugkomen.
---
Stefanie 40-45 Jahre, verreist im august 2015
Wir waren mit drei Kindern (15,13,11) im August eine Woche auf der Hauserlhütte. Der Empfang durch die Vermieter (im Tal) war sehr herzlich und man fühlte sich sehr willkommen und gut betreut. Auch die Abreise gestaltete sich unkompliziert und sehr herzlich. Die Anfahrt zur Hütte war für unser vollbeladenes Familienauto eine gewisse Herausforderung, doch diese wurde ohne Probleme gemeistert. Der Weg vom Tal zu den Almen dauert ca 15 - 20 Min., da es durch Wild- und Weidegebiet geht und man auch aufgrund des Schotterweges nicht schnell fahren kann/sollte.
Die Hütte ist einfach, aber sehr sauber und gemütlich.Wie beschrieben ist alles vorhanden was man braucht.Die Räume unter dem Dach haben eine geringe Deckenhöhe, so dass sich Erwachsene dort etwas schwer tun. Das Lager ist unserer Meinung nach eher für Kinder geeignet. Das Bett im Schlafzimmer ist etwas kürzer als üblich, aber für uns gab es damit keine Probleme. Wir haben alle sehr gut geschlafen in dieser Woche.
Der fehlende Kühlschrank war für uns auch kein Problem, da wir Milch, Butter, Käse und am Dienstag Brot von der Sennhütte oberhalb holen konnten (jedoch muss man dort vorher Bescheid geben, wenn man etwas braucht, so dass z.B. Milch da ist)
Im Freien ist eine Kühlmöglichkeit in der auch alles frisch bleibt.
Das von den Kindern gefürchtete Plumsklo erwies sich als sauber, geruchsneutral und angenehmer als die Toiletten in manchen Gaststätten. Es war auch kein Problem nachts im dunkeln auf die toilette zu gehen, jedoch sollte man genügend Taschenlampen mitnehmen.
Da die Hütte im Almen- und Wildgebiet liegt, ist es keine Hütte zum Partymachen oder laut Musik hören. Ab ca. 20:00 Uhr sollte man Lärmen vermeiden. Für uns war es eine sehr erholsame, entspannende Woche mit viele schönen Eindrücken und Wanderungen. Alle sind sich einig, so etwas nochmals unternehmen zu wollen. Hinzu zufügen wäre noch, dass wir ein traumhaftes Wetter hatten, nur am ersten Tag etwas Regen, danach sehr sonnige und im Tal fast schon zu heiße Tage.

---
Walter 40-45 Jahre, verreist im august 2014