Salzburg, Mittersill, VOI-SBG
Find the right cabin for your vacation
Explore the entire range of alpine huts, ski huts, chalets and holiday homes and find your perfect holiday destination in Austria
SalzburgMittersill
Location
The farmhouse is located above the Salzachtal (valley), in a sunny area, surrounded by meadows, at the end of a farm road. Throughout the year cows and calves are at the barn on the back side of the farmhouse, in summer they are on the alpine pasture and the barn is empty.
Distances
Next town is Mittersill with shops, restaurants, bars in 7km. Top ski area Kitzbuhel (entry Mittelstation Panoramabahn Hollerbach) in 3,5 km. The 14km long lit toboggan run is the longest in Europe, in 12km (sled rental on the spot), Lake Hollerbach in 4km. Zell am See 25km. 18 hole PGA golf course 7km. The area is ideal for skiers, hikers and mountain bikers! Bread roll service!
Equippment
The renovated farmhouse has on the ground floor a big kitchen with seats, tiled stove and with 2 electric stoves, oven, fridge, 2 dishwashers, coffee machine, microwave, water boiler, additional day room with satellite TV, sofa. Toilet. Upper floor: 1 double rooms, 3 big three-bed rooms (double bed and sofa) with balcony, 2 showers, 2 toilets. Attic floor: 4 double rooms with balcony, 1 three-bed room with double bed and sofa. 2 showers, 2 toilets, sauna with recreation room. Electrical heating. Wi-Fi available. In front of the house are a lot of meadow, a barbecue and seats.
Additional charges on-site:
Lump-sum € 2,50/person/night (for internet, heating, electricity, sauna), local tourism tax currently € 1,10/person/night, final cleaning € 150,-, pet € 35,-/week, deposit € 300,-. Bed linen can be rented for € 7,-/set and towels for € 3,-/set.
---
Offers
Last Minute (1)
Travelperiod

Duration

Persons

Price

May 29. 2022 - June 4. 2022

6 Nights
22 Persons

€ 1,190.-

€ 1,650.-
Frühling 2022 (1)
Schnäppchen (18)
Herbstgenuss 2022 (7)
Kurz mal weg (22)
Winter 2022/23 (9)
Ski-Openings 2022 (7)
Weihnachten/Silvester 2022/23 (1)
Frühling 2023 (19)
Sommer 2023 (9)
Herbstgenuss 2023 (26)
All offers (101)
---
Location/Info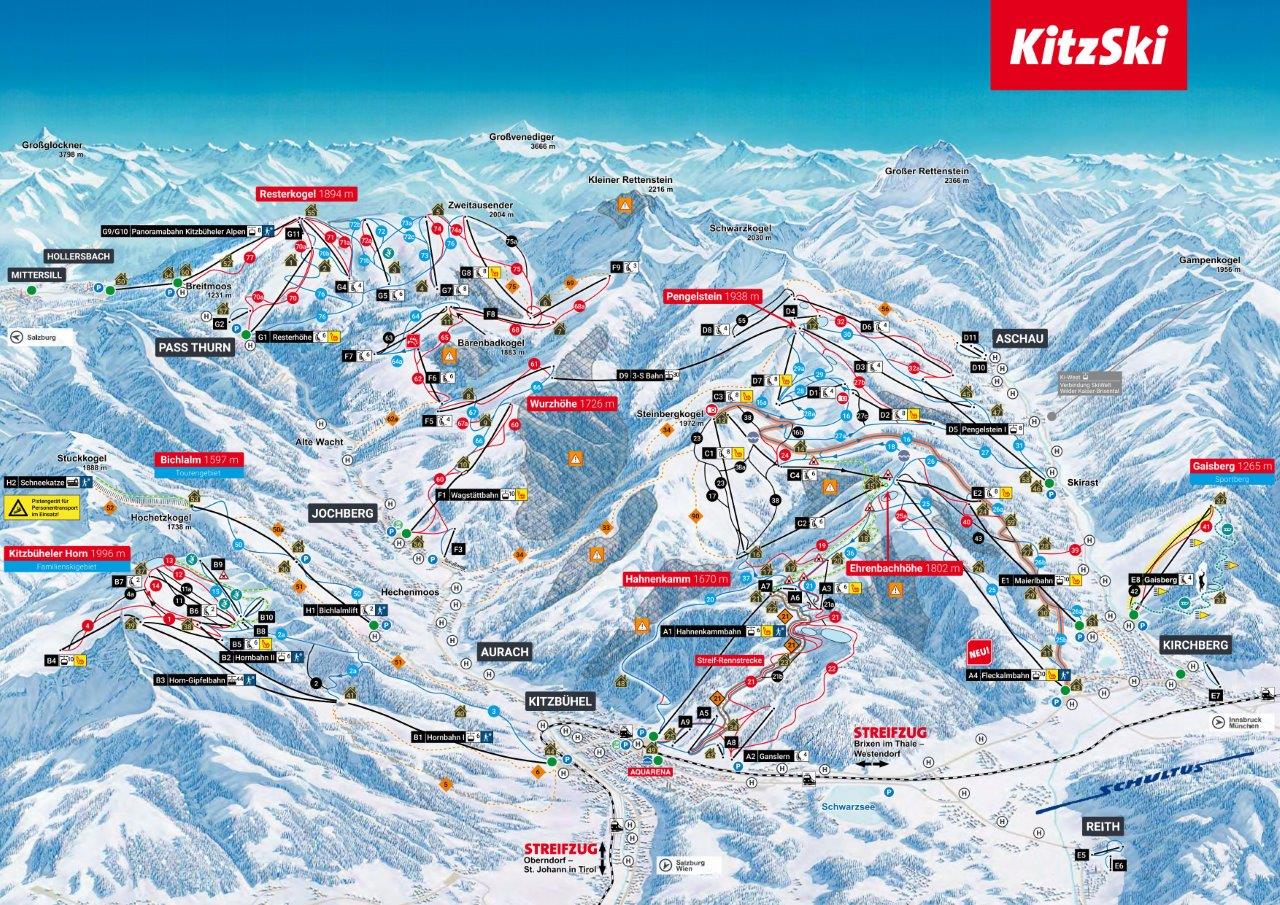 Winter Infos
Rund 170 Kilometer perfekt präparierte Pisten und 32 Kilometer markierte Skirouten in allen Schwierigkeitsgraden, actionreiche Snowboard-Funparks, Naturrodelbahnen, dazu hunderte Kilometer an Langlauf-Loipen und Winterwanderwegen, machen das Skigebiet Kitzbühel, das sich übrigens über 7 Gemeinden und 2 Bundesländer erstreckt, zum absoluten Wintersportparadies der Alpen.
Mit insgesamt 53 hochmodernen Seilbahn- und Liftanlagen ist die Bergbahn AG Kitzbühel das größte Seilbahnunternehmen Österreichs und befördert täglich viele glückliche Wintersportfans auf die verschneiten Hänge, Pisten, Ski-Hütten und Jausenstationen.
Summer Infos
Kitzbühel – Sommerfrische in Österreich!
Wer Kitzbühel und die Feriendörfer Reith, Aurach und Jochberg nur im Winter kennt, hat den Großteil des Charmes der Region noch zu entdecken. Von je her lädt die Gamsstadt zur erholsamen Sommerfrische ins Herz der Alpen ein. Dabei geht besonders im Urlaub eine unverkennbare Kombination aus Zeit für Ruhe und Erholung mit Aktivität einher, denn auch im Sommer wird Sporttradition beim Wandern, Radfahren und Golf groß geschrieben.
Eine einzigartige Kombination aus Sport und Lifestyle.
-) Offizieller Träger des Europäischen Wandergütesiegels
-) Zertifizierte Wandergastgeber für das perfekte Wandererlebnis
-) Über 1.000 Kilometer bestens gewartete Wanderwege
-) Kostenlos geführte Wanderungen zu den schönsten Plätzen
-) Aufstiegshilfen mit den Sommerbahnen der Bergbahn AG Kitzbühel
-) 1.200 km Rennrad-Streckenin allen Schwierigkeitsgraden
-) 800 km Radwander- und Mountainbikestrecken
-) Routen und Touren – egal ob mit dem Rad oder zu Fuß
-) Ausgezeichnete Kulinarik in urigen Berghütten
Rating
Location / Surroundings
Hiking-/Skiing Area
Restore Factor
Location
Other / Satisfaction
Care
Price
Facilities
Comfort
Facilities
Cleanliness
---
Dear friends of Hüttenpartner – tell us your opinion!
Of course we hope that you had wonderful, relaxing cabin holidays, but maybe you have further suggestions for us. Tell future guests about your experiences! Read what our customers wrote:
Gisela 55-60 Jahre, verreist im july 2021
Das Haus ist sehr gut ausgestattet und sauber. Es bietet reichlich Platz. Jeder von uns hat dank der guten Matraten sehr gut geschlafen. Die ruhige Lage über dem Tal ist wunderschön. Der Vermieter ist sehr nett und hilfsbereit. Es gibt viele Möglichkeiten für die Freizeitgestaltung, besonders die Wasserfälle in Krimml waren sehenswert. Der Lieferdienst für die Semmeln war super. Wir hatten eine tolle Woche und kommen gerne wieder.
---
Vicky 25-30 Jahre, verreist im august 2020
Wir kommen gerne wieder!!!!!
---
Evelyn 50-55 Jahre, verreist im january 2020
Ein großes, schönes und sauberes Haus in bester Lage, mit sehr guter Ausstattung. Ideal für Familien mit Kindern. In nur 5 Minuten ist man an der Gondel. Wir hatten eine wunderschöne Urlaubswoche und kommen gerne wieder.
---
Helmut 65-70 Jahre, verreist im june 2019
Wir haben schon öfter Hüttenurlaub gemacht, diese Hütte gehört zu den bestausgestatteten , welche wir besucht haben. Wir waren 7 Familien mit 15 Leuten. Die Kühlmöglichkeiten sind super, die Zimmer waren gut ausgestattet, alles sehr sauber! Der Vermieter war sehr nett und hilfsbereit! Wir würden diese Hütte jederzeit wieder buchen!
---
nicolas 45-50 Jahre, verreist im may 2018
Sehr schönes Haus, tolle Lage, Ausblick!
Küche und Bäder sehr modern. Im 1.Stock große Zimmer (auch für Familien geeignet) mit Waschbecken. Im 2.Stock kleinere Zimmer, dafür ganz neu, fast alle mit Zugang auf Balkon.
Gute Ausstattung, mehrere Kühlschränke.
Sehr zu empfehlen!
---
Thomas 55-60 Jahre, verreist im may 2018
Insbesondere die Lage hoch über dem Tal und Mittersill ist hervorragend. Das Dachgeschoß mit vier Zimmern und zwei Bädern sowie zwei separaten Toiletten wurde in 2015 komplett neu errichtet. Die Zimmer im 1. Obergeschoß sind zwar nicht auf dem neuesten Stand, aber gut. Die dort weiteren zwei Bäder und ebenfalls zwei getrennte Toiletten wurden anscheinend in 2015 ebenfalls renoviert. Der Vermieter ist sehr nett und hilfsbereit (wohnt nur rund 50 Meter entfernt). Wir waren alle (7 Erwachsene und zwei Kinder) sehr zufrieden
---
Gast 55-60 Jahre, verreist im april 2018
Ein tolles Haus. Geräumig, gemütlich, sauber, eine fantastische Lage.
Es fehlt an nichts. Wir waren zeitweise bis 5 Familien.
Alle haben sich wohl gefühlt.
Der Vermieter ist sehr freundlich und hilfsbereit.
Wir kommen wieder. Zum Skifahren, Wandern oder für eine Familienfeier.

---
Timo 35-40 Jahre, verreist im march 2018
Wir waren im März 2018 mit 5 Familien (22 Personen) zum Ski fahren da. Die Lage des Hauses ist top, 5 min . Fahrzeit zur Skigondel oder in den Ort Mittersill. Das Haus ist sauber und gut eingerichtet. Der Vermieter sehr freundlich und hilfsbereit. Einziges Manko: Die Küche/Essraum ist für 22 Personen etwas zu klein sodass ein Teil nebenan essen muss. Ansonsten können wir das Haus uneingeschränkt weiterempfehlen!
---
Arjan 40-45 Jahre, verreist im february 2018
Super huis. We hebben het hier fantastisch gehad.
---
Jens 40-45 Jahre, verreist im april 2017
Das Haus liegt wunderschön, ist sehr gut aufgeteilt und bietet alles, was einen Gruppenurlaub zum Erholungsurlaub macht. Der große Steintisch vor dem Haus ist phänomenal, er hat eine ganz besondere "Ausstrahlung". Alle Zimmer sind geräumig und sauber, die obere Etage ist so gut wie neu und sehr komfortabel ausgestattet. Ich habe meinen 40. Geburtstag mit 18 Freunden an diesem wunderbaren Ort verbracht und wir hatten in der ganzen Woche eine tolle Zeit. Mein ganz besonderer Dank, nein, UNSER ganz besonderer Dank gilt dem entspanntesten, freundlichsten und hilfsbereitestem Vermieter, den man sich für so ein Haus wünschen kann! Ein wunderbar unaufdringlich präsenter Hausherr. Volle Punktzahl für Lage, Haus, Ausstattung und Gastfreundschaft. Wir sind überzeugt, wir kommen wieder! P.s.: die Kühe reden nicht ;-)
---
Ralph 40-45 Jahre, verreist im august 2016
Reinhard 65-70 Jahre, verreist im august 2016
Das Ferienhaus entsprach voll unseren Erwartungen. Die Zimmer und die sanitären Einrichtungen sind sehr gut. Die Lage des Objekts ist fantastisch.
---
Lars 55-60 Jahre, verreist im july 2016
We spent one week in July 2016 in this lovely and big house which is located on the mountainside overlooking the valley of Mittersill and Hollersbach. It's a very nice house with good rooms for at least 14 adults (as we were) - including four toilets and bathrooms. The only minus was the barbecue which was a bit small to so many people. A bigger model would improve the cooking facilities.
---
Elke 45-50 Jahre, verreist im may 2016
Sehr empfehlenswert, Zimmer groß und geräumig, Küche könnte etwas größer sein. Haus liegt in sehr schöner Lage mit einem tollen Ausblick auf die Berge.
---
Ralph 35-40 Jahre, verreist im march 2016
T.H. 35-40 Jahre, verreist im march 2016
Huisje was top. Goed ingericht vakantiehuis en van alle gemakken voorzien. Zeker een aanrader voor groepen.
---
Albert 45-50 Jahre, verreist im march 2016
Wir waren mit 18 Personen von 5 bis 55 Jahren in dem Haus. Es war sauber, gutes Sanitär und schöne Zimmer. Tolle Aussicht vom Haus. Auto ist dabei allerdings erforderlich. Netter Vermieter, die Oma die im Haus wohnt (84 Jahre) freut sich auf ein Gespräch mit Gästen. Gute Einstiegsmöglichkeiten ins Skigebiet. Im Dachgeschoss gibt es noch ein schönes Spiel- fernsehzimmer, welches nicht in der Hausbeschreibung steht. Die Wohnküche ist gut ausgestattet, eng aber gemütlich. Das Haus ist seinen Preis wert. Am Paß Thurn gibt es einen kostenlosen Schlepper für Anfänger. Skigebiet war für unsere Gruppe gut.
---
Ralph 30-35 Jahre, verreist im february 2016
Ralph 30-35 Jahre, verreist im february 2016
Nicolien 45-50 Jahre, verreist im february 2016
Erg goed!
---
Nicolien 50-55 Jahre, verreist im february 2016
Erg goed!
---
Ronald 30-35 Jahre, verreist im february 2015
Het was een geweldig huis !!!! Prima ligging, mooi sanitair, heerlijke sauna en de eigenaar is zeer behulpzaam. Ook was er broodjesservice dus lekkere verse broodjes elke dag! Zeker voor herhaling vatbaar.
---
Freek 60-65 Jahre, verreist im december 2014