Salzburg, Neukirchen, DER-SBG
Find the right cabin for your vacation
Explore the entire range of alpine huts, ski huts, chalets and holiday homes and find your perfect holiday destination in Austria
SalzburgNeukirchen
Location
The non-smoking hut is situated in the skiing and hiking region of Wildkogel, in a sunny and quiet location in the west of Salzburg. In winter the cottage can be reached by cable car and a short ski-run (unsuitable for non-skiers). In summer the hut can be also reached by cable car and a walk of about 20 minutes, or with your own car, starting at Bramberg via the 15km long forest road (1x toll per car, per week € 60,-). Parking places (fenced, no liability) amid the cow pasture.
Distances
Piste as well as skiing area are right on the doorstep, ski school on-site right next to the cable car. During winter you will find several farmed huts in the surroundings. During summer the hut is an ideal starting point for hiking or bicycle tours in the region of the Wildkogel or through the national park Hohe Tauern with waterfalls, mountain lakes and farmed mountain pastures. Shopping facilities in Neukirchen or Bramberg (in winter) via cable car or (in summer) by car in 15km distance.
Equippment
The non smoking cabin has a snuggery with lounge, satellite TV and kitchenette with wood stove, oven, gas stove (2 plates), mini oven, coffee maker, kettle, fridge. Rise over head to the gallery with 4 beds. 1 four-bedroom, 1 shower/toilet, hairdryer. Heating with wood stove, electric water boiler, electricity (220 volt) available. In front of the hut is a terrace with seats and a barbecue.
Additional charges on-site subject to minor changes:
Lump sum at least € 140,-/week, if more than 4 people € 4,-/person/night. Local tourism tax currently € 1,80/person/night. Final cleaning € 50,-. Bed linen and towels can be rented for € 10,-/set. Deposit € 100,-.
---
Offers
Last Minute (3)
Frühling 2023 (3)
Schnäppchen (7)
Sommer 2023 (3)
Herbstgenuss 2023 (8)
Ski-Openings 2023 (1)
Weihnachten/Silvester 2023/24 (1)
Winter 2023/24 (8)
Frühling 2024 (7)
Sommer 2024 (8)
Herbstgenuss 2024 (7)
All offers (46)
---
Location/Info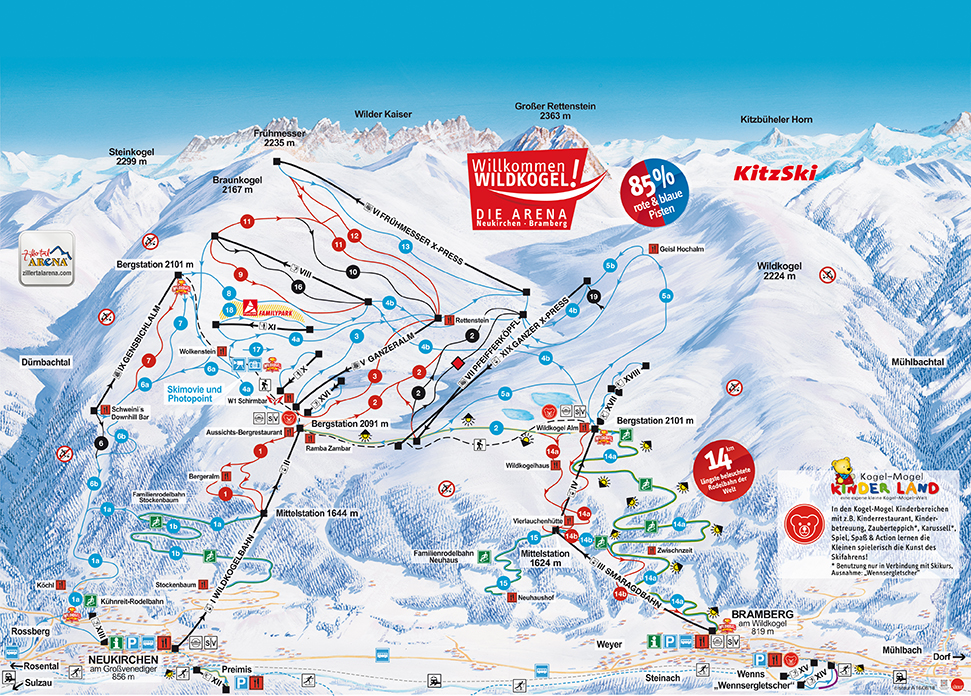 Winter Infos
(c) Wildkogel-Arena Neukirchen & Bramberg

The skiing region Wildkogel is located in western Salzburg, between the Kitzbühler Alps and the national park Hohe Tauern with the districts Neukirchen and Bramberg, easily reachable from Kitzbühel or Mittersil. From the cable car for 6 persons or the "Smaragdbahn" you have a wonderful view to the surrounding peaks! It is an area where snow is assured until spring (2,150m) and therefore an inside tip for snowboarders and deep snow skiers. After skiing you should stop off at on of the farmed huts. Ski school for children, ice-skating area, ski touring, 55km cross-country ski runs, 55km prepared slopes.
Here is also the longest, illuminated natural toboggan run (14km) in the world! Numerous hiking trails.
Summer Infos
During a summer holiday in the Wildkogel Arena, a region between the Kitzbühel Alps and Hohe Tauern National Park, countless recreational activities invite you to discover, experience and enjoy out in the fresh mountain air.

As you set out on a variety of hikes ranging from easy to challenging, you will have the opportunity to actively encounter the beautiful countryside of our Hohe Tauern National Park Holiday Region, all the while looking up at the many imposing peaks of the Hohe Tauern range. Cyclists as well as mountain bikers and downhillers likewise discover their own piece of heaven in the Wildkogel Arena. Whether you wish to explore the area on your own by bicycle or mountain bike or opt to take part in one of our guided mountain bike tours, is entirely up to you. In our holiday region, the WildkogelAktiv program promises a wide selection of activities, with something for every taste and all weather conditions.

After a great day of hiking or biking during your summer vacation in the Wildkogel Arena, you can look forward to numerous restaurants either up on the mountains or down in the valley, where, in a cozy setting, you will be treated, amongst other things, to delicious specialties of the Pinzgau region. And awaiting your kids is the Kogel-Mogel Adventure Arena: an exciting playground made out of wood, located right next to the mountain station of the Wildkogelbahn lifts.
Rating
Location / Surroundings
Hiking-/Skiing Area
Restore Factor
Location
Other / Satisfaction
Care
Price
Facilities
Comfort
Facilities
Cleanliness
---
Dear friends of Hüttenpartner – tell us your opinion!
Of course we hope that you had wonderful, relaxing cabin holidays, but maybe you have further suggestions for us. Tell future guests about your experiences! Read what our customers wrote:
Tanja 35-40 Jahre, verreist im august 2019
Super freundliche, unkomplizierte "Hausleut", sehr gemütliche, gut ausgestattete Hütte in toller Lage, sehr schönes, vielfältiges Wandergebiet, das auch Vielwanderern viel zu bieten hat. Gerne wieder!
---
Ludwig 40-45 Jahre, verreist im june 2019
Kann mich den anderen Bewertungen nur anschließen! Alles ist wirklich so wie alle anderen geschrieben haben ;-) Wer mit Kindern dort Urlaub macht (unsere waren 3 und 6) kann prima die Spielplätze an den Bergbahnstationen in der Nähe nutzen wenn die Kinder gern ein Stück bergauf laufen ( ca. 30 Min, querfeldein gehts zu einem davon schneller). Dort gibt's natürlich auch Einkehrmöglichkeiten;-). Auch für Kinder erwanderbare Gipfel gibt's: den Frühmesser und Wildkogel. Der Weg zur nächsten bewirtschafteten Alm ist auch gut zu bewältigen. Wir konnten bei unserer Abreise glücklicherweise die neu angelegte Zufahrt direkt zur Hütte nutzen! Wir haben uns super erholt während unserer 4 Wochen und haben uns richtig zuhause gefühlt. Es war einfach ein wundervoller Urlaub!!!
---
Simon 25-30 Jahre, verreist im july 2017
Wir hatten einen tollen Hüttenurlaub in der Hütte. Noch nie haben wir uns so erholt gefühlt, wie in dieser Woche. Die Hütte ist ideal ausgestattet, urig und gemütlich eingerichtet und so konnten wir gar nicht anders, als uns rundum wohlzufühlen. Dabei hat ihre Alleinlage unsere Erwartungen noch einmal weit übertroffen. Die Aussicht ist gigantisch und die Umgebung hat uns immer wieder dazu eingeladen, sie zu erkunden. Egal ob kleine, erholsame Spaziergänge oder schweißtreibend Tagestouren - alles ist möglich. Nicht nur die Vermieter haben uns herzlich empfangen, uns alles gezeigt und nützliche Tipps gegeben, auch die Nachbarn auf den umliegenden Almen waren immer hilfsbereit und freundlich. Dort haben wir herrlichen Käse, frische Milch und zünftigen Schnaps gekaufen.
Uns hat die Woche so gut gefallen, dass wir schon jetzt unseren nächsten Urlaub in der Lederer Hütte planen.
Vielen Dank an die Familie. Wir sehen uns sicherlich bald wieder.
---
Lars 30-35 Jahre, verreist im march 2016
Wir haben als junges Paar eine tolle Skiwoche im März 2016 erlebt.
Es hat alles zu 100% gepasst und unsere Erwartungen wurden übertroffen.
Wir kommen sehr gerne wieder!
Unser Dank gilt der Familie Mosser

---
Roland 45-50 Jahre, verreist im january 2016
Wir machen seit 20 Jahren Urlaub in der Skihütte und waren zum ersten mal Gast bei der Familie Mosser.
Die Hütte liegt mitten im Skigebiet mit Schneegarantie.
Die Einrichtung der Hütte ist sehr geschmackvoll und urig, einfach zum Wohlfühlen.
Von der Hütte aus kann man morgens als erster unberührte Pisten genießen und abends einen schönen Hüttenabend verbringen.
Vielen Dank an unsere hilfsbereiten Vermieter, wir kommen bestimmt wieder.
Die Hütte und die Vermieter sind eine Empfehlung wert!
---
Martin 30-35 Jahre, verreist im january 2016
Wir waren am 9. Jänner 2016 eine Woche in der Hütte und es gibt echt nix zu meckern. Wenn man am Morgen aufwacht kann man sich gleich in den Tiefschnee schmeissen und später den schönen Tag in der Gemütlichen Stube mit Holzofen ausklingen lassen. Großes Lob auch an die Familie Mosser die uns bei An- und Abreise tatkräftig unterstützt haben und sich auch sonst um unser Wohl gekümmert haben. Die Hütte ist Absolut weiter zu empfehlen und wir werden sicher wiederkommen.
---
Frank 50-55 Jahre, verreist im december 2015
Gemütliche Hütte, unmittelbar neben der Piste, trotzdem ruhig gelegen. Die nicht ganz einfache Anfahrt mit Gepäck und Proviant auf dem Snowboard und auch die Hilfe bei Notfällen waren dank der tollen Unterstützung der Vermieter kein Problem. Uns hat das kochen auf dem holzbefeuerten Ofen Spaß gemacht, haben aber genauso den Komfort durch die Eelektroheizung und das moderne Bad genossen. Wir werden sicher nochmal wiederkommen.
---
Wolfgang 50-55 Jahre, verreist im august 2015
Eine entzückende Hütte; liebevoll eingerichtet und gut ausgestattet. Jeder Blick aus (allen) Fenstern bietet ein anderes Postkartenmotiv auf eine grandiose Landschaft, (was den vorhandenen Fernseher fast überflüssig macht) mit wunderbaren Wandermöglichkeiten. Dazu ein äußerst nettes Besitzerpaar, dem das Wohlergehen seiner Gäste sehr am Herzen liegt; überhaupt hat man es hier mit einem freundlichen und entgegenkommenden Menschenschlag zu tun. Wir haben die zwei Wochen in der Lederurhütte sehr genossen und kommen bestimmt
wieder!
---
Nicole 30-35 Jahre, verreist im august 2015
Wer die absolute Erholung sucht ist hier genau richtig. Keinerlei nervige Alltagsgeräusche weit und breit, das einzige was zu hören ist sind die Glocken der Kühe und das Rauschen des kleinen Baches absolut entspannend und Natur pur. Sehr viele Wandermöglichkeiten und genügend Hütten mit Sommerbetrieb zum einkehren. Ausstattung der Hütte lässt keinerlei Wünsche offen mit einem schönen Holzofen sehr urig und gemütlich eingerichtet. Sicher auch im Winter eine Reise wert da es direkt an der Skipiste liegt.
---
Kadir 40-45 Jahre, verreist im august 2015
Wir waren Ende August 2015 in der Lederer Hütte und hatten eine tolle Woche. Was auf den Bildern nicht zu sehen ist: Es fließt ein wunderschöner Bach neben der Hütte, was eine schöne Überraschung war und uns sehr gefreut hat. Und es gibt ein kleinen Fischteich mit Forellen. Ganz zu schweigen von den leckeren Wild-Blaubeeren, die es in Hülle und Fülle um die Hütte gibt. Die Hütte ist sehr sauber und sehr gut ausgestattet. Obwohl die Hütte klein aussieht, bietet sie für 8 Personen genügenden Freiraum. Die Gastgeber waren sehr freundlich und zuvorkommend und versorgten uns jederzeit mit Infos. Wir würden gern auch im Winter zum Skifahren wieder hinfahren.
---