Steiermark, Neumarkt, EGA-STM
Find the right cabin for your vacation
Explore the entire range of alpine huts, ski huts, chalets and holiday homes and find your perfect holiday destination in Austria
SteiermarkNeumarkt
Location
Absolutely secluded next to an unused stable, this location guarantees peace and relaxation. The cabin has a wonderful view of the Seetaleralpen.
Distances
Nearest town for shopping Neumarkt 11km. Restaurant 5km. Walks starting at the doorstep. Ski region Grebenzen-St. Lambrecht (6 lifts, 23km ski runs) with ski school, toboggan run 24km. Indoor pool Spa Wildbad 12km, cross country ski track 15km, lake for bathing 6km, tennis 11km, cycle hire 11km, riding 6km.
Equippment
Nice furnished, also with antiques. Living room with tiled stove, satellite TV and lounge, extendable sofa if needed. Kitchen with wood stove, oven, electric cooker (1 plate), fridge with freezer compartment, mixer, toaster, breadcutter and coffee machine, dining table and sofa. 1 double room. Heated via tiled stove, or electrically heated. Boiler for warm water. In front of the hut is a garden with an "alpine pool" (heated by wood), a big and wooden barrel, perfect in summer, if you like to flounder about in the water! There is also a little pond, a well, a barbecue, some seats and sunbeds. Infrared cabin. Carport available.
Additional charges on-site:
Electricity € 0,30/kWh, firewood € 80,-/m³, local tourism tax currently € 2,10/person/night, bed linen can be rented for € 10,-, pet € 30,-/week. Final cleaning € 40,-.
---
---
Location/Info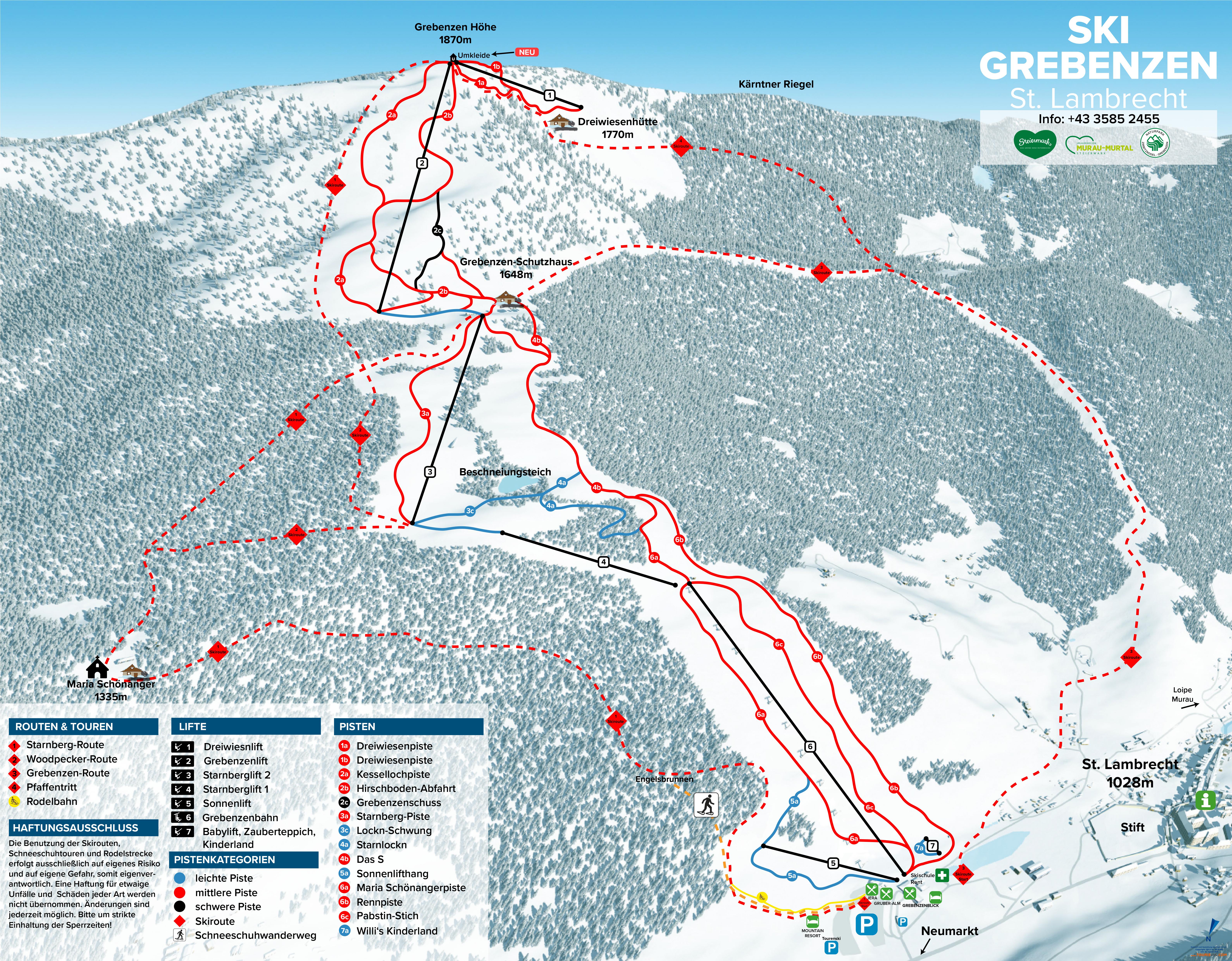 Winter Infos
Ein wahrer Geheimtipp für Ruhe Suchende und gemütliches Schifahren vom Feinsten. Fernab von Massentourismus können Sie hier Ihren Ski- und Winterurlaub so richtig genießen! Mit den Liften geht es hoch hinaus auf 1.900m, die Fernsicht ein Traum und der Blick auf das Benediktinerstift St. Lambrecht einzigartig!
Das Skigebiet Grebenzen mit 6 Liftanlagen und 23 Pistenkilometer sind hier so fein hergerichtet, dass die Gäste sich wirklich freuen, wieder zu kommen. Das heißt: Beste präparierte Pisten zum Schifahren, Carven und Snowboarden. Top-Beschneiungsanlagen garantieren beste Pistenverhältnisse.
Besonders beliebt bei den kleineren Skifahrern sind die 2 gratis benutzbaren Kinderlifte und das Schneemanndorf.
Einmalig ist die FIS-Rennstrecke, wo schon Hermann Maier, Renate Götschl & Co um den österreichischen Meistertitel gekämpft haben.
Rating
Location / Surroundings
Hiking-/Skiing Area
Restore Factor
Location
Other / Satisfaction
Care
Price
Facilities
Comfort
Facilities
Cleanliness
---
Dear friends of Hüttenpartner – tell us your opinion!
Of course we hope that you had wonderful, relaxing cabin holidays, but maybe you have further suggestions for us. Tell future guests about your experiences! Read what our customers wrote:
Lutz 50-55 Jahre, verreist im june 2019
Schönes Haus in absoluter Alleinlage. Kritikpunkte sind der fehlende Sonnenschirm und die Berechnung von 50€ für Holz (Küchenofen und Alm-Pool) pro Woche und das in einer absoluten Hitzewelle von bis zu 38 Grad. Was wird man dann erst im Winter zahlen?
---
Ramona 30-35 Jahre, verreist im december 2017
Es ist ein sehr schönes Ferienhaus, sauber und ordentlich und mit allem, was man so braucht! (Kaffeemaschine, Toaster, Kühlschrank....). Wer die Ruhe sucht, ist hier genau richtig! Wir hatten sehr viel Spaß beim Schlittenfahren. Ich kann dieses Haus sehr weiter empfehlen! Die Vermieter sind sehr nett und hilfsbereit!
---
Melanie 40-45 Jahre, verreist im august 2017
Die Lage ist wunderschön, ganz allein oben auf der Alm. Na nicht ganz allein. Komplett um das Haus sind nur Kuhweiden. Zu unserer Zeit hatten die Kühe leider Kälber und waren daher sehr aufmerksam, was unseren Hund betraf. Wir konnten ihn nicht ableinen, was sehr schade war. Die große Wiese vor dem Haus ist leider auch Kuhwiese und daher nicht für Modellflieger geeignet. Die Infrarotkabine nutzt man bestimmt lieber im Winter. Dusche, WC, Küche, Wohn- und Schlafzimmer sind wie auf den Fotos ersichtlich. Die Zusatzkosten für Strom und Holz sind jedoch sehr hoch. Wir hatten jeden Abend nur Kerzen an. Die Elektrogeräte sind aber nicht ganz neu und verbrauchen viel Strom. Heizen mussten wir leider auch. Der Pelletofen hat nicht so viel Wärme gebracht, daher haben wir mit dem Kamin geheizt. Auch den Badetrog haben wir in zwei Wochen 4-5 Mal angeheizt. Wanderungen direkt von der Hütte nicht wirklich lohnenswert. Lieber etwas mit dem Auto fahren. Den Bauern gehören die Wälder und die dürfen dort auch schießen, also Hunde lieber nicht ableinen. Alles in allem aber ein schönes Haus.
---
André & Edith 45-50 Jahre, verreist im october 2014
Herrliche Lage, tolle Ausblicke und himmlische Ruhe. Zurück zu den Wurzeln. Wozu einen Fernseher wenn die Natur soviel zu bieten hat und bei all der Ruhe kann man entspannt lesen. Dammwild bis nah an die Hütte zum beobachten. Den Almpool haben wir nicht getestet - im November schien uns das auch nicht angebracht. Trotzdem war alle notwendige vorhanden. Die Vermieter sind sehr freundlich und aufgeschlossen. Sehr zu empfehlen.
---
Claudia 45-50 Jahre, verreist im june 2014
Irena 50-55 Jahre, verreist im may 2012
Waren 2 Wochen mit Hund dort oben. Schöne Hütte, sehr sauber, herrlich ruhig. Sehr nette Gastgeber. Wir wurden nicht enttäuscht und haben uns super erholt. Haben uns gleich am 1. Tag wie zu Hause gefühlt. Das Kochen mit dem Ofen ist super schnell und es wird auch gleich kuschlig warm. Wer seine innere Ruhe und Ausgeglichenheit wieder finden möchte ist hier genau richtig. Abseits von Lärm und Stadtstress. Nur Natur, herrlichen Blick auf die Berge. Ab Mai tummeln sich auf den Almwiesen einige Kühe, welche aber sehr lieb und ruhig sind. Wer nicht allzu viel Radau auf dem Grundstück macht, bekommt gegen Abend Besuch von Rehen, Hasen (so groß wie Osterhasen) und Mufflon. Eben Natur pur. Der Kracher ist der beheizbare Almpool, herrlich romantisch und dabei die Tierwelt beobachten. Wer viel und oft wandern möchte, sollte lieber mehr im Tal etwas suchen. Schöne Wanderwege, aber nicht direkt von der Hütte aus. Hoffe habe nicht zu viele begeistert, möchten nächstes Jahr wieder hin. Es war für uns der perfekte Urlaub.
---
Gerhard 50-55 Jahre, verreist im august 2011
Saubers, schönes Haus, sehr nette Vermieter, herrliche Allein-Lage, wohin Gott sei Dank durch die lange Zufahrt sich selten jemand hinverirrt.
---