Steiermark, Neumarkt, LIB-STM
Find the right cabin for your vacation
Explore the entire range of alpine huts, ski huts, chalets and holiday homes and find your perfect holiday destination in Austria
SteiermarkNeumarkt
Location
The hut is located in a secluded area, it is sunny and silent there, and you also have a wonderful view.
Distances
Next town is Neumarkt in 9km, walking routes and hiking trails start directly at the hut. Skiing region Grebenzen - St. Lambrecht (6 ski-lifts, 23km slopes) with ski school, tobggan run reachable in 15km. Public swimming pool in 9km, lake in 7km, tennis court in 9km, colf course in 8km, horseback riding possibilities in 15km, ice rink in 8km and a cross-country ski run are reachable in about 10km from here.
Equippment
From time to time the owner of the hut needs the upper floor for himself if he has to look at the livestock. Therefore just the ground floor is rentable. There is a living room with sofa, satellite TV, kitchenette with electric cooker, oven, fridge, dishwasher, coffee machine, water boiler. 2 double rooms, shower, toilet. Heating with the chimney or electrically. In front of the hut is a garden with sunbeds and a barbecue. About 100m above the hut is a fish pond which belongs to this property. Please bring along your own bed linen and towels.
Additional charges on-site:
Electricity € 0,21/kWh, firewood € 2,50/night in winter, local tourism tax currently € 2,50/person/night, final cleaning € 30,-, pet € 20,-/week.
---
Offers
Last Minute (2)
Schnäppchen (19)
Sommer 2022 (1)
Herbstgenuss 2022 (9)
Kurz mal weg (23)
Winter 2022/23 (19)
Frühling 2023 (11)
Sommer 2023 (9)
Herbstgenuss 2023 (15)
All offers (87)
---
Location/Info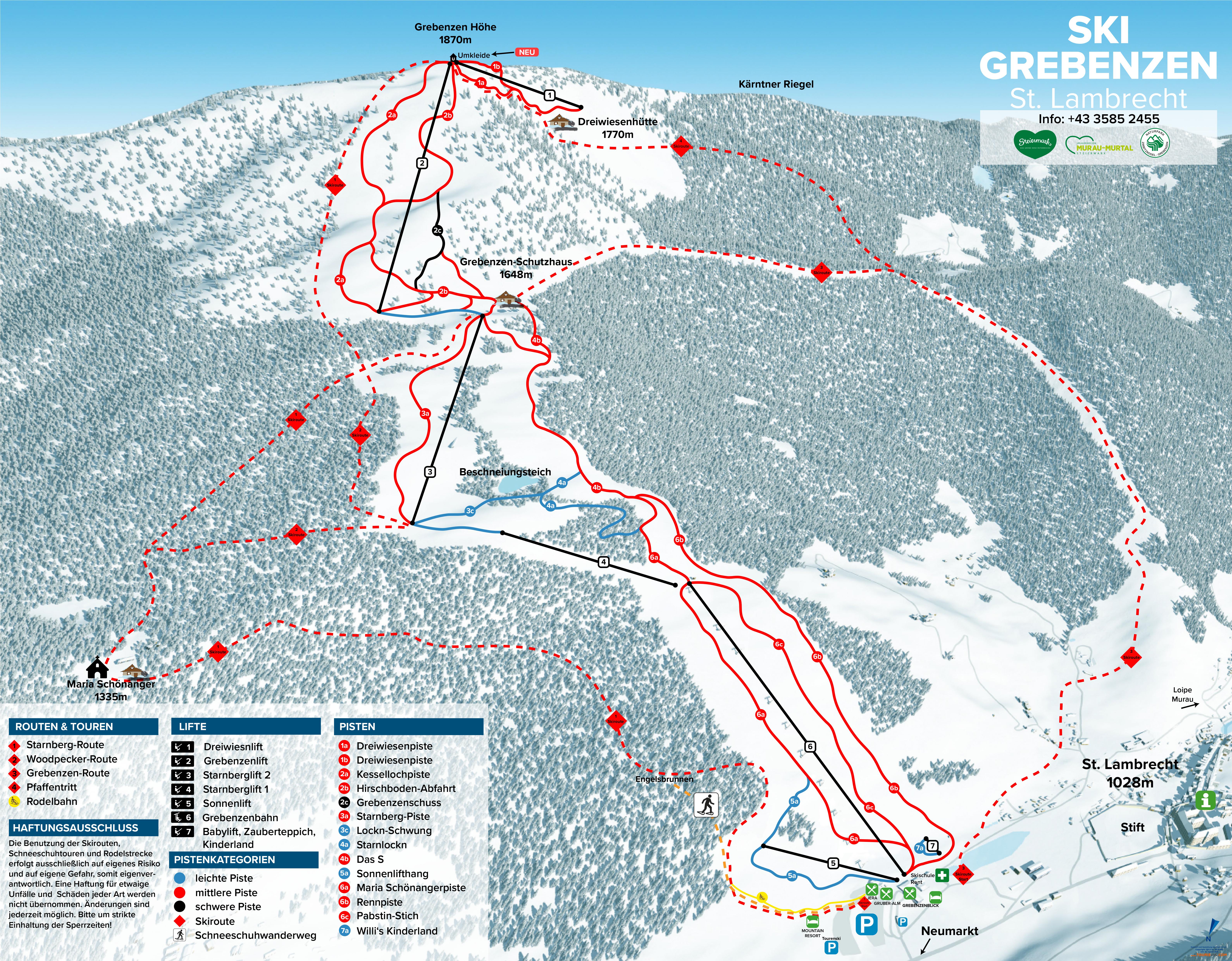 Winter Infos
A real inside tip for people searching for silence and like to ski of the highest quality. Remotely located from the mass tourism, you can really enjoy your winter holiday! With the ski lift you can reach an altitude of 1,900m, from here you have wonderful views over the surrounding area and the Benedictine church St. Lambrecht.
The skiing area Grebenzen with 6 ski lifts and 23km slopes are that well prepared for skiers and snowboarders that the guests always like to come again. That means: well prepared slopes for skiing, carving and snowboarding. Top snow covering machines guarantee perfect slope conditions.
Especially the 2 child-ski lifts, that are free of charge, and the snowman village are very popular with children. The FIS-race slope where Hermann Maier, Renate Götschl and a lot more famous skiers fought for the Austrian championship title is very unique.
Summer Infos
The Zirbitzkogel-Grebenzen nature park extends over the nature park communities of Neumarkt in Styria, Mühlen and St. Lambrecht. It includes the "Neumarkt pass landscape", which was so sustainably shaped by the Ice Age, as well as the Lambrecht valley and the Dürnstein / Wildbad Einöd valley with the natural park thermal baths.
In addition to meadows, alpine pastures and forests, numerous ponds characterize the Zirbitzkogel-Grebenzen Nature Park. The nature park region is an ideal holiday area in both summer and winter. In addition to the favorable climate due to the open location to the south, the clean, pollen-free air ensures healthy relaxation.
Rating
Location / Surroundings
Hiking-/Skiing Area
Restore Factor
Location
Other / Satisfaction
Care
Price
Facilities
Comfort
Facilities
Cleanliness
---
Dear friends of Hüttenpartner – tell us your opinion!
Of course we hope that you had wonderful, relaxing cabin holidays, but maybe you have further suggestions for us. Tell future guests about your experiences! Read what our customers wrote:
Sigrid 55-60 Jahre, verreist im june 2022
Eine schöne, ruhig gelegende Hütte mit einfacher aber sauberer und ausreichender Ausstattung. Leider gibt es Federbetten. Die Hütte ist mit dem Auto gut zu erreichen. Die Vermieter sind sehr reizende und hilfsbereite Leute. Zum Wandern ist von der Hütte aus nicht viel möglich. Man muss dann doch das Auto bewegen, wenn man Bergtouren machen möchte. Alles in allem war es aber ein schöner Urlaub dort.
---
Timo & Jessica 40-45 Jahre, verreist im june 2022
Wenn man Ruhe sucht, ist man auf der Liebchen Alm sehr gut aufgehoben.
---
Agnes 40-45 Jahre, verreist im july 2019
Für uns waren die Hütte und die Gegend hier ein kleines Paradies. Die Hütte ist toll ausgestattet und sehr komfortabel, eher eine Ferienwohnung. Man hat von der Hütte einen wunderbaren Ausblick über das ganze Tal, die Kühe und Kälber sind direkte Nachbarn. Die Vermieter sind sehr freundlich und hilfsbereit, allerdings wohnen die Eltern des Vermieters definitiv den ganzen Sommer auf der Hütte, man ist dort nicht alleine. Das muss man wissen, uns hat es aber nicht gestört. Auf der Hütte gibt es eine tolle Internetverbindung!

Die Gegend ist lieblich und hügelig. Ganz in der Nähe gibt es ein tolles Lokal mit Haubenkoch, allerdings mir sehr fairen Preisen, den "Knappenwirt" in Mariahof. Wir waren dort Stammgäste :-). Dieses Lokal bietet am Hauptplatz in Neumarkt auch einen empfehlenswerten, preiswerten Mittagstisch ("Lohrs Mittagstisch").
In der Nähe gibt es viele Gratis-Badeseen, wir waren öfter am Furtnerteich. Als Wanderziele können wir die "Vier Seen-Wanderung" (Start bei der Eiszeitinsel beim Dürnberger Moor - Podolerteich- Muhrenteich - Hasloberteich), die Graggerschlucht und den Zirbitzkogel empfehlen. Die Gebenzen hat uns nicht so gefallen (nur Forstwege und Pisten).
Uns haben die Hütte und die Region sehr getaugt und wir empfehlen sie gerne weiter!
---
Harald 65-70 Jahre, verreist im july 2019
Die Ferienwohnung liegt auf einer sehr schmucken Alm auf über 1300 m mit herrlichem Blick auf das gegenüber liegende Gebirge (Seetaleralpe). Die Einrichtung ist für Almhüttenliebhaber mehr als ausreichend. Es gibt eine große Wohnküche und zwei ineinander gehende Schlafräume mit je 2 Betten. Der Nachteil, wenn man ihn als solchen wertet, besteht darin, dass man auf einer teilweise unbefestigten Straße mind. 15 Minuten (langsam!) fahren muss, um vom Tal hinauf oder von oben nach unten zu kommen. Man muss also Stille und Abgeschiedenheit mögen.
---
Mathias 35-40 Jahre, verreist im june 2019
Mathias 35-40 Jahre, verreist im june 2019
Sehr schöne und hundefreundliche Ferienwohnung mit traumhafter Aussicht und sehr netten Vermietern. Das Haus befindet sich auf einer Alm oberhalb von Perchau. Die Alm wird von einer Herde Mutterkühe einschließlich eines Stiers bewohnt. Diese sind jedoch sehr friedlich und haben auch auf unseren Hund nicht reagiert. Oft standen die Kühe neugierig um das Haus herum und haben uns beobachtet. Mit etwas Glück kann man auch die Geburt eines Kalbes erleben. Direkt vor dem Haus gibt es einen Tisch und eine Bank, so dass man draußen Frühstücken und dabei die Kühe beobachten oder die tolle Aussicht genießen kann. Die Aussicht ist ein Highlight dieser Ferienwohnung - man blickt aus ca. 1.300m Höhe hinunter ins Tal und auf den gegenüberliegenden Zirbitzkogel (2.396m) und die Seetaler Alpen. Teilweise ist das Tal ganz oder teilweise von Wolken bedeckt, so dass sich immer wieder neue tolle Ausblicke ergeben. Zum Haus gehört auch ein kleiner Teich im Wald. Dort gibt es Stühle und einen Tisch, so dass man sich auch an den Teich setzen kann, wenn man sich an der tollen Aussicht satt gesehen hat. Das Grundstück ist komplett eingezäunt. Wir haben unseren Hund im Garten ohne Leine laufen lassen - allerdings immer unter Aufsicht, da er wenn er gewollt hätte problemlos unter dem Zaun durchgekommen wäre. Die Auffahrt zum Haus ist zum Teil ein ungeteerter Feldweg. Der Weg ist mit einem normalen Auto problemlos befahrbar. Für tiefergelegte Sportwagen ist er vermutlich eher nicht geeignet. Die Wohnung selbst hat ein Wohnzimmer, zwei Schlafzimmer, ein Bad und ein WC. Sie ist sehr sauber und es ist alles vorhanden, was man so braucht (Herd, Backofen, Kühlschrank mit Gefrierfach, Mikrowelle, Spühlmaschine, ausreichend Geschirr, genug Stauraum für Bekleidung und Vorräte, Grill). Die Wohnung ist sowohl über einen Holzofen als auch elekrisch beheizbar. Die Vermieter sind sehr hundefreundlich und haben selbst einen eigenen Hund, der unseren Benni am ersten Tag begrüßt und erst mal mit ihm im Garten gespielt hat.
---
Klaus 50-55 Jahre, verreist im september 2018
Dieses Haus ist auf jeden Fall eine Reise wert. Lage ein Traum mit einer Aussicht die seines gleichen sucht Ausstattung alles was man benötigt oder benötigen könnte ist vorhanden Betreuung durch die Eigentümer war sehr nett,herzlich aber in keiner Weise aufdringlich Auch für unsere beiden Irish Red and White Setter war der Aufenthalt paradiesisch Zum Wandern kann man direkt vom Haus auf beschilderten Wegen starten Alles in allem wir kommen nächstes Jahr wieder
---
Nancy 35-40 Jahre, verreist im august 2018
Es war ein rundum gelungener Urlaub mit sehr netten Vermietern. Vielen Dank dafür, wir kommen gerne wieder.
---
Christiane 45-50 Jahre, verreist im july 2018
Wir waren den ganzen Juli in Perchau am Sattel. Das Haus ist wirklich sehr schön gelegen, direkt von Weiden und Kühen umgeben. Für uns ein Traum. Die Einrichtung beinhaltet alles was man zu täglichen Bedarf benötigt. Die Küche ist gut ausgestattet und hat alles was man zum Kochen benötigt. Das Schlafzimmer hat gute Matratzen (Hart), leider waren die für meine Bandscheibe nicht so geeignet. Mein Mann hat aber immer gut gelegen. Einzig die Couchgarnitur könnte mal erneuert werden. Die ist ziemlich durchgesessen und nicht mehr ansehnlich. Aber uns hat es nicht so sehr gestört da wir meist draußen saßen und den Kühen zugeschaut haben. Gartenmöbel sind vorhanden und ausreichend.
Der Vermieter hat sich sehr um uns gekümmert. Auch die Eltern , die im Sommer wohl die obere Etage bewohnen, waren immer sehr aufmerksam und haben uns mit Rat und Tat zur Seite gestanden.
Unser Hund hat die 4 Wochen ebenfalls sehr genossen , es war keine Leine nötig. Er hat den ganzen Tag die Kühe beobachtet und die Sonne genossen.
Fazit, wir würden immer wieder kommen wollen. Wir haben uns sehr erholt gefühlt.
---
Susanne 50-55 Jahre, verreist im july 2018
Diese Alm ist einfach nur "göttlich" !!!! Die Aussicht - ein einzigartiges Panorama, welches sprachlos macht. Man kann stundenlang auf der Bank vor dem Haus sitzen und nur die prachtvolle Landschaft samt zahmen Kühen beobachten. Diese Aussicht macht einem so friedvoll und glücklich. Das Haus ist sehr heimelig eingerichtet - wer sich da nicht wohlfühlt, der fühlt sich nirgends wohl. Es ist alles vorhanden - vom Geschirrspüler bis zur Mikrowelle, Mixer, Backrohr und für kalte Tage gibt es einen Holzofen. Wunderschöne Wanderwege vom Haus weg sind ein Genuss. Sowie die Herzlichkeit und Gastfreundlichkeit der netten Gastleute. Bin schon das 4. Mal dort und komme auch heuer nochmals hier her, jedoch das 1. Mal dann im Winter. Wer hali-gali möchte ist hier jedoch am falschen Platz - hier kann man die Seele baummeln lassen und die Natur PUR genießen. 2 getrennte Schlafzimmer bieten Platz für 4 Personen - für ein Zusatzbett ist aber auch noch Platz. Sonnenaufgänge so wie auch Sonnenuntergänge kann man hier bestens bewundern und nachts sieht man einen Himmel voller Sterne. Die Kühe vor dem Haus sind freundlich und lassen sich zum Teil auch streicheln. Der Einklang mit der Natur ist an diesem bezaubernden Plätzchen vorprogrammiert. Zähle schon die Tage, bis ich wieder mit meiner Familie + Hund hier her komme, denn dieses Plätzchen ist wie meine 2. Heimat.
---
Monika 55-60 Jahre, verreist im september 2017
Absolute tolle Alleinlage des Hauses mit wunderschönem Blick auf das Tal und die Berge. Das Haus voll ausgestattet, sauber und gemütlich. Für Hundebesitzer und Wanderfreunde optimal. Sehr nette , freundliche und hilfsbereite Vermieter . Wir werden wiederkommen.
---
Gabriele 35-40 Jahre, verreist im august 2017
Ein schönes Häuschen in traumhafter Lage und mit einer perfekten Ausstattung. Wir hatten einen angenehmen Aufenthalt, es hat uns an nichts gefehlt. Ein großes Kompliment an die wunderbaren Gastgeber, die herzlich, hilfsbereit und dabei unaufdringlich sind. Absolut empfehlenswert!
---
Andreas 50-55 Jahre, verreist im august 2016
Das Ferienhaus hat eine absolut außergewöhnliche und schöne Lage. Wer die Einsamkeit und Ruhe sucht, findet sie hier. Weiterhin überzeugt das FH mit einer echten Vollausstattung. Es fehlt an nichts und sämtliche Küchenutensilien sind z.Bsp. mehr als reichlich vorhanden. Wir haben das Ferienhaus absolut sauber vorgefunden und das Preis-/Leistungsverhältnis ist völlig gerecht. Zusätzlich wurden wir von den nettesten Vermietern aufgenommen, die wir je erlebt haben. So ein "rundum super"-Paket gibt es sicherlich nicht oft!!! Was man vielleicht wissen sollte, ist das die Fahrt von dem FH "den Berg hinunter" bis zur normalen Straße ca. 10-15 Minuten über eine etwas holperige Forststraße führt.
---
Korinna 35-40 Jahre, verreist im august 2015
Voll ausgestattetes Ferienhaus hoch oben auf einer Alm gelegen mit traumhafter Aussicht!
---
Sabine 45-50 Jahre, verreist im august 2014
Jana 40-45 Jahre, verreist im august 2014
Alles perfekt im Haus, eine super Lage und Aussicht und die Vermieter sind Klasse.
---
Tanja 40-45 Jahre, verreist im july 2014
Ein wirklicher Traum. Wer Ruhe sucht, ist hier genau richtig. Die Ausstattung ist super, alles sauber und mit liebe eingerichtet. Die Vermieter sind ebenfalls super nett und waren immer Hilfsbereit! Klasse Urlaub, mit schöner Aussicht, die jetzt schon schmerzlich vermisst wird. Wir können nur sagen das es sehr zu empfehlen ist!!!
---