Kärnten, Preitenegg, IPO-KTN
Find the right cabin for your vacation
Explore the entire range of alpine huts, ski huts, chalets and holiday homes and find your perfect holiday destination in Austria
KärntenPreitenegg
Location
The cabin is located in a sunny, secluded, peaceful area, in the middle of a mountain pasture.
Distances
Nearest village for shopping is Preitenegg 6km. Swimming pool in Wolfsberg 15km. Hiking from the doorstep. Next skiing region is Hebalm in 8km or Klippitztörl in 25km. Horse riding in 15km, spa in 15km.
Equippment
The cottage has on the ground floor: snuggery with seating corner, tiled stove, sofa, satellite TV, radio/CD player. Kitchenette with electric cooker, oven, fridge, and coffee machine. Shower/toilet. Bedroom with bunk bed. Upper floor: 2 double rooms. Basement floor: sauna with shower, toilet and relaxation room. Washing machine, table tennis available. In front of the hut are seats, a fireplace, a well and wide meadows! 50m beside the cottage is a small pond.
Additional charges on-site:
Electricity € 0,30/kWh, local tourism tax currently € 1,50/person/night, pet € 40,-/week, service charge in winter € 100,-/week. Bed linen can be rented for € 7,€/set.
---
Offers
Last Minute (2)
Frühling 2022 (2)
Schnäppchen (15)
Herbstgenuss 2022 (7)
Kurz mal weg (7)
Weihnachten/Silvester 2022/23 (1)
Frühling 2023 (9)
Sommer 2023 (9)
Herbstgenuss 2023 (12)
All offers (47)
---
Location/Info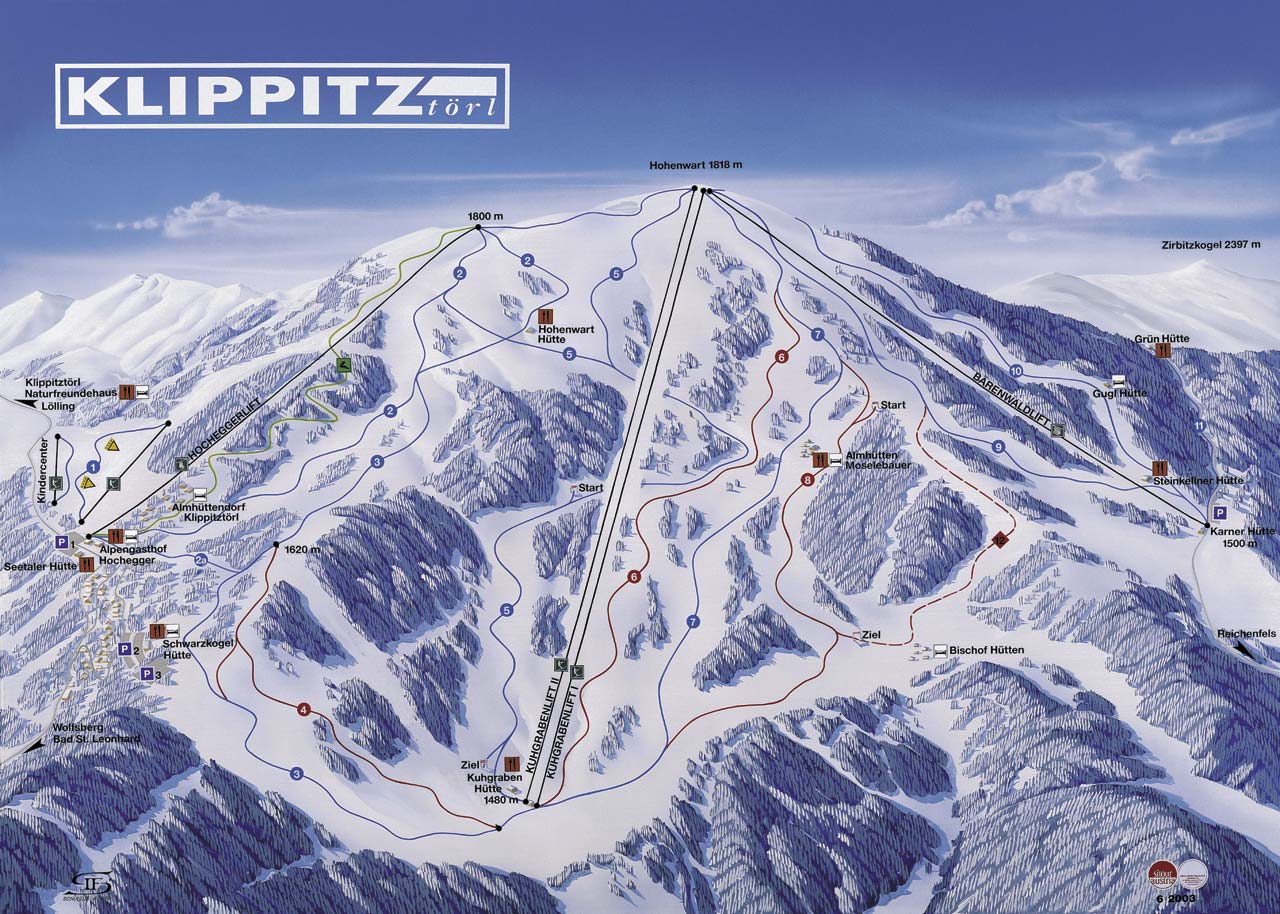 Winter Infos
Das verkehrstechnisch ausgezeichnet gelegene Skigebiet Klippitztörl (nur 10 Minuten von der Autobahnabfahrt Bad St. Leonhard) ist DAS Highlight im Lavanttal. Das Skigebiet reicht bis auf 1.818m Seehöhe. Es erwarten Sie 28km präparierte Abfahrten für jedes Können, die durch neue umweltschonende Beschneiungsanlagen besonders schneesicher sind. Weiters: Skischule, Skiverleih, Kinderbetreuung, Flutlichtlifte, beleuchtete Naturrodelbahn, Eislaufplatz, Langlaufloipen. Im Sommer können Sie in das verträumte Lavanttal und auf die Saualpe wandern oder das Klippitztörl erkunden. Für das leibliche Wohl sorgen die bewirtschafteten Hütten in herrlicher Almlandschaft.
4er-Sessellift Bärenwald, Sommerrodelbahn!
Summer Infos
Voll auf Touren zwischen Tal und Gipfel – in Kärntens östlichster Ferienregion wartet ein Rucksack voller Abenteuer, mit dem Urlaubsspaß für die ganze Familie garantiert ist.
Mehr als 1000 Kilometer markierte, familienfreundliche Wanderwege bis 2100 Meter Seehöhe sorgen für unvergessliche Wandererlebnisse bei Groß und Klein.
Radfahrer haben die Wahl zwischen Genussradfahren am Lavant- und Drauradweg und 450 Kilometer markierten Mountainbiketouren mit unvergesslichen Ausblicken.
Steinerne Blockburgen, sogenannte "Öfen", lassen sich herrlich zum Spielen benutzen. Entlang der Wege auf Kor- und Saualpe liegt einem Kärnten zu Füßen. Außerdem erzählen Themenwanderwege jede Menge spannende Geschichten.
Rating
Location / Surroundings
Hiking-/Skiing Area
Restore Factor
Location
Other / Satisfaction
Care
Price
Facilities
Comfort
Facilities
Cleanliness
---
Dear friends of Hüttenpartner – tell us your opinion!
Of course we hope that you had wonderful, relaxing cabin holidays, but maybe you have further suggestions for us. Tell future guests about your experiences! Read what our customers wrote:
Gabriele 40-45 Jahre, verreist im july 2020
Will mich hier nochmals bei den Besitzern bedanken! Eine wunderbare Hütte in einer wunderbaren Gegend mit wunderbarer Ausstattung! Viel Liebe zum Detail errichtete Hütte! Es war ein wunderbarer Urlaub. Nein ich kenne nicht nur das Eigenschaftswort "wunderbar", doch es beschreibt alles am Besten!
---
Stefan 55-60 Jahre, verreist im july 2019
Wir haben alles wie beschrieben vorgefunden - nur viel schöner! Wer einmal etwas Zeit in Ruhe und in der Natur verbringen möchte, ist hier genau richtig! Das Haus ist urgemütlich und vollständig eingerichtet, man muss wirklich auf nichts verzichten. Und bei schlechtem Wetter wartet die Sauna... Die Besitzer sind sehr freundlich, zuvorkommend und sympathisch.
---
Marco 40-45 Jahre, verreist im december 2018
Alles war exakt so, wie beschrieben. Das Haus war klasse. Wir haben uns wirklich gut erholt. Lediglich die Hunde kamen nicht so richtig auf ihre Kosten. In Österreich herrschte während unseres Aufenthalts Leinenzwang. Aber das ist halt nicht zu ändern. Die Vermieter haben alle wett gemacht. So herzlich sind wir wirklich selten im Urlaub aufgenommen worden!
---
Jasmin und Martin 50-55 Jahre, verreist im august 2018
Wir haben zusammen mit unserem Hund eine sehr schöne Woche auf der Hütte verbracht. Was gibt es Schöneres, als faul in der Wiese zu liegen und die Kühe beobachten, eine kleine Wanderung machen, Grillen, in die Sauna gehen und zum Schluß ein Gläschen Wein vor der Hütte zu genießen?!
---
Thilo 45-50 Jahre, verreist im june 2018
Schöne Almhütte inmitten einer blühenden Wiese mit Kühen und Fernblick - sehr idyllisch! Die Hütte ist innen und außen liebevoll gestaltet und gut ausgestattet. Unsere Gastgeber waren zu jeder Zeit sehr herzlich und zuvorkommend.
---
Jutta 50-55 Jahre, verreist im december 2015
Sehr schöne und gemütliche Ferienhütte. Die Lage (Alleinlage auf einer Weide) ist absolut perfekt, für Leute die Ruhe suchen. Auch konnte unser Hund sich frei bewegen und austoben. Die Begrüßung vor Ort war sehr herzlich. Es standen selbst gebackene Weihnachtsplätzchen und ein Zirbenschnaps zur Begrüßung auf dem Eßtisch. Wir waren sehr zufrieden und würden jederzeit wieder dort unseren Urlaub verbringen.
---
Heiko 40-45 Jahre, verreist im october 2014
eine tolle und liebevoll eingerichtete Hütte; besonders hervorzuheben sind die Freundlichkeit der Vermieter und die Urgemütlichkeit der Hütte in der es trotzdem an nichts fehlt ; wir haben uns sehr wohl gefühlt
---
Claudia 45-50 Jahre, verreist im june 2014
Mein Mann und ich durften mit unserem Hund zwei wunderschöne Wochen in der Hütte verbringen. Wie auf den Bildern zu sehen ist, trotzt das Haus nur so vor Gemütlichkeit, die Sauna und die Tischtennisplatte toppt das Ganze dann noch. Die Gastfreundschaft von Gabi, Franz, Sabine und Birgit war soooo herzlich, dass wir und unser Hund uns rundrum wohl gefühlt haben.
---