Salzburg, Rauris, NIG-SBG
Find the right cabin for your vacation
Explore the entire range of alpine huts, ski huts, chalets and holiday homes and find your perfect holiday destination in Austria
SalzburgRauris
Location
Secluded, sourrounded by a big meadow, slight hillsituation, very peaceful, can be reached by car up to 300 m to the cabin.
Distances
Ideal ski touring area from your doorstep, next village is Rauris-Bucheben in 10 km, next inn and shop just 300 m away. Visit the cabin owner`s horse farm just appr. 300 m away. Here you will find not only food and service but you can also join BBQ evenings and excursions on horse back. Skiing area Rauris in 10 km, cross-country trail within 250 m, ideal starting point for hiking tours across the National Park Hohe Tauern.
Equippment
Original and charming parlor with lounge, wood stove, gas stove, oven, fridge and coffee machine, gangway to the double room with shower and access to the attic where four more people can sleep. 1 toilet, heating via wood stove, continuous-flow water heater for hot water, electricity provided. In front of the hut are sunny seats and a well. In summer the horses graze on the alpine meadow just in front of the hut. The ideal occupancy rate in the cabin is for 4 persons, if needed, there is enough space for 6 persons.
Additional charges on-site:
Local tourism tax currently € 2,-/person/night, bed linen can be rented for 10,-/set, dog € 35,-/week, extra person additional € 10,-/night.
---
Offers
Schnäppchen (23)
Travelperiod

Duration

Persons

Price

Aug. 20. 2022 - Aug. 27. 2022

7 Nights
4 Persons

€ 575.-

€ 590.-

Sep. 3. 2022 - Sep. 10. 2022

7 Nights
4 Persons

€ 575.-

€ 590.-

Sep. 10. 2022 - Sep. 17. 2022

7 Nights
4 Persons

€ 460.-

€ 490.-

Sep. 24. 2022 - Oct. 1. 2022

7 Nights
4 Persons

€ 470.-

€ 490.-

Oct. 21. 2022 - Oct. 26. 2022

5 Nights
4 Persons

€ 425.-

Oct. 22. 2022 - Oct. 29. 2022

7 Nights
4 Persons

€ 475.-

€ 490.-

Oct. 25. 2022 - Oct. 30. 2022

5 Nights
4 Persons

€ 425.-

Dec. 18. 2022 - Dec. 23. 2022

5 Nights
4 Persons

€ 440.-

Jan. 2. 2023 - Jan. 7. 2023

5 Nights
4 Persons

€ 675.-

Jan. 7. 2023 - Jan. 14. 2023

7 Nights
4 Persons

€ 460.-

€ 490.-

Jan. 21. 2023 - Jan. 28. 2023

7 Nights
4 Persons

€ 460.-

€ 490.-

Jan. 28. 2023 - Feb. 4. 2023

7 Nights
4 Persons

€ 560.-

€ 590.-

Feb. 11. 2023 - Feb. 18. 2023

7 Nights
4 Persons

€ 560.-

€ 590.-

Feb. 18. 2023 - Feb. 25. 2023

7 Nights
4 Persons

€ 770.-

€ 790.-

Mar. 25. 2023 - Apr. 1. 2023

7 Nights
4 Persons

€ 460.-

€ 490.-

Apr. 22. 2023 - Apr. 29. 2023

7 Nights
4 Persons

€ 460.-

€ 490.-

May 13. 2023 - May 20. 2023

7 Nights
4 Persons

€ 460.-

€ 490.-

Sep. 9. 2023 - Sep. 16. 2023

7 Nights
4 Persons

€ 460.-

€ 490.-

Oct. 7. 2023 - Oct. 14. 2023

7 Nights
4 Persons

€ 460.-

€ 490.-

Oct. 20. 2023 - Oct. 26. 2023

6 Nights
4 Persons

€ 475.-

Oct. 21. 2023 - Oct. 26. 2023

5 Nights
4 Persons

€ 450.-

Oct. 31. 2023 - Nov. 5. 2023

5 Nights
4 Persons

€ 450.-

Nov. 4. 2023 - Nov. 11. 2023

7 Nights
4 Persons

€ 460.-

€ 490.-
Sommer 2022 (1)
Herbstgenuss 2022 (10)
Kurz mal weg (16)
Winter 2022/23 (20)
Weihnachten/Silvester 2022/23 (7)
Frühling 2023 (11)
Sommer 2023 (9)
Herbstgenuss 2023 (15)
All offers (89)
---
Location/Info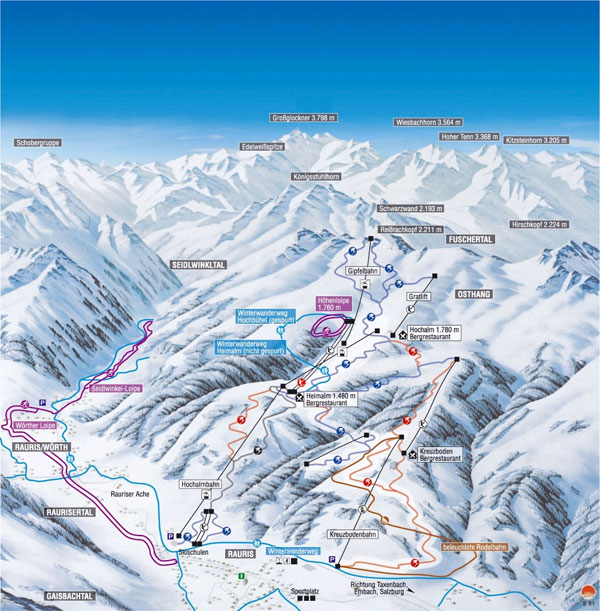 Winter Infos
Das Skigebiet Rauris verfügt über 10 Liftanlagen und insgesamt 30 Pistenkilometern. Das Skigebiet Rauriser Hochalm ist eines der schönsten Skigebiete im Alpenraum. Ein familiäres Skigebiet, das durch seine vielfältigen Pisten für jeden Skifahrer und Snowboarder ein aufregendes Schnee-Erlebnis bietet. Die Gipfelbahn bringt Sie bequem und einfach bis zur 2.200m hohen Schwarzwand.
Summer Infos
Das Raurisertal ist 30 km lang und liegt im Salzburger Land. Es zieht sich von Taxenbach über Rauris/Wörth bis hin zum bekannten Talschluss Kolm Saigurn, am Fuße des Hohen Sonnblicks.
Als größte Gemeinde des Nationalparks Hohe Tauern, das mit 1.800 km² größte Schutzgebiet der Ostalpen, wird das Raurisertal aufgrund seiner Vielfalt an Schätzen auch als "geheimes Juwel" des Nationalparks bezeichnet.
Kulturhistorische Besonderheiten wie der Goldbergbau oder der Saumhandel im Seidlwinkltal, naturkundliche Highlights wie die Geier im Krumltal oder die Mineralienschätze des Tauernfensters, saftige Almwiesen, beeindruckende Gletscher, Wasserfälle und Naturschönheiten wie der Rauriser Urwald in Kolm Saigurn und das Rauriser UrQuell im Hüttwinkltal machen das Raurisertal zu einer natürlichen Erlebniswelt für Besucher und laden die ganze Familie zum Wandern und Bergsteigen ein. Unsere zwei Goldwaschplätze bieten Spaß für Jung und Alt beim Goldwaschen, ob man am künstlich angelegten Waschplatz oder traditionell im Fluss sein Glück versucht - in den Bergen von Rauris ist immer noch Gold zu finden.
Durch den sorgsamen Umgang mit Natur, Tradition und Werten hat sich das Raurisertal in Österreich das Echte und Gute bewahrt. Im Tal wird konsequent auf Gastfreundschaft, Tradition und nachhaltigen Tourismus gesetzt.
Erleben Sie einen Urlaub voller Erholung in der Natur in den Bergen - im Raurisertal im Salzburger Land. Rauris im Nationalpark Hohe Tauern bietet sich im Sommer zum Wandern, Bergsteigen, Radfahren, Mountainbiken, für Naturerlebnisse, Wildtierbeobachtungen, Goldwaschen und einem Besuch auf einer der zahlreichen Almen an.
Rating
Location / Surroundings
Hiking-/Skiing Area
Restore Factor
Location
Other / Satisfaction
Care
Price
Facilities
Comfort
Facilities
Cleanliness
---
Dear friends of Hüttenpartner – tell us your opinion!
Of course we hope that you had wonderful, relaxing cabin holidays, but maybe you have further suggestions for us. Tell future guests about your experiences! Read what our customers wrote:
Susanna 25-30 Jahre, verreist im january 2020
Sehr idyllisch und ruhig gelegene Berghütte (Alleinlage). Idealer Ausgangspunkt von Skitouren oder Schneeschuhwanderungen. Skigebiet liegt ganz in der Nähe. Der Aufstieg zur Hütte ist steil, aber nur 300m weit für mutige zum Schlittenfahren bzw. Bobfahren geeignet.
Die Hütte selbst ist urig gemütlich mit allen Annehmlichkeiten: Strom, warmes Wasser zum Duschen, Holzofen zum Kochen und Backen, Kochplatten und innen WC. Ich habe die Zeit hier sehr genossen. Die Besitzer sind sehr sympathisch und entspannt. Ausreiten und die Reitstunden haben sehr Spaß gemacht. Wer eine Auszeit vom Alltagsstress sucht, wird hier fünding. Guter Ort zum Ruhe finden und Kraft tanken.
---
Jana & Christian 35-40 Jahre, verreist im may 2019
Wir waren mit unserer Hundedame im Mai in dieser wunderschönen Hütte. Die urige Hütte ist ein Traum. Die Aussicht atemberaubend. Ankommen und zur Ruhe finden. Tolle Wanderungen direkt von der Hütte aus.Da es noch ziemlich kalt für diese Jahreszeit war, konnten wir den Holzofen jeden Abend zum Kochen und anschließendem Feuer machen nutzen.
Wir können diese kleine Hütte uneingeschränkt weiterempfehlen und kommen mit Sicherheit wieder.
---
Fabio 25-30 Jahre, verreist im may 2018
Wir waren im Sommer (Mai) mit unserem Hund da. Lage: Alles super! Die Hütte hat eine tolle und einsame Lage, von Hof un Co bekommt man nichts mit, wenn man nicht will. Nur eine Entenfamilie kam öfters mal vorbei, und hat sich auch von unserem Jagdhund nicht irritieren lassen. Auch der Ausblick direkt vom "Vesperbänkle" ist super. Der Aufsteig zur Hütte ist ein Erlebnis und tägliches Training - über den Service, dass unser Gepäck nach oben getragen wurde, waren wir dennoch sehr froh. Ausstattung: Auch alles okay. Betten etwas hart, haben uns aber mit den übrigen Matratzen beholfen. Strom (230V), Toilette mit Wasser, Warmwasser (dessen Heizintervalle man zu abzupassen lernt), Geschirr und Co - alles da was man braucht. Das Hauswasserwerk/Pumpe wird nach meiner Erinnerung nu gebraucht für Warmwasser und kann sonst ausgeschaltet bleiben, um noch mehr Ruhe zu haben. Die Gastfamilie war auch sehr nett und hat uns auch "außerhalb" der Hauptsaison mal bekocht. Fazit: Sehr empfehlenswert! Über den Preis können wir nicht viel sagen. Almhütten sind in der Relation immer recht teuer. Dafür gibts auch keinen Standardurlaub und um einiges mehr Entspannung
---
Regina 45-50 Jahre, verreist im august 2017
Alles vorhanden, was man in der Küche braucht. Sehr saubere, urige Hütte.
Wer Erholung braucht, ist hier genau richtig.
Wer sich nicht immer selber verpflegen möchte, hat die Möglichkeit in der Ferienpension zu frühstücken oder abends warm zu essen- sehr lecker, angenehme Preise.
Tipp: Zur Hütte geht es 300 Meter steil nach oben, also nichts vergessen.
Ich wusste nicht, dass 300 Meter so mühsam sein können, oben angekommen, Erholung pur.
Traumhaft schön.

---
Lenny 45-50 Jahre, verreist im march 2017
Dies ist eine Almhütte. Und so soll es auch sein. Das Notwendigste ist vorhanden: Besteck, Teller, Kochutensilien... Es ist kein 5 Sterne Hotel, Bungalow, oder Chalet - und dass ist ja auch das schöne daran. Der Blick ist nicht mit Sternen zu bewerten und das "einfache" Leben in der Hütte auch nicht. Dusche funktioniert und das Klo auch. Die Betten waren angenehm. Sehr spartanisch aber rustikal eingerichtet mit einem angenehmen Holzofen in der Küche/Wohnbereich. Der Weg zur Hütte war jedes mal ein Erlebnis. Etwa 300m vom Auto einen steilen Hang hinauf - bloß nichts unten vergessen. Das Mitgeschleppte wurde freundlicher Weise vom Eigentümer rauf und wieder hinab gefahren. Es führt kein richtiger Weg hin oder auch nebenan. Niemand kam "zufällig" vorbei und man konnte so seine absolute ruhe genießen - oder auch mal laut sein ohne jemanden zu stören. Im Gasthof konnte man auch lecker essen und zufällig ist ein "Tante Emma" Laden auch nebenan mit hausgebackenem Brot, Milch, Käse, Schinken und, und, und... Nächster "großer" Supermarkt ist 10km entfernt in Rauris. Der Preis ist jedoch etwas üppig gewesen (ich war alleine für zwei Wochen). Doch zu zweit oder mit einer kleinen Familie oder mit Freunden teilt sich auch der Preis und ist jeden Cent wert. Ich kann diese Hütte wärmstens Empfehlen für Leute die sich etwas ruhe gönnen möchten, Wandern gehen wollen oder einfach mal die Seele baumeln lassen wollen (so wie ich). 5 Edelweiß von mir! :)
---
Heide 45-50 Jahre, verreist im march 2015
Typische kleine alte sehr charmante Holzhütte auf einer Alm gelegen. Wir waren zu zweit mit Hund dort und haben uns alle super wohl gefühlt. Die Hütte ist genau wie beschrieben, sauber und gut augestattet. Wir haben auf dem Holzofen gekocht, hat riesig Spaß gemacht. Die Gastgeber sind sehr nett und unkompliziert und haben sogar unser Hundefutter im Gefrierschrank zwischengelagert. Außerdem kochen sie sehr gut! Wir hatten eine traumhafte Märzwoche mit viel Sonne erwischt und haben täglich lange Wanderungen unternommen. Sehr zu empfehlen ist der Schneeschuhtrail am Talende hoch zum Naturfreundehaus mit traumhaften Strudeln. Für Hundebesitzer: Achtung Wildsichtung hier und da =;-)). Das Skigebiet ist sehr überschaubar, aber gut gepflegt, wir hatten einen schönen Tag dort, der Hund durfte auch in der Gondel mit hoch. Alles in allem eine traumhafte Urlaubswoche! Wir kommen wieder!
---
Wolfgang 55-60 Jahre, verreist im may 2014
Wolfgang 55-60 Jahre, verreist im may 2014