Steiermark, Region Murau, WIM-STM
Find the right cabin for your vacation
Explore the entire range of alpine huts, ski huts, chalets and holiday homes and find your perfect holiday destination in Austria
SteiermarkRegion Murau
Location
The hut is located above the town Murau, in a clearing, very quiet secluded location with beautiful views!
Distances
Next place to go shopping is Murau in 4km, ski area Kreischberg in 12km, Grebenzen in 10km, Frauenalpe in 10km. Lake for swimming in Laßnitz in 4km. Many hiking trails from the chalet. Pond for fishing at the farm of the owner in 3km.
Equippment
Snuggery with lounge, sofa, satellite TV and wood stove. Serving hatch to the kitchen with fridge, dishwasher, electric cooker, oven, coffee machine. Bathroom with shower, toilet and washing machine. Upper floor: 1 three-bed room with balcony, 1 dormitory. In front of the hut is a garden with seats and a barbecue. Heating with wood stove and electrically.
Additional charges on-site:
Electricity € 0,26/kWh, local tourism tax currently € 1,50/person/night, pet € 20,-, final cleaning € 40,-, bed linen can be rented for € 7,-.
---
Offers
Last Minute (2)
Herbstgenuss 2021 (1)
Kurz mal weg (24)
Winter 2021/22 (19)
Schnäppchen (19)
Frühling 2022 (8)
Sommer 2022 (9)
Herbstgenuss 2022 (12)
Winter 2022/23 (6)
All offers (79)
---
Location/Info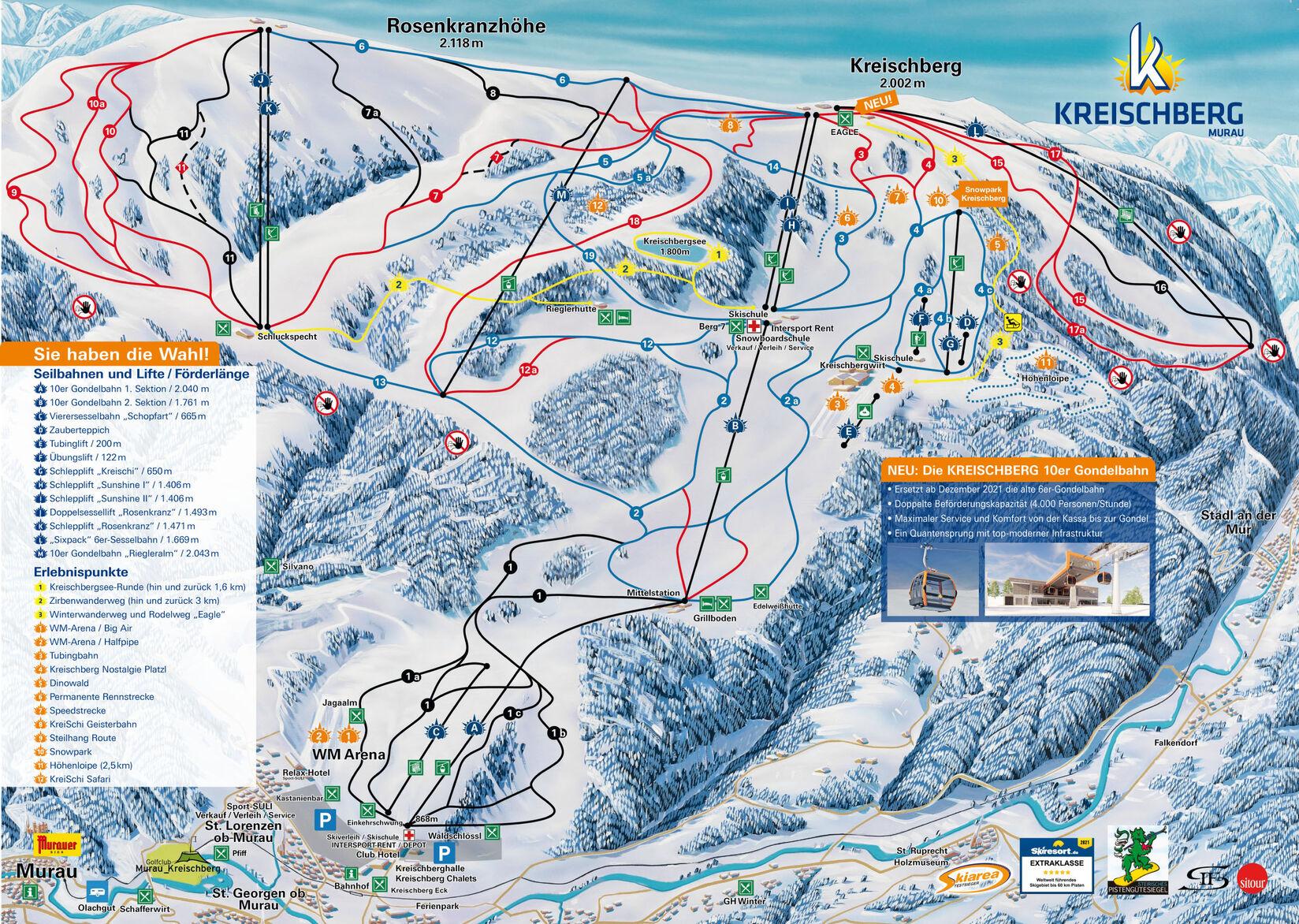 Winter Infos
Am Kreischberg stehen Ihnen 14 Liftanlagen mit einer Gesamtförderleistung von 17.400 Personen / Stunde zur Verfügung, die grenzenlosen Skispaß ermöglichen.
Der Kreischberg hat mit der 10er Gondelbahn neue Maßstäbe in Qualität und Komfort gesetzt. Die hochmoderne 2,1km lange Bahn bringt die Kreischberg Gäste bequem und rasch von 1.600 auf 2.050 Meter Seehöhe. Die Tubing Arena, eine permanente Rennstrecke mit Zeitmessung, die Speedstrecke mit Radarmessung - das alles ist Winterspaß am Kreischberg! Nicht von schlechten Eltern ist das Angebot für Kinder: Im Yabaa Dabba Doo-Land tummeln sich Fred, Wilma und Barney, im Dinopark trifft man so manches Urzeitungeheuer und zwischendurch tobt man sich im "Kreischi Trampolin" aus. Damit die ersten Schwünge gleich von selber gehen, starten Anfänger in der "Kinderwelt" mit Zauberteppich, Babylift und Miniwellenbahn, später sieht man sich dann am Kreischi-Lift!
Eldorado für alle Snowboard-Begeisterten: im Skigebiet finden Sie eine beleuchtete Halfpipe, Boardland mit Snakes und Jumps, sowie ideale Snowboardhänge.
Summer Infos
Schwimmen, Wandern, Radfahren und noch vieles mehr bietet Ihnen die Region Murau-Murtal im Sommer. Erkunden Sie einige unserer wunderschönen Wanderwege oder verbringen Sie einen Badetag mit Ihrer Familie in einem unserer zahlreichen Badeseen oder Freibäder!
Radwege, selektive Klettertouren, gemütliche Familien-, Themen- und Almwanderungen sorgen für Bewegung. Herrliche Ausblicke zeigen verträumte Landstriche, kleine, historische Städte und Märkte.
Und im Tal geht's wahrhaft rund. Beschleunigen bei Events der Extraklasse am Red Bull Ring in Spielberg.
Rating
Location / Surroundings
Hiking-/Skiing Area
Restore Factor
Location
Other / Satisfaction
Care
Price
Facilities
Comfort
Facilities
Cleanliness
---
Dear friends of Hüttenpartner – tell us your opinion!
Of course we hope that you had wonderful, relaxing cabin holidays, but maybe you have further suggestions for us. Tell future guests about your experiences! Read what our customers wrote:
Michael 60-65 Jahre, verreist im september 2018
1000 m Höhe, ein paar Kühe und eine wundervolle Aussicht. Wer in Ruhe und klarer Luft entspannen will, für den ist das kleine Häuschen wie gemacht!
---
Robert 40-45 Jahre, verreist im february 2018
Het is een mooie echte oude berghut. Luxe en gemak moet niet je prioriteit hebben. Charme, gezelligheid en een mooie ligging wel. De toilet en douche zijn via de (koude) overkapping bereikbaar, dit is geen punt, maar niet ideaal. De extra slaapkamer boven is slecht bereikbaar (houten plank over trappengat klappen). Daarentegen is er wel een slaapbank in de huiskamer. Overigens kom je bij veel sneeuw echt niet boven zonder sneeuwkettingen.
---
Katrin 30-35 Jahre, verreist im january 2018
Wer Ruhe sucht wird sie hier finden!!! Tolle Hütte, sauber und gut ausgestattet. Die Besitzerin ist sehr nett, hilfsbereit und zuvorkommend. Bei unserer Anreise waren frische Eier von ihren Hühnern für uns im Kühlschrank. Hunde sind sehr willkommen!!! Grundstück ist für Hunde (Schulterhöhe 35cm) ausbruchsicher. Direkt hinter dem Zaun stehen ein paar Kühe die unseren Hund aber nicht interessiert haben. 1 Punkt ziehen wir ab weil bei schlechtem Wetter der TV Empfang leider gar nicht ging (gerade da wo man es bräuchte). Leider auch bei Nebel und dem geringsten Regenschauer. Die Hütte ist gut erreichbar mit einem normalen Auto. Wir hatten einen vollgeladenen Kleinwagen und sind leider ein paar Mal mit dem Auspuff aufgesessen. Mit einem geladenen Sportwagen ist der Weg nicht zu empfehlen. Grill, Kaffeemaschine (Filter) und Besteck könnte Mal erneuert werden. Ich muss jetzt aber nochmals betonen daß dies keine Mängel sind sondern einfach nur persönliche Vorschläge zur Verbesserung. Wir kommen bestimmt wieder!!!
---
Julia 18-25 Jahre, verreist im july 2015
Kathleen hamann 40-45 Jahre, verreist im may 2015
Wir waren eine Woche in den Pfingstferien auf der Hütte. Uns hat es sehr gut gefallen. Die Lage ist sehr schön und die Aussicht ist ebenfalls super. Wer Ruhe und Erholung sucht ist dort gut aufgehoben, selbst in den Städten bzw. Dörfern waren so gut wie keine Touristen da.Die Hütte war sehr sauber und auch gut ausgestattet.
---
Ute 30-35 Jahre, verreist im february 2015
Die Ausstattung in der Küche war gut. Lage ist im Nirgendwo, aber dadurch gibt es keine direkten Nachbarn. Das Haus ist schon etwas älter und damit nicht mehr ganz in Schuss, gewinnt aber dadurch an Charme, es war bei Ankunft ordentlich geputzt. Der Preis für eine Woche war okay.
---
Lieselotte 55-60 Jahre, verreist im august 2014
Beim Holzofen konnte man leider das Backrohr nicht benützen da das Glas fehlte.Somit gabs unseren geliebten Schweinsbraten nicht.
In der Hüttenstube hatten wir keine Ablagemoglichkeit,da war nur der Essplatz und ein Sofa.Keine Kâstchen bzw. Regale( Abbildung im Katalog).
---