Steiermark, Schladming, SKI-STM
Find the right cabin for your vacation
Explore the entire range of alpine huts, ski huts, chalets and holiday homes and find your perfect holiday destination in Austria
SteiermarkSchladming
Location
Located about 500m above the world championship town Schladming, amidst the holiday region Schladming-Dachstein and amidst the skiing region "Ski amadé" which possesses Austria´s biggest slope- and ski lift offer (760km slopes and 270 ski lifts). The cabin village was established on an area of 22.000m² and consists of 10 comfortable cottages for up to 24 persons (SKI-STM) and 1 apartment (APT-STM) on the upper floor of the "reception house" for up to 12 persons. On the ground floor of the "reception house" is a shop (open at the peak sesons), providing beverages, pastries, pizzas, food, cigarettes and internet connection. Bread roll service!
Distances
The town Schladming with its excellent gastronomical offers, pubs, après-ski, shops and a bakery is just 500m from here. The slope bypasses the cottages directly, 300m ski-run until you reach the ski lifts "Planai West" or the chairlift (Hochwurzen). There is a 300m² big swimming lake and a small playground. Wonderful hiking- and mountainbiking routes right in front of your doorstep, a golf course is 6km and white-water rafting possibilities are 3km from here. Ski school 300m!
Equippment
The cottages are made out of wood and equipped very comfortable. Ground floor: big living room with lounge, chimney. Fully equipped kitchenette with electric cooker, oven, 2 fridges, freezing compartment, dishwasher, coffee machine, water boiler, toaster and a beer dispenser (for those beer barrels that are available on site). Exit to the sun terrace with barbecue. 2 bedrooms, each of them with 1 double bed and an extendable sofa (160x200). 2 showers, sauna. 1 toilet. Upper floor: 4 bedrooms for each 2-4 persons with double bed and extendable sofa (160x200), 3 showers/toilets. Central heating, floor heating partly. DVD-CD player, satellite TV, Wi-Fi, and a heated ski boot dryer are available. We ask you to do not smoke inside the cottages!
Additional charges on-site:
Electricity depending on the consumption € 0,40/kWh, local tourism tax € 1,50 + refuse collection charge currently € 1,00/person/night, final cleaning € 250,-, pet € 50,-/stay. Deposit € 600,-. Bed linen can be rented for € 8,€/set, towels for € 4,-.
Other:
Floor plan: Ground floor | First floor

SUMMERSEASON 2022
Planai: 20th May - 2nd October 2022
6th October - 16th October 2022 (nur Do-So)
20th October - 1st November 2022
Hochwurzen: 20th May - 19th October 2022


Homepage
---
Offers
Last Minute (7)
Travelperiod

Duration

Persons

Price

May 28. 2022 - June 3. 2022

6 Nights
24 Persons

€ 1,190.-

€ 1,950.-

May 29. 2022 - June 4. 2022

6 Nights
14 Persons

€ 1,233.-

€ 1,690.-

May 29. 2022 - June 4. 2022

6 Nights
24 Persons

€ 1,403.-

€ 1,950.-

June 18. 2022 - June 25. 2022

7 Nights
14 Persons

€ 1,431.-

€ 1,690.-

June 18. 2022 - June 25. 2022

7 Nights
24 Persons

€ 1,665.-

€ 1,950.-

June 25. 2022 - July 2. 2022

7 Nights
14 Persons

€ 1,521.-

€ 1,690.-

June 25. 2022 - July 2. 2022

7 Nights
24 Persons

€ 1,755.-

€ 1,950.-
Schnäppchen (19)
Frühling 2022 (10)
Kurz mal weg (14)
Sommer 2022 (7)
Topangebot (1)
Herbstgenuss 2022 (24)
Winter 2022/23 (7)
Ski-Openings 2022 (8)
Weihnachten/Silvester 2022/23 (5)
Frühling 2023 (20)
Sommer 2023 (9)
Herbstgenuss 2023 (21)
All offers (125)
---
Location/Info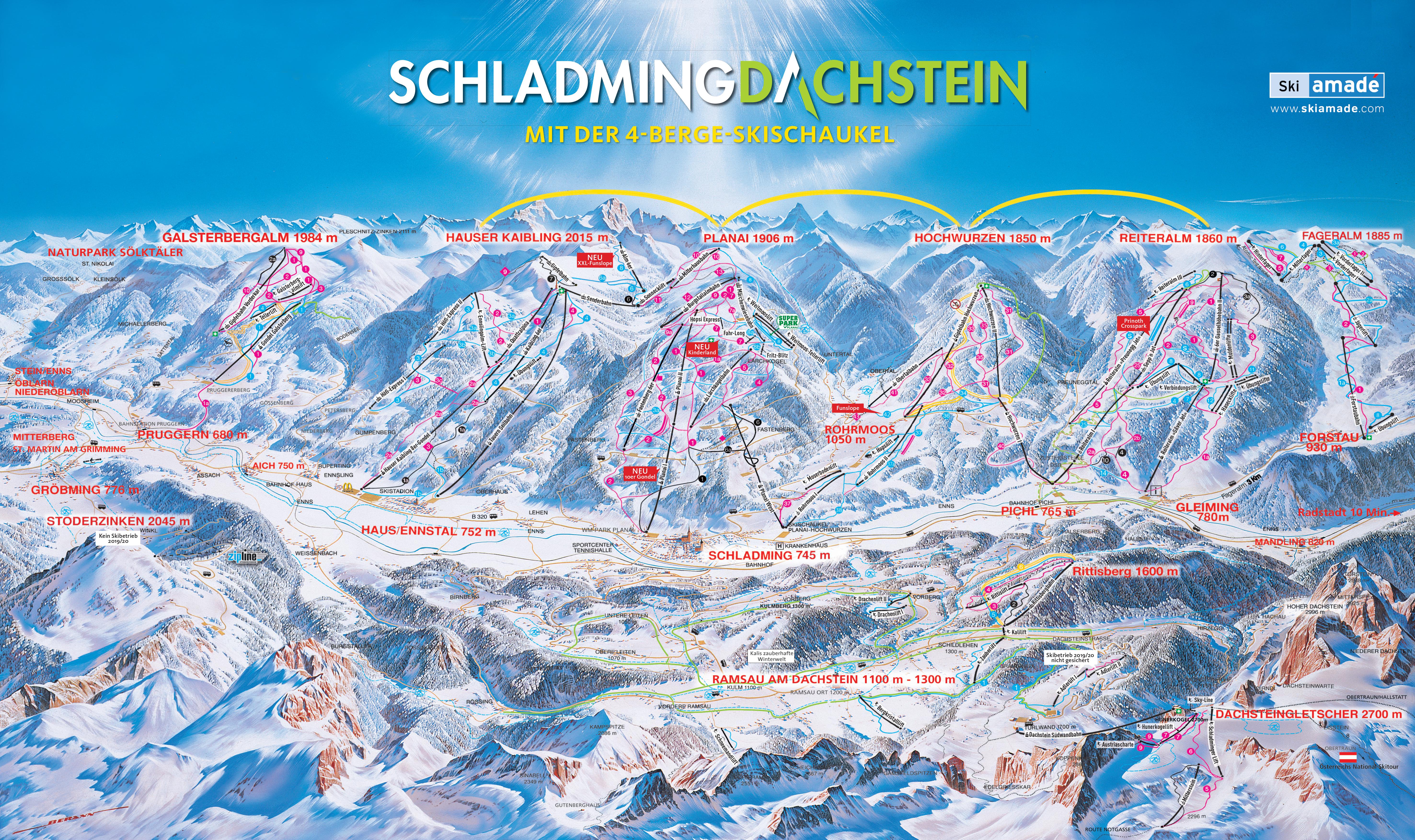 Winter Infos
Die Schladminger 4-Berge Skischaukel verbindet die 4 größten steirischen Skiberge – Hauser Kaibling, Planai, Hochwurzen und Reiteralm. 123 Pistenkilometer und 44 moderne Seilbahnen und Lifte – nonstop! Das ist einzigartig, nicht nur in Ski amadé, sondern auch in ganz Österreich.
"Höchsten Genuss" versprechen Dir der Dachsteingletscher und die kleineren Berge, wie das charismatische Schneebärenland. Abgerundet wird das Angebot von den Familienschigebieten Stoderzinken und Galsterberg.
In Ski amadé steht Ihnen eines der abwechslungsreichsten Wintersportgebiete Europas zu Füßen: 760 Kilometer Pistenspaß, 356 bestens präparierte Pisten und 270 komfortable Life – mit nur einem Skiticket!
Summer Infos
Egal ob Du Abenteuer oder Ruhe suchst, die Region Schladming-Dachstein ist für alle da. Mit rund 1.000 Kilometern an Wanderwegen, 1.000 Kilometer Mountainbike-Routen und 22 Klettersteigen sind die Wege, unsere Natur zu erleben, ebenso vielseitig wie die Region selbst. Und auch die Kulinarik rangiert bei uns auf höchstem Niveau: Über 50 bewirtschaftete Almen sind den ganzen Sommer für Dich da.
Rating
Location / Surroundings
Hiking-/Skiing Area
Restore Factor
Location
Other / Satisfaction
Care
Price
Facilities
Comfort
Facilities
Cleanliness
---
Dear friends of Hüttenpartner – tell us your opinion!
Of course we hope that you had wonderful, relaxing cabin holidays, but maybe you have further suggestions for us. Tell future guests about your experiences! Read what our customers wrote:
Martina 35-40 Jahre, verreist im july 2019
Super Ausstattung, Lage perfekt, neues Haus, super Bäder, Sauna
---
Daniel 35-40 Jahre, verreist im january 2019
Alles Super "die geilsten" kommen gerne wieder !
---
Yvonne 35-40 Jahre, verreist im december 2016
Wir waren bereits 3x im Hüttendorf und sind nach wie vor begeistert. Mit 24 Leuten sind die Hütten zwar kuschelig ;-) aber man ist ja eh nur zum Schlafen auf den Zimmern. Ansonsten hat die Hütte alles, was braucht, Küchenbereich bestens ausgestattet. Ein Traum ist die Lage direkt an der Piste... Wir kommen wieder.
---
Frank 55-60 Jahre, verreist im july 2016
Prachtige, bijna nieuwe huizen. Heerlijk ruim, vier badkamers, grote woonkeuken met alle bestek en zo in grote hoeveelheden. Eigenaren correct en doen niet moeilijk. Aardig ook. Vuurtje buiten maken kan en mag, natuurzwembadje voor als het mooi weer is. Alle ingrediënten voor een ontspannen tijd daar aanwezig.
---
Sebastian 40-45 Jahre, verreist im january 2016
Einfach genial, wir haben uns sehr wohl gefühlt. Die Lage des Hauses ist nicht zu toppen. Der Innenausstattung mit Sauna, Aufenthaltsraum, Theke und Zapfanlage, Kamin ist nichts hinzuzufügen. Die Zimmer sind sehr schön und geräumig. Wir waren mit 18 Erwachsenen. Es waren 6 Doppelzimmer mit jeweils zusätzlicher Schlafcouch auf der jedoch bequem zwei Personen schlafen könnten.
---
Sandra 40-45 Jahre, verreist im august 2015
Ein super tolles Haus! Alles da was man braucht ;-)
---
Anja 45-50 Jahre, verreist im july 2015
Sehr empfehlenswert, sehr geräumig, modern, sauber, komplett ausgestattet, gepflegte Anlage mit schönem, angelegten Schwimmteich (sauberes, klares Wasser). Einziges Manko: es ist sehr sehr hellhörig im Haus.
---
Klaus 75-80 Jahre, verreist im july 2015
Das Haus als solches ist sehr zweckmäßig und komfortabel aufgeteilt und eingerichtet. Die Bäder sind geräumig und allen Ansprüchen genügend. Die Küche ist ordentlich, die Schlafräume angenehm. Die Anlage ist relativ neu und sehr sauber. Ein kleiner Mangel ist das Fehlen von Sportanlagen (Tischtennis, Badminton, Squash). Ruhige und ortsnahe Lage.
---
Eva 65-70 Jahre, verreist im july 2015
Alles war 100%, wir sind sehr zufrieden.
---
Maik 40-45 Jahre, verreist im january 2015
Die Häuser liegen wirklich direkt an der Piste, das ist super. Man braucht allerdings wirklich Schneeketten um da hoch zu kommen, die sollte man nicht vergessen. Die Möglichkeit vor Ort Fassbier zu erwerben und der morgendliche Brötchenservice sind auch sehr gut. Die Ausstattung ist hochwertig. Das Haus war auch immer schön warm, den Ofen hatten wir überhaupt nicht an, die Möglichkeit besteht aber zur Gemütlichkeit auch noch. Allerdings ist die Angabe für 12-24 Personen nicht misszuverstehen, denn es sind halt 6 Doppelzimmer mit optionalem Schlafzimmer, wobei auch nicht alle Zimmer gleich groß sind. Daher würde ich das Haus nicht für mehr als 12 Erwachsene empfehlen. Kinder kann man zumindest in den oberen 4 Zimmern noch gut zusätzlich unterbringen. Auch die Sauna ist nicht riesig, da passen nicht mehr als 3 Erwachsenen gleichzeitig rein, dafür wird sie schön warm. In der Küche fehlte an nichts. Großzügiger Stauraum in den Kühlschränken. Das Personal ist sehr nett und zuvorkommend.
---
Melanie 45-50 Jahre, verreist im december 2014
Die Ausstattung des Hauses war sehr gut, auch mit einer "vollen" Belegung war ausreichend Geschirr und Besteck vorhanden. Das Haus war sehr sauber und die Bäder boten ausreichend Platz. Der Hüttenservice war ausgezeichnet und unkompliziert. Auf den Holzstühlen im Essbereich könnten auch Stuhlkissen liegen, das wäre etwas komfortabler. Der einzige Nachteil im Haus ist das WLAN-Netz. Die andauernden Anmeldungen über den Hotspot waren mühselig. Insgesamt aber ist das Hüttendorf sehr empfehlenswert!!!
---
Franz 35-40 Jahre, verreist im october 2014
Nach viel unterschiedlichen Hüttendörfern gehört Schlamding zu den TOP-Zielen. Besonders die ortsnahe Lage macht das Selbstversorgen einfacher....Für Kurztrips und auch Wochenurlaube zu empfehlen.
---
Sandra Roth 30-35 Jahre, verreist im september 2014
Es war leider nur ein Wochenende, aber es hat uns sehr gut gefallen!
---
Jörg 45-50 Jahre, verreist im august 2014
Wir waren mit vier Erwachsenen und vier Kindern im Hüttendorf. Obwohl das Wetter im August 2014 nicht besonders gut war, haben wir uns sehr wohl gefühlt. Die Hütte lässt keine Wünsche offen.
---
Rudolf 55-60 Jahre, verreist im july 2014
Hütte Nr. 10 in perfekter Lage (große Wiese direkt vor der Haustüre)
---
Wolfgang 35-40 Jahre, verreist im june 2014
Wir waren einige Tage dort, war alles perfekt, haben einen wunderschönen Urlaub mit der Familie verbracht.
Lage der Hütten einmalig, die Ausstattung perfekt, der Teich ein Traum, die Größe/Geräumigkeit der Hütte ein Wahnsinn,
Immer wieder würde ich gerne dort Urlaub machen.
---
Martin 45-50 Jahre, verreist im june 2014
Wir waren zu Pfingsten mit 4 Familien (14 Personen) in dem Hüttendorf. Es war alles perfekt. Super cooler (im wahrsten Sinne) Schwimmteich,, großzügige Hütte mit toller Ausstattung und genialer Sauna. Auch das Freizeit- und Wanderangebot ist hervorragend. Wir kommen wieder.
---
Therese 30-35 Jahre, verreist im june 2014
Super Lage, Einkaufsmöglichkeiten sehr nah und auch zu Fuß zu erreichen. Jedes Haus hat seine eigene Grillstelle. Sehr sauber, Zimmer sehr schön, Holzfußboden. Der Schwimmteich ist sehr schön und die Rezeption sehr nett. Ein paar mehr Sonnenschirme wären gut. Im Sommer ist die Preis-Leistung sehr gut, aber die Endreinigung ein bisschen teuer.
---
Dirk 45-50 Jahre, verreist im april 2014
Wir waren schon viele Jahre in Pruggern von den Hütten und der Lage direkt an der Piste begeistert. Die kleineren Kinder konnten jederzeit auf die Hütte gehen und alle anderen weiterfahren. Nun haben die Hütten in Schladming noch - dem Alter der Kinder angepasst - ein anspruchsvolleres und abwechslungsreicheres Skigebiet dabei! Auch wenn wir schon mal wandern mussten, kommen wir immer wieder sehr gerne!

Der Balkon ums Haus herum, von der Sauna auf die Terrasse hat uns in Pruggern noch besser gefallen, vielleicht gibt es hier ja noch ein Update, damit man nicht durch Matsch und Schnee stapfen muss?!
---
Alexandra 40-45 Jahre, verreist im march 2014
Wir waren im März 2014 für eine Woche dort und es hat uns wirklich sehr, sehr gut gefallen.
Die Hütten sind sehr groß, die Küchenausstattung perfekt (2Kühlschränke), die Lage ideal für alle Skifahrer und Kinder und die Betreuung wirklich sehr freundlich.
Wir haben den nächsten Urlaub für März 2015 schon wieder fix dort gebucht.
Da wir schon oft verschiedene Hütten ausprobiert haben kann ich nur sagen, dass diese Hütte mit Abstand die Beste und schönste Hütte ist.
---