Tirol, Sellrain, ELL-TIR
Find the right cabin for your vacation
Explore the entire range of alpine huts, ski huts, chalets and holiday homes and find your perfect holiday destination in Austria
TirolSellrain
Location
The cottage is located at Tyrol, at the Sellraintal (=valley), at the Stubaier alps, between Sellrain and Kühtai, above the street and the river, in a secluded and calm area. Behind are 4 further cottages.
Distances
Towncenter Sellrain in 1km. Here you will find restaurants and shops. Innsbruck in 17km. The ski bus stop is directly in front of the hut, and the bus takes you to the ski area Kühtai which is 12km away. The ski region Kühtai is the highest ski resort in Austria with 44km of pistes, offering snowboarders and skiers fun and action from December to early May! Night skiing, ski school, farmed huts! Toboggan run is in the vicinity! The hut is also ideal for ski touring - there are 50 ski tours in Sellraintal, some of which are above 3000m (snow until May)! There is a nature-waterfall for for ice climbing a few steps from here. In addition, there are endless mountain biking trails and in the summer there are climbing and rafting trips. You can also go canyoning. An ideal starting point for hikes through the Ötztal Alps to mountain lakes and farmed huts.
Equippment
The cabin is furnished luxurious and is divided into 2 apartments, each with 120m². Each with 3 double rooms, 1 bathroom with bath tub and shower, toilet, large living room with dining corner, wood stove, satellite TV, CD player, DVD player. The kitchen is equipped with electric cooker, oven, fridge, freezer, dishwasher, toaster, egg boiler, coffee machine and bread cutter. All in all, the house can accommodate up to 12 people. On the basement is the wellness area with a pine sauna, relaxing room, shower, 2 toilets, whirlpool, exit into the garden. Garage available! On request: raclett grill. Garage available! Floor heating on all 3 floors, Wi-Fi. In the front of the hut is a meadow with patio and a gas barbecue. Non smoking house!
Additional charges on-site:
Electricity € 0,25/kWh, local tourism tax currently € 2,-/person(adult)/night, final cleaning € 250,-, residual waste € 8,-/bag, on request: woodbasket € 7,-, deposit € 400,-, bed linen can be rented for € 12,00/double bed, towels for € 5,-/set. Pet € 35,-/stay. Deposit for pets € 200,-/pet.
Make use of the "welcome-card" reductions of the region Innsbruck - for example for ascents (from the valley) and descents (into the valley), guided hikes, hiking and ski bus! For free!
---
Offers
Schnäppchen (14)
Travelperiod

Duration

Persons

Price

Oct. 3. 2022 - Oct. 9. 2022

6 Nights
12 Persons

€ 1,175.-

Oct. 8. 2022 - Oct. 13. 2022

5 Nights
12 Persons

€ 1,050.-

Oct. 23. 2022 - Oct. 29. 2022

6 Nights
12 Persons

€ 1,175.-

€ 1,350.-

Nov. 5. 2022 - Nov. 12. 2022

7 Nights
12 Persons

€ 1,295.-

€ 1,350.-

Jan. 7. 2023 - Jan. 14. 2023

7 Nights
12 Persons

€ 1,995.-

€ 2,100.-

Jan. 14. 2023 - Jan. 21. 2023

7 Nights
12 Persons

€ 2,025.-

€ 2,100.-

Mar. 4. 2023 - Mar. 11. 2023

7 Nights
12 Persons

€ 2,590.-

€ 2,700.-

Mar. 18. 2023 - Mar. 25. 2023

7 Nights
12 Persons

€ 2,050.-

€ 2,100.-

June 10. 2023 - June 17. 2023

7 Nights
12 Persons

€ 1,400.-

€ 1,450.-

Sep. 9. 2023 - Sep. 16. 2023

7 Nights
12 Persons

€ 1,400.-

€ 1,450.-

Oct. 14. 2023 - Oct. 21. 2023

7 Nights
12 Persons

€ 1,400.-

€ 1,450.-

Oct. 20. 2023 - Oct. 26. 2023

6 Nights
12 Persons

€ 1,350.-

Oct. 21. 2023 - Oct. 26. 2023

5 Nights
12 Persons

€ 1,275.-

Oct. 31. 2023 - Nov. 5. 2023

5 Nights
12 Persons

€ 1,275.-
Herbstgenuss 2022 (6)
Kurz mal weg (24)
Winter 2022/23 (8)
Ski-Openings 2022 (1)
Frühling 2023 (8)
Sommer 2023 (7)
Herbstgenuss 2023 (15)
All offers (69)
---
Location/Info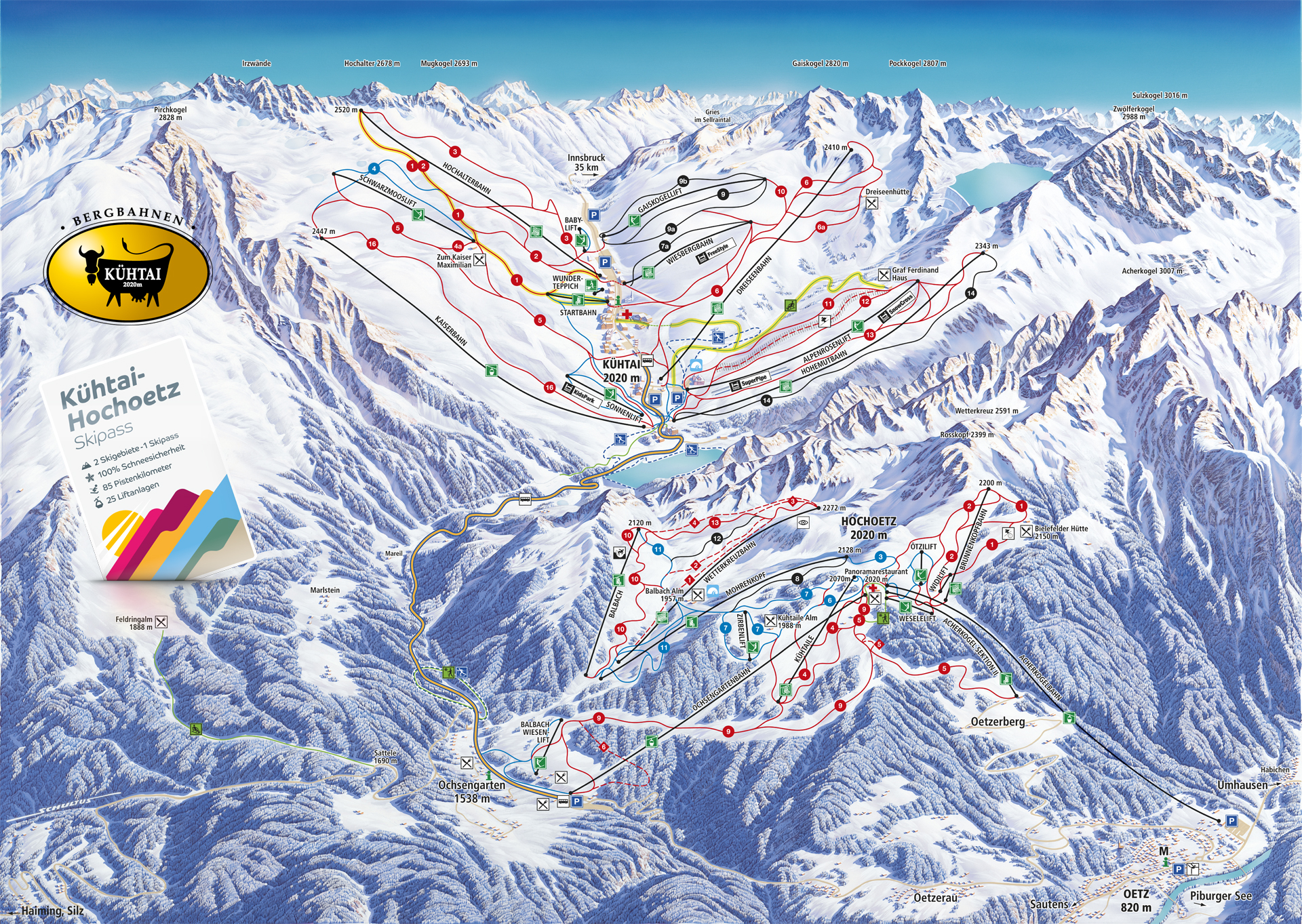 Winter Infos
(c) Bergbahnen Kühtai

Where others stop, we just start! The skiing area Kühtai is just 30km from Innsbruck, here you can ski on an altitude of more than 2,000m. Winter sport fans come here from December until the beginning of May and get their money´s worth. 10 ski lifts, more than 41km slopes at all levels of difficulty, fun parks for snowboarders and cost-free car parks for daily skiers are offered.
Summer Infos
Summer enjoyment at over 2,000 meters above sea level.
Kühtai in summer: varied, natural and full of sporting challenges and all that close to the capital of the Alps, Innsbruck.
Encounters with nature, solitude in the mountains, coming to yourself or experiencing adventure: there are many reasons to visit this jewel in the Tyrolean Alps. One of them is certainly the real, the authentic, the honest that you can find everywhere here: encounters with the simple life in the inns, the alpine huts, with the people in the village.
Rating
Location / Surroundings
Hiking-/Skiing Area
Restore Factor
Location
Other / Satisfaction
Care
Price
Facilities
Comfort
Facilities
Cleanliness
---
Dear friends of Hüttenpartner – tell us your opinion!
Of course we hope that you had wonderful, relaxing cabin holidays, but maybe you have further suggestions for us. Tell future guests about your experiences! Read what our customers wrote:
Michael 70-75 Jahre, verreist im january 2022
Wir waren mit 12 Familienmitgliedern im Januar in der Hütte und es hat uns sehr gut gefallen. Da wir ohne PKW waren, war uns die Busanbindung wichtig. Die Hütte ist gut ausgestattet und überaus wohnlich. Wir würden lediglich kritisch anmerken, dass die Ablagemöglichkeiten in den Zimmern eher unzureichend sind. Die angefallenen Stromkosten waren mit über 700 kWh extrem hoch, obwohl wir z.B, die Sauna kaum genutzt haben. Der ständig beheizte Außenwhirlpool passt eigentlich nicht mehr in die Zeit und man sollte die Wahlmöglichkeit haben. An der Außentreppe nach unten fehlt ein Geländer, was es für ältere oder behinderte Personen ziemlich schlecht ist. Ansonsten können wir uns nur lobend äußern und wären gerne bereit für eine Wiederholung des Aufenthaltes.
---
Stephan 55-60 Jahre, verreist im january 2020
Sehr schönes Holzhaus mit viel Platz und ausgestattet mit allem was man braucht
---
Stephan 50-55 Jahre, verreist im july 2017
Sehr schön eingerichtete und super gemütliche Hütte, ideal für einen Gruppen-Urlaub. Hütte war bei Übergabe sehr sauber. Viel Platz sowohl in der Küche als auch im Essbereich innen oder auf dem großen Balkon, mit toller Aussicht ins Tal und auf die Berge. Wir hatten die komplette Hütte angemietet, und somit hatten die Kinder im Obergeschoss mit einem zweiten TV ihr eigenes Reich. Die Küche ist mit Kaffeemaschine (Kaffeebohnen nicht vergessen), Herd mit Backofen, Kühlschrank, Mikrowelle, Mixer, Brotschneidemaschine u.ä. voll ausgestattet und bietet alles was für Selbstverpfleger notwendig ist. Toller großer Wellnesbereich von dem wir aber zur Entspannung nach langen Wanderungen nur den Whirlpool und die große Dusche genutzt haben. Auch für unsere beiden Hunde war die Hütte ein Erlebnis. Mit der vom Vermieter zur Verfügung gestellten "Welcome-Card" konnten wir sogar kostenlos den Bus sowie kostenlos 4 Bergbahnen (Berg- und Talfahrt) benutzen, zusätzlich gibt´s für Schwimmbäder u.a. Freizeitmöglichkeiten Vergünstigungen.
---
Eve 35-40 Jahre, verreist im may 2015
Ausstattung und Sauberkeit super, sehr groß und schön eingerichtet. Küche sehr gut ausgestattet, viel Platz.
---
Joerg 45-50 Jahre, verreist im october 2014
Küche lässt keine Wünsche offen, Wohnzimmer urgemütlich mit grossem Flat TV, riesiger gemütlicher Esszimmertisch für Hüttenabende, Ideal für grössere Gruppen die sich gut kennen. Wellnessbereich bietet auch alles, Sauna mit Panoramafenster hat man auch nicht alle Tage, herrlicher Blick aus dem Wohnbereich auf die Berge.
---
Andrea 40-45 Jahre, verreist im august 2014
Wir waren 2014 Gäste dieser schönen Hütte und werden Anfang September 2015 erneut dort urlauben. Wir wünschen uns mindestens 2 klappbare Wäscheständer (optimal wären sogar 3 ) jeweils 1 pro Stockwerk für Duschtücher, da im Badezimmer viel zu wenig "Aufhängevorrichtungen" vorhanden sind und 1 für Saunabereich!!! Es gibt zwar am Balkon bzw. hinter dem Haus die Möglichkeit Wäsche zu trocknen. Leider hatten wir jedoch bei unserem Aufenthalt dort im Vorjahr 1 Woche Regenwetter, sodass die Wäsche im Freien nicht trocken wurde!!!! EIN 2. TV-GERÄT IM OBEREN STOCKWERK WÜRDE DIE HÜTTE PERFEKT MACHEN!!!
---
JUDITH 60-65 Jahre, verreist im july 2014
INTERNETANSCHLUSS FEHLT.
---