Steiermark, Stadl an der Mur, TAT-STM
Find the right cabin for your vacation
Explore the entire range of alpine huts, ski huts, chalets and holiday homes and find your perfect holiday destination in Austria
SteiermarkStadl an der Mur
Location
High up, above the Murtal, amidst the alpine meadows, along with some other sparsely occupied cottages. Isolated and quiet area. Reachable via a forest road (ground clearance!).
Distances
Next town Stadl an der Mur with shops, cafes, inns 9km. In the village there is a leisure center with a bathing lake, playground and tennis. Golf course 15km, riding stables 18km. Kreischberg 15 km. Unfortunately, cycling on the Alm is prohibited. Visit the climbing area "Hoher Steg" (partly for beginners but rather demanding). Fishing in about 12km (Bodendorf), rafting in town (registration in the inn), many hiking trails in the area.
Equippment
The 160 years old cottage was renovated in 2017. Ground floor: living room with seating corner and kitchenette with wood stove and oven. Fridge, coffee machine, radio, (cable) TV available (works with solar electricity). Basement: shower/toilet. Upper floor: 1 four-bed room with 4 single beds, 1 three-bed room with double bed (140x200) and single bed. Heating with wood stove, warm water with boiler, solar electricity. In front of the cottage meadows, bench, deck chair, barbecue and mountain pastures. There is also a selfmade bowling lane!
Additional charges on-site:
Local tourism tax currently € 1,50/person/night, final cleaning € 70,-, wood € 8,-/basket, deposit € 100,-. Bed linen can be rented for € 10,-/set and towels for € 5,-/set.
---
Offers
Last Minute (1)
Travelperiod

Duration

Persons

Price

June 18. 2022 - June 25. 2022

7 Nights
7 Persons

€ 504.-

€ 590.-
Kurz mal weg (7)
Frühling 2022 (4)
Schnäppchen (15)
Topangebot (2)
Sommer 2022 (6)
Herbstgenuss 2022 (1)
Frühling 2023 (7)
Sommer 2023 (9)
Herbstgenuss 2023 (2)
All offers (36)
---
Location/Info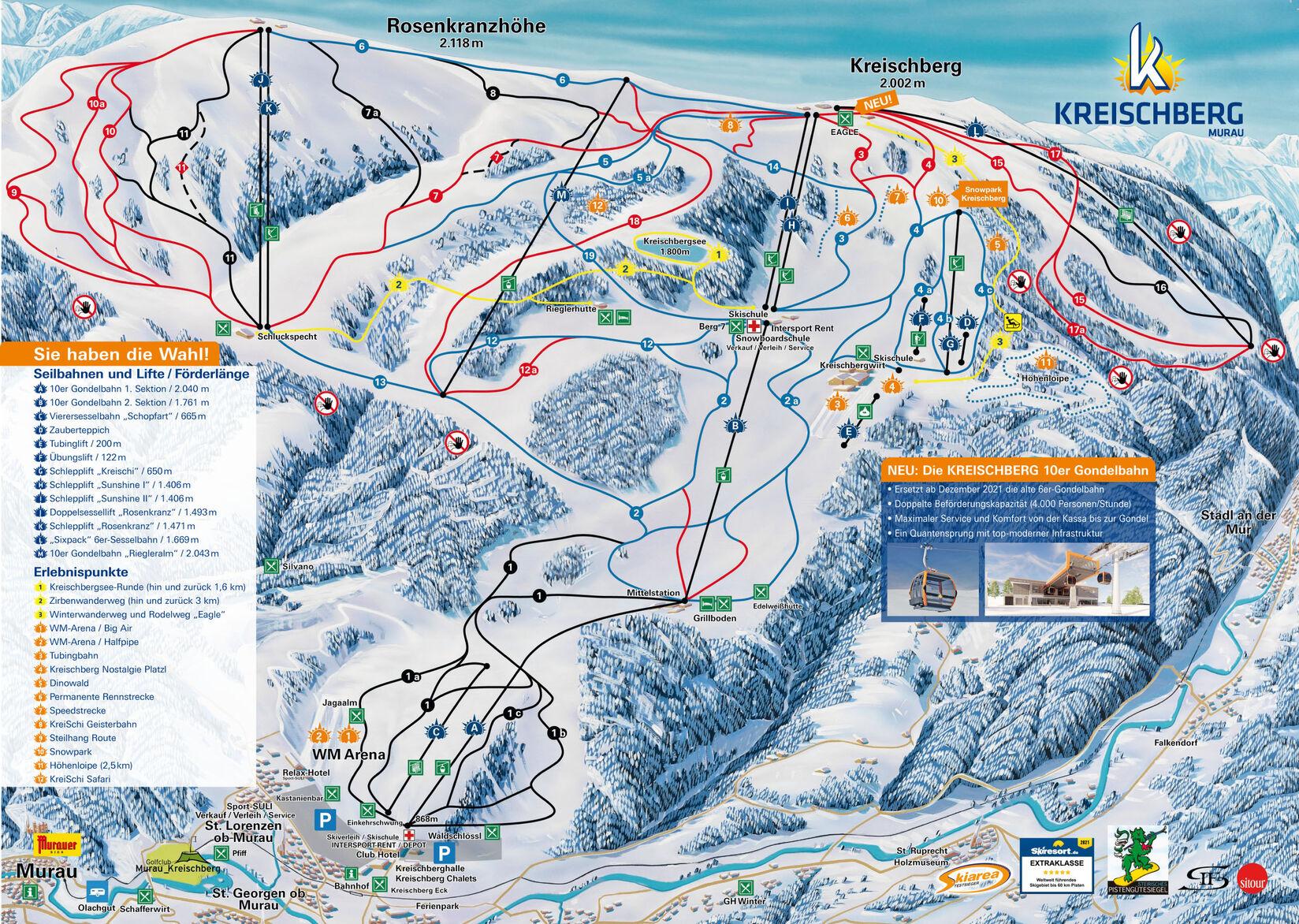 Winter Infos
Am Kreischberg stehen Ihnen 14 Liftanlagen mit einer Gesamtförderleistung von 17.400 Personen / Stunde zur Verfügung, die grenzenlosen Skispaß ermöglichen.
Der Kreischberg hat mit der 10er Gondelbahn neue Maßstäbe in Qualität und Komfort gesetzt. Die hochmoderne 2,1km lange Bahn bringt die Kreischberg Gäste bequem und rasch von 1.600 auf 2.050 Meter Seehöhe. Die Tubing Arena, eine permanente Rennstrecke mit Zeitmessung, die Speedstrecke mit Radarmessung - das alles ist Winterspaß am Kreischberg! Nicht von schlechten Eltern ist das Angebot für Kinder: Im Yabaa Dabba Doo-Land tummeln sich Fred, Wilma und Barney, im Dinopark trifft man so manches Urzeitungeheuer und zwischendurch tobt man sich im "Kreischi Trampolin" aus. Damit die ersten Schwünge gleich von selber gehen, starten Anfänger in der "Kinderwelt" mit Zauberteppich, Babylift und Miniwellenbahn, später sieht man sich dann am Kreischi-Lift!
Eldorado für alle Snowboard-Begeisterten: im Skigebiet finden Sie eine beleuchtete Halfpipe, Boardland mit Snakes und Jumps, sowie ideale Snowboardhänge.
Summer Infos
Schwimmen, Wandern, Radfahren und noch vieles mehr bietet Ihnen die Region Murau-Murtal im Sommer. Erkunden Sie einige unserer wunderschönen Wanderwege oder verbringen Sie einen Badetag mit Ihrer Familie in einem unserer zahlreichen Badeseen oder Freibäder!
Radwege, selektive Klettertouren, gemütliche Familien-, Themen- und Almwanderungen sorgen für Bewegung. Herrliche Ausblicke zeigen verträumte Landstriche, kleine, historische Städte und Märkte.
Und im Tal geht's wahrhaft rund. Beschleunigen bei Events der Extraklasse am Red Bull Ring in Spielberg.
Rating
Location / Surroundings
Hiking-/Skiing Area
Restore Factor
Location
Other / Satisfaction
Care
Price
Facilities
Comfort
Facilities
Cleanliness
---
Dear friends of Hüttenpartner – tell us your opinion!
Of course we hope that you had wonderful, relaxing cabin holidays, but maybe you have further suggestions for us. Tell future guests about your experiences! Read what our customers wrote:
Stefanie 45-50 Jahre, verreist im august 2021
Wir hatten einen sehr schönen Hüttenurlaub! Jeden Morgen Kuhglocken, tagsüber Wanderungen und tolle Aussichten, und nachts die Milchstraße. Traumhaft und sehr nette Vermieter!
---
Agnes 45-50 Jahre, verreist im july 2021
Nette, gut ausgestattete Hütte. Der Anfahrtsweg von Stadl an der Mur ist recht lang (9km), größtenteils über eine steinige Forststraße. Tipp: Vorher alles einkaufen gehen! Die Hütte steht auf einem Hochplateau mit wundervollem, weitem Ausblick, mitten auf der Alm. Es ist absolut ruhig, Nachbarinnen sind nur Kühe, ab und zu kommt ein Bauer herauf, um nach den Tieren zu sehen. Insofern hat man den totalen Erholungsfaktor. Die freundlichen Vermieter haben auf der Hütte für einen Getränkevorrat an Bier und Limonaden gesorgt, auch Speck ist vorhanden. Nahe der Hütte beginnen ein märchenhafter Wald und die Almwiesen. Auf dem Hochplateau kann man ca. 2 km gemütlich nach hinten durch den Wald wandern, wenn man zum nahegelegenen "Gstoder" wandern möchte, muss man dann durch feuchte Wiesen aufsteigen. Zum "Gstoder" kommt man aber auch über das Tal und eine Mautstraße - die Tour zum Gipfel ist wunderschön, unten gibt es eine urige Jausenstation mit kalten Speisen und leckerem Kuchen. Diese Jausenstation kann man auch von der Hütte aus in ca. 2 Stunden erreichen. Als nette Wanderung in der Gegend können wir auch noch die Frauenalpe bei Murau empfehlen, die Murauer Hütte am Fuße der Frauenalpe hat ein super Essen, ebenso der Gasthof Winter in St.Georgen am Kreischberg.
---
Heiko 50-55 Jahre, verreist im september 2020
Ein Traum von Lage. Der Erholungsfaktor müsste 10* bekommen. Urige, zweckmäßige Hütte mit allem was man benötigt. Tolle Betreuung und Verpflegung von Peter und Frau (Wurst, Käse, Butter, Milch direkt aus eigener Herstellung). Alles entspricht der Beschreibung. Top Urlaub, leider nur 1 Woche. Die (steile) Anfahrt ist für einen "Städter" ein echtes Abenteuer :-). Ich würde jederzeit wiederkommen. VG aus Bremen
---
Jürgen 40-45 Jahre, verreist im august 2018
Perfekte Erholung für die gesamte Familie. Traumhafte Tage auf der Alm. Ruhige, nein ruhigste Lage. Mal schnell rauf auf die Payerhöhe und dann ein wunderschöner Rundumblick. Eine kleinere Tour auf den Gstoder mit ebensolch wunderschönem Rundumblick Richtung Lungau und die Steiermark. Oder einfach nur draußen auf der Bank sitzen und genießen.

Danke für die perfekte Betreuung und iebe Grüße an die Petra.
---
Harald 35-40 Jahre, verreist im august 2017