Steiermark, Stein an der Enns, ROB-STM
Find the right cabin for your vacation
Explore the entire range of alpine huts, ski huts, chalets and holiday homes and find your perfect holiday destination in Austria
SteiermarkStein an der Enns
Location
The cabin is very remote and offers far-reaching views, surrounded by meadows overlooking the village of Stein an der Enns with views into the Enns Valley and of the Dachstein-Tauern region.
Distances
The village Stein with shopping possibilities is in 2,5km distance, a sign-marked hiking-track starts at the hut. The chalet is situated in the middle of the "Naturpark Sölktäler". This 277km² sized alpine nature park offers numerous mountain lakes and farmed alpine pastures. Here you will find nature trails, guided hiking tours, a nature museum and many cultural events. Cross-country ski-trail in 3km, ski region Dachstein-Tauern in 12km. Tennis court in 4,5km, Lake Aich 10km.
Equippment
The cabin has on the ground floor: snuggery with lounge, satellite TV, behind the small house-bar is the kitchenette with wood stove, oven, fridge, coffee machine and water boiler. Shower/toilet. Staircase to the attic floor with 4 beds and a double room. . Heating and hot water via wood stove. In front of the chalet is a roofed terrace with seats, a barbecue and a well. Please bring along your own bed linen.
Additional charges on-site subject to minor changes:
Local tourism tax currently € 2,50/person/night, operating costs € 20,-/week, pet € 20,-/week.
---
Offers
Last Minute (3)
Winter 2023/24 (10)
Kurz mal weg (29)
Schnäppchen (9)
Frühling 2024 (11)
Sommer 2024 (8)
Herbstgenuss 2024 (10)
Winter 2024/25 (9)
All offers (77)
---
Location/Info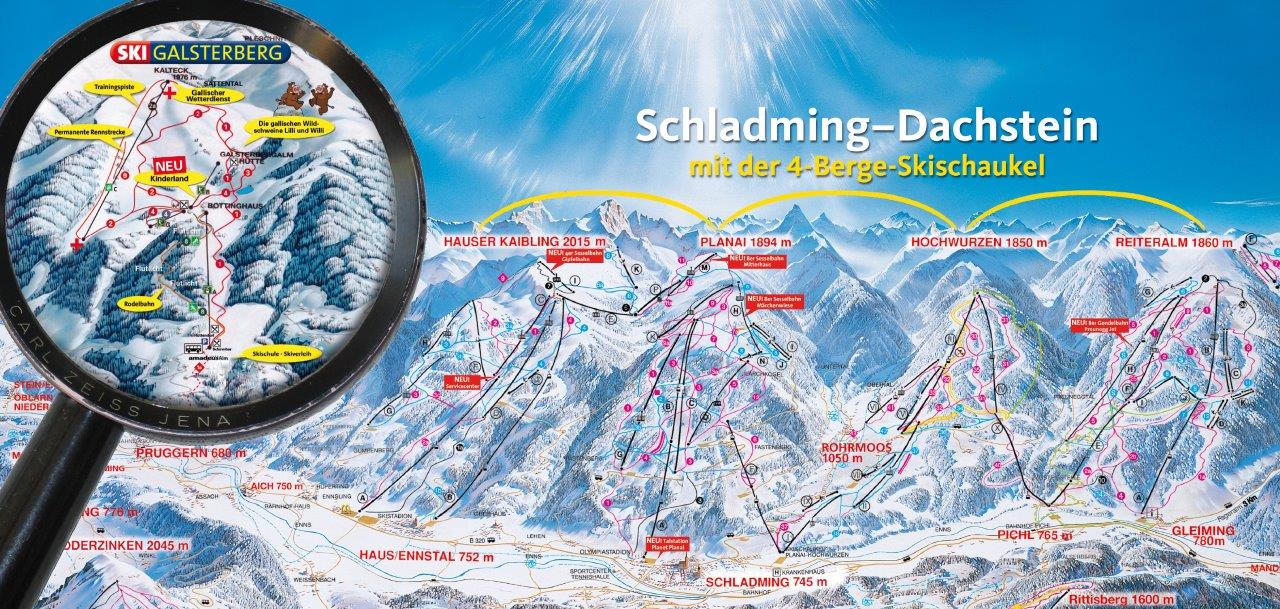 Winter Infos
The Galsterberg at a glance
5 cable cars and ski lifts, about 50 new parking spaces very close to the valley station of the cable car, 60 snow-covering machines help to improve the snow conditions.
The regions biggest wonderland for children: people skiing through the Gallic wonderland will be surprised - Gauls, Romans and animals move around there. They talk, bark and grunt. Children can experience unforgettable adventures:
- indoor-playing ground at the Romans tower
- huge snow figure
The Glasterberg in Pruggern is a small but nice skiing area with a lot of opportunities. Novices in skiing are happy about the easy and flat slopes, while passionate skiers can enjoy the fore-col-piste on an altitude of 1,200m, which counts to one of the most beautiful slopes in the whole region. The skiing region Galsterbergalm offers 20km bride and well prepared slopes and is part of the skiing region Dachstein-Tauern with 86 cable cars and ski lifts and 152km prepared slopes. It is also a member of ski amadé (just one ski pass for more than 760km slopes and 270 cable cars and ski lifts).
Access to the skiing paradise Schladming-Dachstein from Haus im Ennstal in 9km. Ski school with child care at the valley station. The 5km long lighted natural sledding run (one of the longest in Austria) ends at the valley station.
Summer Infos
Regardless of whether you are looking for adventure or tranquility, the Schladming-Dachstein region is there for everyone. With around 1,000 kilometers of hiking trails, 1,000 kilometers of mountain bike routes and 22 climbing routes, the ways to experience our nature are just as varied as the region itself. And the cuisine is also of the highest quality with us: over 50 cultivated alpine pastures are open all summer here for you.
Rating
Location / Surroundings
Hiking-/Skiing Area
Restore Factor
Location
Other / Satisfaction
Care
Price
Facilities
Comfort
Facilities
Cleanliness
---
Dear friends of Hüttenpartner – tell us your opinion!
Of course we hope that you had wonderful, relaxing cabin holidays, but maybe you have further suggestions for us. Tell future guests about your experiences! Read what our customers wrote:
Marina 45-50 Jahre, verreist im september 2023
Wir haben mit unserem Hund eine sehr schöne, erholsame Woche auf der Hütte verbracht. Sehr netter Besitzer und unkomplizierte Abwicklung.
---
Franziska 40-45 Jahre, verreist im june 2023
Wer eine Auszeit vom Alltag braucht ist hier definitiv an der richtigen Stelle. Alles war perfekt.
---
Mark 40-45 Jahre, verreist im may 2022
Very friendly owners. The cabin is clean and with all the amenities you need. In a wonderful setting with a great view. Milk and eggs from the owners farm! A place were would definitely come back to!!
---
matthias 40-45 Jahre, verreist im april 2022
Eine schöne Hütte mit einer Traumlage und einem herrlichen Ausblick. Sehr ruhig gelegen. Ideal für Kinder. Sehr freundlicher und hilfsbereiter Besitzer.
---
Andre 50-55 Jahre, verreist im october 2019
Wem eine einfache Ausstattung mag, ist hier genau richtig. Sehr ruhig und gemütlich. Zum nichts tun genau richtig.
---
Dave 40-45 Jahre, verreist im february 2019
Das Haus hat alles was Sie brauchen. Schön eingerichtet, viel Platz und gute Betten. Abends Holz im Ofen und im Kessel und es ist wunderbar warm. Nur die Straße zum Haus war nicht sehr schön (schmal, Eis, Schnee, glatt), daher sind Ketten praktisch. Das Skigebiet ist ziemlich nah und der Gletscher ist fantastisch zu sehen. Der Besitzer des Hauses war auch sehr nett und wenn Sie etwas brauchen, arrangiert er das richtig.
---
Agnes 40-45 Jahre, verreist im july 2018
Eine sehr schön gelegene, gut ausgestattete Hütte. Für uns war es ein Luxus, auf einer Hütte einmal Kabelfernsehen und eine tolle Internetverbindung zu haben! Der Ausblick ist einmalig! Manchmal weiden Kühe direkt neben der Hütte. Es gibt zwar einen Wanderweg ab Hütte, die schöneren Wege muss man mit dem Auto anfahren (Naturpark Sölktäler etc). Im Ort Stein an der Enns gibt es einen "Nah und Frisch", im nahe gelegenen Gröbming auch tolle Einkaufsmöglichkeiten und Lokale.
Einziger Minuspunkt: Das Backrohr im Holzofen funktioniert nicht.
Sonst war alles perfekt und wir waren sehr zufrieden!

---
Silke 50-55 Jahre, verreist im july 2018
Das Häuschen ist perfekt für einen entspannten Urlaub in der Steiermark! Die Einrichtung ist gemütlich, liebevoll ausgesucht und praktisch. Man findet alles, was für die Urlaubszeit nötig ist - von der Sonnenliege bis zum Eierbecher. Die Wirtsleute haben reichlich Feuerholz vorbereitet, sodass warmes Wasser und selbst Gekochtes kein Problem waren - im Gegenteil, es hat Spaß gemacht! Das Häuschen bietet echt viel Platz, wir und unsere Hündin haben uns superwohl gefühlt! Es gibt einen kleinen eingezäunten Hof mit hübschen Essplätzen und rundherum Weiden und Wald und einen tollen Ausblick auf´s Dachsteingebirge. Das Haus ist gut mit dem Auto erreichbar und liegt direkt am Dachstein-Panorama-Wanderweg, ist perfekter Ausgangspunkt zum Wandern wie zum Beerensuchen.
---
Olga 25-30 Jahre, verreist im october 2017
Die Hütte ist sehr schön und gemütlich drinnen und hat alles was man braucht und sogar mehr (moderner Frenseher, Elektrogrill, Kaffeemaschine, 1 Gasheizgerät). Perfekte Erholung vom Alltag und Stadt. Komplett abgelegen, romantisch und ruhig. Wunderschöner Ausblick!
---
Simone 40-45 Jahre, verreist im august 2017
Wer keinen Luxus braucht, sondern einfach nur Erholung, der ist hier genau richtig. Sehr schöne Hütte mit allem was man braucht. Auch für Kinder und Hunde einfach perfekt. Wir waren nicht zum letzten Mal dort.

Wir haben uns sehr wohl gefühlt. Urlaub pur. Wir kommen auf jeden Fall nochmal wieder.

---
Mario 40-45 Jahre, verreist im june 2017
Wir und unsere Hunde haben uns sehr wohl gefühlt.
Aufenthalt von 17.06. - 01.07.2017
---
Ralph 30-35 Jahre, verreist im august 2016
Ralph 35-40 Jahre, verreist im june 2016
Ralph 25-30 Jahre, verreist im may 2016
Petra 35-40 Jahre, verreist im may 2011
Es war sehr schön, alles da was wir brauchten und schön ruhig. Die Hunde haben es auch genossen so viel Platz zum Spielen zu haben und die Kühe und Schafe direkt vor der Haustür waren nicht nur für sie sehr interessant. Es war alles praktisch und zweckmässig eingerichtet. An das Feuermachen vor dem Duschen haben wir uns schnell gewöhnt und das Knacken des Feuers hat eine gemütliche Atmosphäre gezaubert. Die Aussicht ins Ennstal ist einfach nur zauberhaft.
---