Salzburg, Unken, HEU-SBG
Find the right cabin for your vacation
Explore the entire range of alpine huts, ski huts, chalets and holiday homes and find your perfect holiday destination in Austria
SalzburgUnken
Cabin Description
---
Self-catering cottage for 16 people
5 double rooms, 2 three-bed rooms
cot available
1 shower/toilet, 2 toilets, 2 showers, sauna
living space: 280m²
altitude: 1.000m
amidst the skiing- and hiking region
in summer pets are on request
in winter max. 1 pet allowed
accessible by car

Ski Area

Sauna
Location
In the picturesque "Heutal", near the skiing-area. The Heutal is known as a paradise for ski tours, hikers and bikers. During winter the chalet can either directly be reached or up to 200m distance by car, according to how much snow has fallen.
Distances
The family ski-region Heutal with 4 t-bar lifts, 12km pistes and a ski school is right in front of the house. The ski region Loferer Alm (46km pistes) is just 15km away, Tiroler Steinplatte (32km pistes) 18km. Shopping in 7,5km in Unken, inn 200m, tobaggan run nearby, long cross-country ski-runs starting from the chalet, lots of hiking and biking trail to gorges and caves starting from the chalet! Thermal bath Bad Reichenhall 17km away, mountainbike rental 7,5km. This house is a perfect initial point for excursions to Salzburg, the neighboured Tyrol or to Bavaria!
Equippment
The farmer`s house was completely renovated and comfortably enlarged. Ground floor: living room with lounge, floor heating, tiled stove and integrated kitchen with electric cooker, oven, wood stove, fridge, toaster, dishwasher, freezer, coffee machine, water boiler. Storage room with freezer. Ski boot dryer. 1 shower/toilet, 1 toilet, sauna with shower, relax-area and out-of-doors exit where a a big wooden well is situated, perfect to cool yourself down. Upper floor: living room with satellite TV and balcony. 2 double rooms, 2 three-bed rooms, shower, toilet. Attic floor: 3 double rooms. Gas central heating. Washing machine, leisure/seminar room with table soccer and darts. WiFi available. 4 sledges on site. In front of the chalet are seats, a covered loggia, a covered natural stone grill, a garden and lots of meadows. Close to the hut is also a rivulet. Please do not smoke inside the hut!
Additional charges on-site:
Electricity € 0,30/kWh, gas € 3,-/m³, local tourism tax currently € 1,80/person/night, final cleaning € 140,-, deposit € 300,-. Bed linen and towels can be rented for € 10,-/set. Dog € 35,-/stay.
---
Offers
Herbstgenuss 2022 (10)
| Travelperiod | Duration | Persons | Price | |
| --- | --- | --- | --- | --- |
| Sep. 24. 2022 - Oct. 1. 2022 | 7 Nights | 8 Persons | € 1,090.- | |
| Sep. 24. 2022 - Oct. 1. 2022 | 7 Nights | 16 Persons | € 1,290.- | |
| Oct. 8. 2022 - Oct. 15. 2022 | 7 Nights | 8 Persons | € 1,090.- | |
| Oct. 8. 2022 - Oct. 15. 2022 | 7 Nights | 16 Persons | € 1,290.- | |
| Oct. 15. 2022 - Oct. 22. 2022 | 7 Nights | 8 Persons | € 1,090.- | |
| Oct. 15. 2022 - Oct. 22. 2022 | 7 Nights | 16 Persons | € 1,290.- | |
| Nov. 5. 2022 - Nov. 12. 2022 | 7 Nights | 8 Persons | € 1,090.- | |
| Nov. 5. 2022 - Nov. 12. 2022 | 7 Nights | 16 Persons | € 1,290.- | |
| Nov. 12. 2022 - Nov. 19. 2022 | 7 Nights | 8 Persons | € 1,090.- | |
| Nov. 12. 2022 - Nov. 19. 2022 | 7 Nights | 16 Persons | € 1,290.- | |
Winter 2022/23 (10)
Schnäppchen (1)
Ski-Openings 2022 (1)
Frühling 2023 (10)
Sommer 2023 (3)
Herbstgenuss 2023 (14)
All offers (48)
---
Location/Info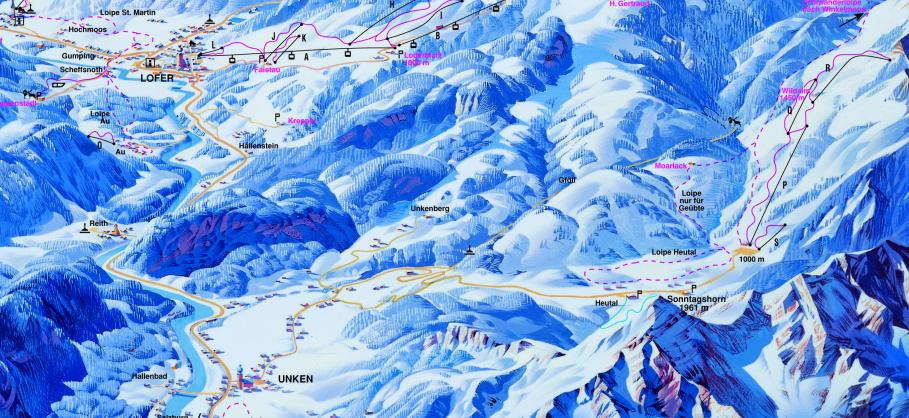 Winter Infos
The skiing area Heutal is a family skiing area with 12 kilometres slopes, 2 ski lifts and modern snow covering machines. It is a perfect initial point for ski tours via the Hochalm to the Peitingkopf (1,720m) or the Sonntagshorn (1,961m). More than 50km cross-country ski runs lead through the high valley, uphill to the "Wildalm" or the "Moalock", to the nearby "Winkelmoos Alm" (alp) and further to the "Steinplatte".
Summer Infos
Located in the heart of the Pinzgau and in the triangle between Salzburg, Tyrol and Bavaria, is the Salzburg Saalachtal with the towns of Lofer, Unken, St. Martin and Weißbach.
Picturesque, each unique and connected by the rushing Saalach, they are an ideal starting point for outdoor adventures such as white water, rafting, canyoning, and kayaking. Climbing, hiking in the Almenwelt Lofer or much more. Whether summer or winter, the wonderful nature surrounds you at all times.
In the Salzburger Saalachtal you can enjoy your vacation days to the fullest. When hiking in search of that one, very special summit victory, prefer to explore the mountains on an e-mountain bike, discover the wild water in all its facets or spend and experience time and adventures with the family - there is something for everyone.
Rating
Location / Surroundings
Hiking-/Skiing Area
Restore Factor
Location
Other / Satisfaction
Care
Price
Facilities
Comfort
Facilities
Cleanliness
---
Dear friends of Hüttenpartner – tell us your opinion!
Of course we hope that you had wonderful, relaxing cabin holidays, but maybe you have further suggestions for us. Tell future guests about your experiences! Read what our customers wrote:
Oliver 45-50 Jahre, verreist im september 2021
Hallo, wir waren Ende Septemper 2021 mit 10 Personen in der Hütte. Es hat an nichts gefehlt. Die Hütte ist sehr schön eingerichtet und sehr sauber. Es gab niemanden aus der Gruppe dem sie nicht gefallen hat. Alles Top. Auch die Vermieterin ist sehr nett und hilfsbereit. Zum Heutal selbst muss man ja nichts sagen, einfach ein Traum. Es steht jetzt schon fest, wir kommen wieder! Gruß Oli
---
Fam. Leufgens 45-50 Jahre, verreist im october 2020
Wir waren mit einer Gruppe von 14 Personen in der toll ausgestatteten Hütte.Es hat an nichts gefehlt und es war genug Platz für alle.Die Hütte wurde uns sehr sauber und gepflegt von den sehr netten Vermietern übergeben und wir verbrachten eine tolle Woche.Wanderungen von der Hütte aus sind grenzenlos möglich (auch für untrainierte ;-) ).Der Saunabereich wurde sehr gut angenommen und selbst die Kinder hatten dort Ihren Spass.Die abendliche Runde am Kachelofen war an jedem Tag ein schöner Abschluss....wir kommen gerne wieder...
---
Elfriede 60-65 Jahre, verreist im september 2020
Wir waren nun zum vierten Mal in der Hütte. Wie immer wunderbar. Gross und sauber, freundlicher Empfang. Herrlich der Kachelofen. Wir hatten es warm und gemütlich. Als Familie haben wir unseren Aufenthalt und die Ruhe sehr genossen.
---
Katarzyna 30-35 Jahre, verreist im july 2016
Das Haus ist insgesamt viel weitläufiger (breite Flure), als es auf den Bildern den Anschein macht. In der Küche sowie auf der überdachten Terrasse ist genug Platz für alle. Wir waren insgesamt 15 Personen, wovon 4 kleine Kinder waren. Wir bekamen Gitterbetten und einen Hochstuhl. Die Hausbesitzer haben sich sehr gekümmert. Das ganze Haus war sauber und urgemütich eingerichtet. Der separate Saunabereich lädt zum Entspannen ein. Zum Haus gehört auch eine alte Scheune, wo der Müll sortiert, das Holz für den Ofen gelagert wird und wo man Tischtennis spielen kann. Die Kinder hatten viel Freude im riesigen Garten, auch wenn es keine Spielgeräte gibt. Dafür war die Haupt-Wassertränke und die großen Steine zum Klettern die Attraktionen. Die Umgebung liegt sehr ruhig (zumindest im Sommer) im Grünen (Wiesen und Wälder). Man muss vom Ort Unken etwa eine viertel Stunde eine schmale Straße hochfahren bis man am Haus ankommt. Dort oben gibt es nur ein paar Häuser und einen Tante Emma Laden, der selten geöffnet hat. Dafür kann man im Ort Unken prima einkaufen (Supermarkt, Fleischer, Bäcker). Eigentlich wären wir gerne noch viel länger geblieben..
---
Franziska 55-60 Jahre, verreist im september 2015
Leider war ich heuer zu spät beim buchen
---
Andrea 35-40 Jahre, verreist im may 2015
Wir waren mit zwei Familien (8 Personen) in der letzten Maiwoche im Haus. Die Lage und das Haus selbst ein absoluter Traum. Wir haben uns von der ersten bis zur letzten Minute sehr wohl gefühlt.
Das Haus ist sehr sauber, sehr gut ausgestattet und die Vermieter super nett.
Absolut empfehlenswert.
---
Nadine 25-30 Jahre, verreist im january 2015
Im Bad fehlen Regale, damit jeder seine Sachen abstellen kann ohne das man sie immer wieder mit ins Zimmer nehmen muss. Ansonsten ein super schönes sauberes Haus mit sehr netten, zuvorkommenden Vermietern. Wir kommen nächstes Jahr auf jedenfalls wieder.
---
Jürgen 50-55 Jahre, verreist im october 2014
Hatten eine super Zeit. Es hat alles gepaßt. Waren jetzt zweimal hier. Wenn das Wetter mitspielt ist es traumhaft
---
Manfred 40-45 Jahre, verreist im august 2014
Wunderschöne Hütte. Traumhaft für alle Familien. Waren schon 7 mal hier, immer wieder ein erholsamer Aufenthalt. Das Heutal einfach wunderschön. Nette und zuvorkommende Gastgeber. Leider ist es nicht möglich diese Hütte in den ersten beiden Augustwochen zu mieten, da Stammgäste bevorzugt werden.
---